Government must look to end working age benefits freeze, Iain Duncan Smith says
The former DWP secretary said the freeze would be harsher than expected due to inflation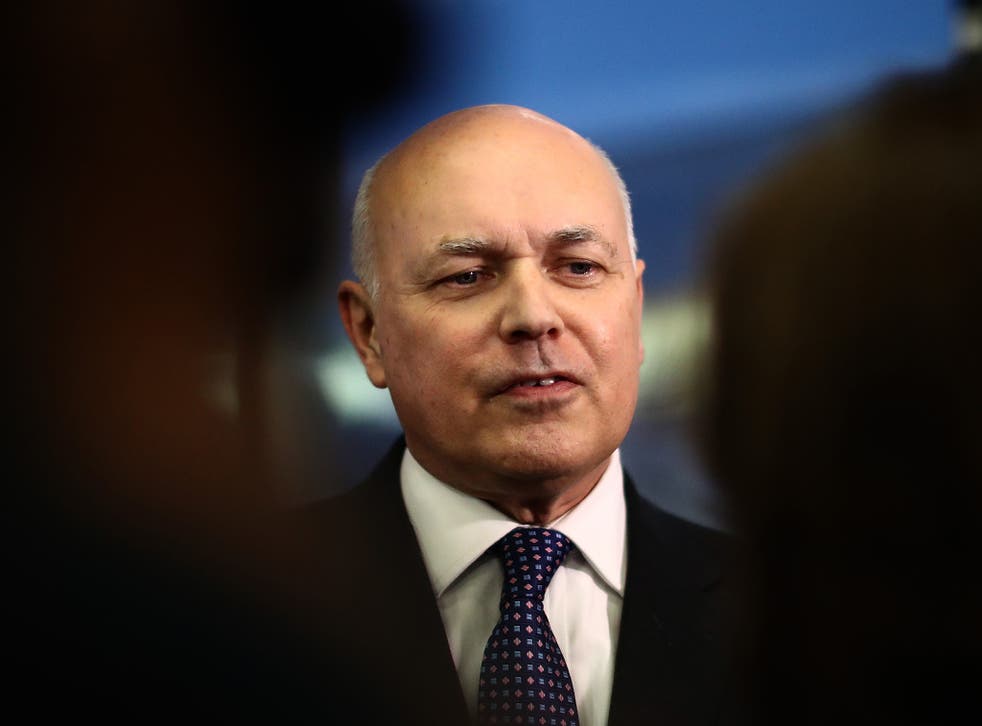 The Government must look at ending its freeze on working age benefits, Iain Duncan Smith has said.
The former Work and Pensions Secretary said the freeze, implemented by the then Chancellor George Osborne, would likely be harsher than expected because of rising inflation.
He said it was important that a resulting bigger hit to the living standards on low earners "doesn't actually happen" and said the Treasury should be reviewing the policy.
"When the original benefit freeze was set it was set against an estimate of a much lower rise in inflation," he told an event in Westminster on Monday morning
"Therefore I'm sure the Treasury will want to look at to keep that under review because the purpose was not to have such a dramatic effect on incomes against a forecast of rising inflation.
"I'm sure the Treasury will want to look at that and keep that under review so that doesn't actually happen and make it adverse in a way that it was not completely intended."
The freeze came into force in April this year and was announced in the 2015 Summer budget. It sees benefits capped at their current level until 2019 rather than rise in line with wages as standard, and is expected to save £3.5bn.
The policy affects Jobseeker's Allowance (JSA), Employment and Support Allowance (ESA), Income Support, Housing Benefit, Universal Credit, Child Tax Credits, Working Tax Credits and Child Benefit. It does not apply to some disability benefits, carer and pension benefits or statutory maternity and sickness pay.
Last week Bank of England Governor Mark Carney said that "inflation expectations have picked up notably" following the vote to leave the EU. This means the cost of living will rise faster while benefits remain static.
Mr Duncan Smith's call came on the same day as the Government's new £20,000 benefit cap comes into force, with fears that single mothers are likely to be hit most hard.
The former Work and Pensions Secretary also used the same event reiterate a call for the cuts to Universal Credit work allowances to be scrapped. He said money could be raised for the policies by scrapping a planned rise in the income tax personal allowance to £12,500 and the triple lock on pensions.
7 ways the Tories have 'helped' disabled people

Show all 7
He warned that without reversing the work allowance cuts, Universal Credit would leave people on low incomes worse off than the current benefits system. Mr Duncan Smith, the architect of the programme who resigned earlier this year over cuts, said people moving from tax credits to Universal Credit would see their incomes "go down".
He was speaking at the launch of a study by the Resolution Foundation think tank that warned that "damaging" cuts to work allowances under the system would cut the incomes of low income families by as much as £2,800 each.
Mr Duncan Smith said that the original intention of the new system had been to boost incomes but that this objective had been eroded by Treasury cuts.
"The Chancellor decided to reduce tax credits in the Budget but then reversed that at the end of last year," he said. "That means tax credits are back to where they were, which leaves Universal Credit very exposed because Universal Credit reductions mean that you leave tax credits you go down into Universal Credit, which simply should not happen."
He added that Universal Credot would make it "more difficult" for people to get into work compared to the current system.
The Independent has contacted the Department for Work and Pensions for comment on this story.
Join our new commenting forum
Join thought-provoking conversations, follow other Independent readers and see their replies