Benefits sanction warning period to be introduced, Iain Duncan Smith announces
Claimants will be given a two-week warning period to prove their case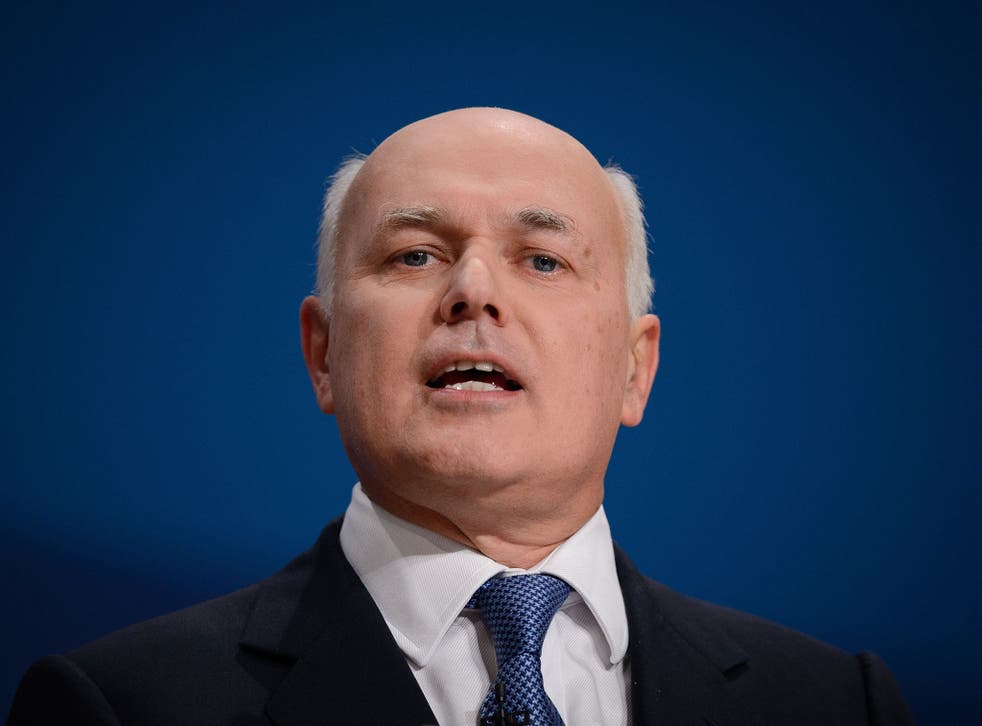 The benefit sanctions system will be made less aggressive in response to criticism of it from a parliamentary committee, Iain Duncan Smith has announced.
The Work and Pensions Secretary said people subjected to sanctions would from now on initially be given a "yellow card" or warning when the sanction –a benefit deduction – was triggered.
Claimants would then be given a 14 day period to provide evidence of why a sanction was not deserved before the monetary penalty was applied.
Under current rules, such a sanction would be applied immediately. The Work and Pensions Secretary said the new approach would be introduced on a trial basis.
"During this time, claimants will have another opportunity to provide further evidence to explain their non-compliance," Mr Duncan Smith said in a letter to the Work and Pensions Select Committee.
"We will then review this information before deciding whether a sanction remains appropriate. We expect that this will strike the right balance between enforcing the claimant commitment and fairness."
The change may soften some of the hardship caused by the sanctions because in practice a very high proportion of benefit sanctions taken to independent appeal are overturned.
In 2014 the DWP released figures which showed that 58 per cent of people seeking to overturn sanctions were successful – up from 20 per cent before 2010.
Sanctions are supposed to be applied to benefit claimants when a person does not comply with the conditions put on them by the DWP.
Claimants can have their social security payments stopped for reasons including missing jobcentre appointments or failing to look for work.
UK news in pictures

Show all 50
In practice, however, many sanction decisions are perceived to be unfair.
Widely-criticised decisions include people being sanctioned for missing jobcentre appointments because they had to attend a job interview, or people sanctioned for not looking for work because they had already secured a job due to start in a week's time.
In one case a man with heart problems was sanctioned because he had a heart attack during a disability benefits assessment and thus failed to complete the assessment.
The Work and Pensions Committee in March called for an independent inquiry into the way the sanctions operated, for the second time in a year.
The MPs' report warned that the sanctions regime appeared to be "purely punitive".
In August the DWP was caught making up quotes from supposed "benefit claimants" saying that sanctions had actually helped them.
The Department later admitted the quotes were fabricated and withdrew the leaflet, claiming they were for "illustrative purposes only".
Sanctions have been associated with highly problematic rises in poverty and deprivation.
A report by a coalition of churches released this spring found that 100,000 children in Britain were going hungry after their parents were sanctioned.
Campaigners, including the Scottish National Party, have called for the sanctions system to be completely suspended.
Despite the changes to the system, Mr Duncan Smith said he believed that sanctions played "an important role in the labour market".
The DWP has also announced changes to the way Jobseekers Allowance sanction notifications were sent out and an extension of "at risk" groups to cover people with mental health conditions and those who are homeless. People in these groups have greater access to hardship payments.
Commenting on the Government's changes, Frank Field, the chair of the committee's current iteration, said:
"Our predecessor Committee conducted some very valuable work on the benefit sanctions regime. We are pleased that the Government has accepted many of the Committee's criticisms of its approach and, more importantly, the recommendations for change. In particular, we welcome the trial of the "yellow card" warning system and the reassessment of what constitutes hardship. Conditionality is an important part of our benefit system, but sanctions must be fair, clearly understood and not plunge families into unjustifiable hardship.
"The Government's response leaves a number of questions unanswered. We will be tracking the progress closely to ensure that the Government follows through on the spirit of this constructive response in practice. I will be writing to the Secretary of State asking for further information on the detail and timing of his plans. We will also ask him about them when he gives evidence to the Committee on Wednesday morning."
Join our new commenting forum
Join thought-provoking conversations, follow other Independent readers and see their replies