Boris Johnson 'told a half-truth' in promising shark-fin soup ban to promote Brexit
Exclusive: Leaving the EU is not the only hurdle to outlawing cruel and abhorrent practice, say experts
Jane Dalton
Saturday 16 November 2019 03:00 Comments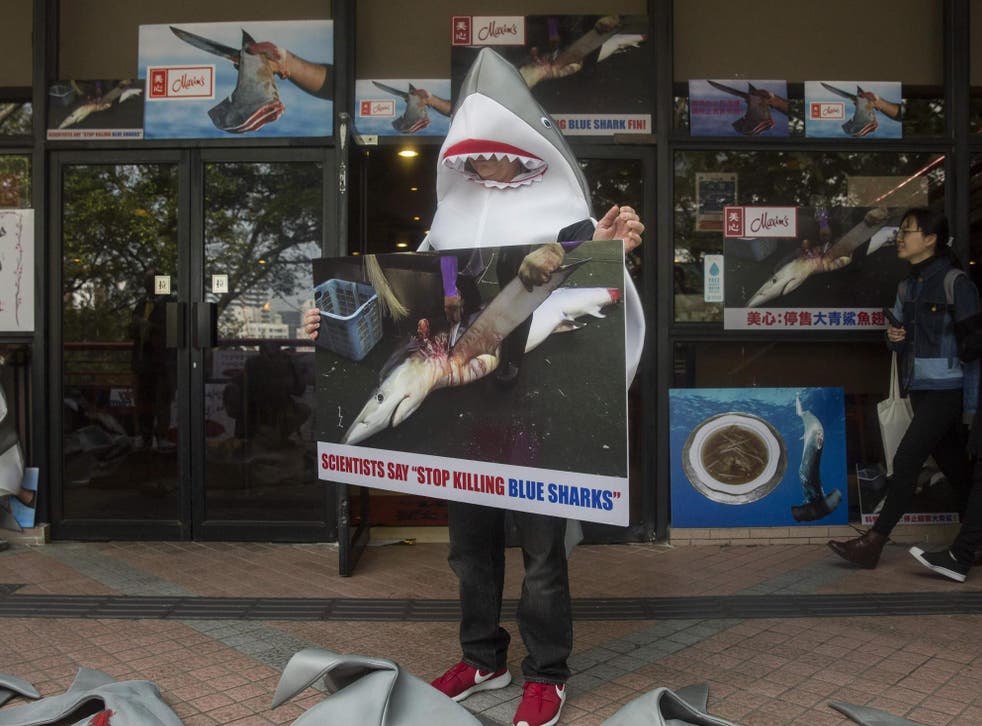 Boris Johnson was telling a half-truth when he said the UK could ban shark-fin soup after Brexit, experts say.
EU trade rules, which the prime minister cited, are only one of the obstacles to outlawing a trade that conservationists say is abhorrent.
Addressing Tory activists on the election campaign trail, Mr Johnson said: "We can get on with things the British people have wanted to do for years, like … banning shark-fin soup. I don't know about you, but I think it's cruel to cut off the fins of a shark and chuck it back in the water. But unfortunately we can't ban shark-fin soup because of EU rules."
But shark experts say that after quitting the European Union, the UK would still be subject to World Trade Organization (WTO) rules, which could prevent a UK ban on shark-fin exports.
It's estimated 100m sharks are killed every year, most for their fins that are used to make soup, which is considered a delicacy in Asia.
Species to be protected by "blue belt" conservation zones

Show all 20
After fishermen slice off the fins, the sharks are dumped back into the sea where they bleed to death. Marine protectionists such as WildAid say the "cruel and unsustainable" practice damages ocean ecosystems and leaves sharks at risk of extinction.
Britain plays a significant role in keeping the trade thriving, an investigation just four months ago found. Greenpeace found the UK had exported more than 50 tonnes of fins since 2017, mostly to Spain, which itself is one of the world's biggest exporters to Asia.
UK exports to Spain included 29.7 tonnes, worth £216,000, last year, the analysis showed.
Graham Buckingham, of Bite-Back Shark & Marine Conservation, a UK charity, said: "Today the prime minister suggested that leaving the EU will allow the UK to ban shark-fin soup. While it's great to see this hugely controversial dish make it on to a political agenda, leaving the EU isn't the only hurdle to a ban.
"The UK still has obligations to the World Trade Organization, under the General Agreement on Tariffs and Trades, which could make a ban extremely difficult or impossible to implement.
"So Brexit alone won't necessarily save sharks from the cruel and abhorrent act of shark finning."
A move to ban sales of shark-fin soup in the UK could be challenged by any WTO country, he said, and it could be difficult and time-consuming to appeal against.
Shark finning has been banned in European waters since 2003 but loopholes exist: fishermen may still remove fins from a dead shark, and also may carry out finning outside the EU.
In addition, UK law allows anyone to import 20kg for "personal consumption", which Mr Buckingham says is fuelling a clandestine trade to British restaurants. Bite-Back says 14 restaurants serve the soup, which is still legal.
Sharks play an important role in mitigating climate change by absorbing carbon dioxide through their prey, but finning is depleting their numbers. A third of shark species could soon face extinction, according to World Animal Protection.
In some parts of the world, 90 per cent of great white, hammerhead and thresher have vanished in 60 years. "Worse still they could be wiped out by 2048," says Bite-Back.
Earlier this year, in response to a petition calling for a ban on the importation of shark fins, the UK government cited only EU regulations.
"Whilst in the EU, it is not possible to unilaterally ban the import of shark fins into the UK," it said.
"Leaving the EU will present us with the opportunity to take further action on this issue and consider whether the UK can go further in controlling the quantity of dried shark fins permitted for personal consumption, consistent with our WTO obligations."
Consumers in China have turned away from shark fins in response to awareness campaigns and a government banquet ban, but the soup remains popular in Hong Kong, Taiwan and Macau, and consumption is growing in Thailand, Vietnam, and Indonesia, according to WildAid.
More than half of urban Thais had tried shark fin and nearly two in three said they planned to consume it again, a 2017 survey found.
Brazil is also one of the largest markets, selling the meat as cação, WildAid says.
Meanwhile, a meeting next week is being billed as "make or break" time for the endangered North Atlantic mako shark, when an international commission will consider scientists' advice to ban catches.
Register for free to continue reading
Registration is a free and easy way to support our truly independent journalism
By registering, you will also enjoy limited access to Premium articles, exclusive newsletters, commenting, and virtual events with our leading journalists
Already have an account? sign in
Join our new commenting forum
Join thought-provoking conversations, follow other Independent readers and see their replies