Boris Johnson's victory at 2019 general election cost Conservatives over £16m, figures show
Over £1.6m in market research and canvassing was paid to CTF Partners Limited – the firm of election strategist Sir Lynton Crosby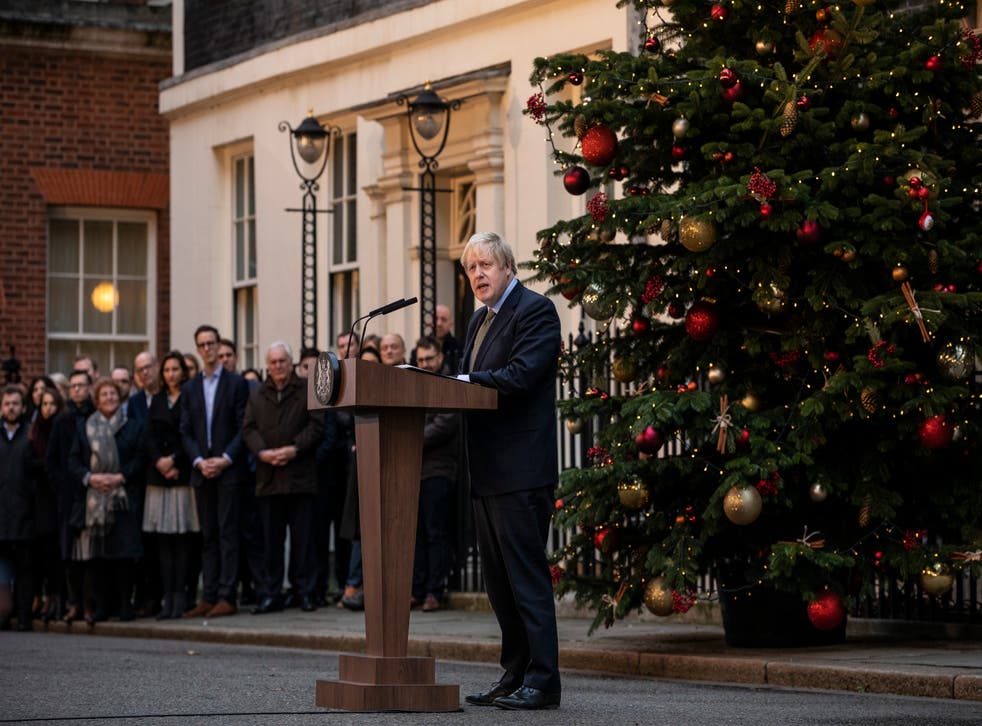 Boris Johnson's landslide win at the December general election set the Conservatives back over £16 million, according to newly-released data by the Electoral Commission.
The considerable figure – amounting to some £200,000 per seat for the Tories' 80-seat majority in the Commons – was published as part of the independent watchdog's first batch of 2019 political party election spending.
Due to delays in some parties submitting spending returns for the winter election during the Covid-19 crisis, the Electoral Commission is yet to publish returns for Labour, the Liberal Democrats and the Brexit Party.
According to the available data, published on Wednesday, the Mr Johnson's team paid out over £1.6m in market research and canvassing to CTF Partners Limited – the firm of election strategist Sir Lynton Crosby, who has devised previous Tory election campaigns.
Over £1m was also spent on advertising on Facebook while a further £610,000 was spent with consultancy firm Hanbury Strategy, which was co-founded by former Conservative advisers in Number 10.
Data published by the Electoral Commission adds that a considerable chunk of the 2019 spending – £5,818,998 – went on "unsolicited material to electors", such as leaflets, while rallies and other such events were allocated just over half a million pounds.
The total expenditure on the campaign – £16,486,871 – is just short of the party's spending when Theresa May called the election in 2017, which resulted in the loss of the Conservatives' majority in Parliament and a cheque of over £18.5m. During the same vote Labour under Jeremy Corbyn paid out around £11m and won 30 seats.
The 2019 figures are not yet available for the Labour Party's, who lost 59 seats at the winter election, but the Electoral Commission figures show the pro-Corbyn activist group Momentum spent just over £500,000.
Nicola Surgeon's Scottish National Party (SNP), who won an extra 13 seats, spent more than £1m in campaigning activities, the figures added.
Highlighting the decline of the United Kingdom Independence Party (Ukip) as a political force, the data sets showed the organisation formerly led by Nigel Farage spent just £8,761 at the winter election compared with £2.8m at the 2015 vote.
The Independent Group for Change, formed of MPs that had defected from the major political parties, also forked out £29,556 during the winter campaign, but failed to win a single seat in Parliament.
The Commission said that spending returns for parties who spent over £250,000 at the 2019 general election were due to be reported by June, but due to Covid-19 not all parties, including Labour, Liberal Democrats, and the Brexit Party were able to deliver returns in time for the deadline. Further batches of spending information are expected to be released in due course.
Register for free to continue reading
Registration is a free and easy way to support our truly independent journalism
By registering, you will also enjoy limited access to Premium articles, exclusive newsletters, commenting, and virtual events with our leading journalists
Already have an account? sign in
Register for free to continue reading
Registration is a free and easy way to support our truly independent journalism
By registering, you will also enjoy limited access to Premium articles, exclusive newsletters, commenting, and virtual events with our leading journalists
Already have an account? sign in
Join our new commenting forum
Join thought-provoking conversations, follow other Independent readers and see their replies