Boris Johnson's 'global Britain' claims mocked as UK cuts back embassies around world to fund more EU diplomats
Foreign Secretary said Britain would play a greater role on the world stage after leaving the European Union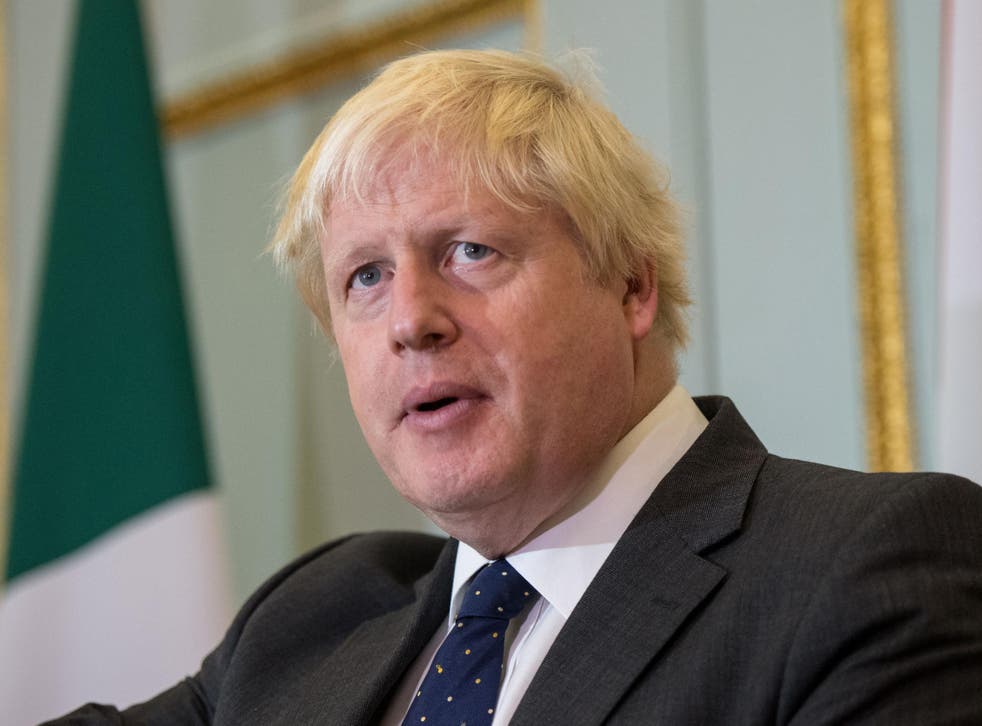 Boris Johnson's pledge to build a "global Britain" after Brexit has been branded "hot air" after it emerged the Foreign Office was hollowing out embassies around the world to fund diplomatic posts in Europe.
The Foreign Office plans to hire 50 extra staff for embassies within the European Union and promote ambassadors in smaller nations such as Malta and Luxembourg to a more senior level, officials have told MPs.
The idea will be funded by cost-cutting measures for diplomatic missions in places such as Asia and Africa, in a move at odds with Mr Johnson's claims that the UK will play a greater role on the world stage after it leaves the EU.
Boris Johnson and Russian foreign minister talk about frosty UK-Russia relationship
Critics seized on the news as a sign of the impact of Brexit on Britain's diplomatic and trade relations amid growing concern over how Whitehall departments will cope with the sheer volume of work involved in preparations for leaving the EU.
In evidence to the Commons Foreign Affairs Committee, reported by The Times, Foreign Office minister Sir Alan Duncan said: "We are developing proposals for making savings across Asia-Pacific; south Asia and Afghanistan; the Americas and Africa to release about £4.2m worth of savings to fund these 50 new jobs."
The Foreign Office also plans to hire 50 extra staff to help Whitehall departments cope with the challenges of Brexit.
Caroline Wilson, Europe director at the Foreign Office, reportedly told MPs there had been a "big network shift to emerging market economies, including India and China" in recent years and the plan focused on "redressing the balance" towards European diplomacy.
Ambassadors in Malta, Luxembourg, Latvia, Lithuania, Slovenia and Slovakia will be promoted to a more senior level as work in those areas had become "more important" after the EU referendum, she said.
Ms Wilson said that the Foreign Office was in negotiations with the Treasury about cutting posts elsewhere in the world, according to The Times.
Pro-European campaigners said the plan "makes a mockery" of Mr Johnson's hopes for a "global Britain", which he outlined in his first major policy speech as Foreign Secretary last year.
James McGrory, director of the Open Britain campaign, said: "Despite all of Boris Johnson's hot air about 'global Britain', the reality is Brexit is diminishing our country's presence on the world stage.
"No one voted in the referendum for Britain to have less international influence. If that is the consequence of Brexit, people have a right to keep an open mind about whether it is the right path for our country."
Brexit: the deciders

Show all 8
Liberal Democrat Brexit spokesperson Tom Brake said: "The Foreign Secretary's shameless attempts to bolster his influence on Brexit negotiations, so that we end up with the most self-destructive possible outcome, is now damaging our trade prospects, and existing relationships, around the world.
"This makes a mockery of the Conservatives' claims that they are pushing hard to forge new trading relationships across the globe as they sever ties with our most important trading partner."
Mr Johnson has been one of the leading supporters of a clean break from Brussels, warning Theresa May earlier this year that Britain must not remain subject to EU regulations after leaving the bloc.
In a major speech, entitled "Beyond Brexit: A Global Britain", he said: "Whether we like it or not we are not some bit part or spear carrier on the world stage.
"We are a protagonist – a global Britain running a truly global foreign policy."
Register for free to continue reading
Registration is a free and easy way to support our truly independent journalism
By registering, you will also enjoy limited access to Premium articles, exclusive newsletters, commenting, and virtual events with our leading journalists
Already have an account? sign in
Register for free to continue reading
Registration is a free and easy way to support our truly independent journalism
By registering, you will also enjoy limited access to Premium articles, exclusive newsletters, commenting, and virtual events with our leading journalists
Already have an account? sign in
Join our new commenting forum
Join thought-provoking conversations, follow other Independent readers and see their replies