Boris Johnson's Tories face wipe-out in Scotland if general election is called, poll suggests
Ruth Davidson's former pollster warns party could be 'eliminated' north of the border, as voters turn against hardline Brexit stance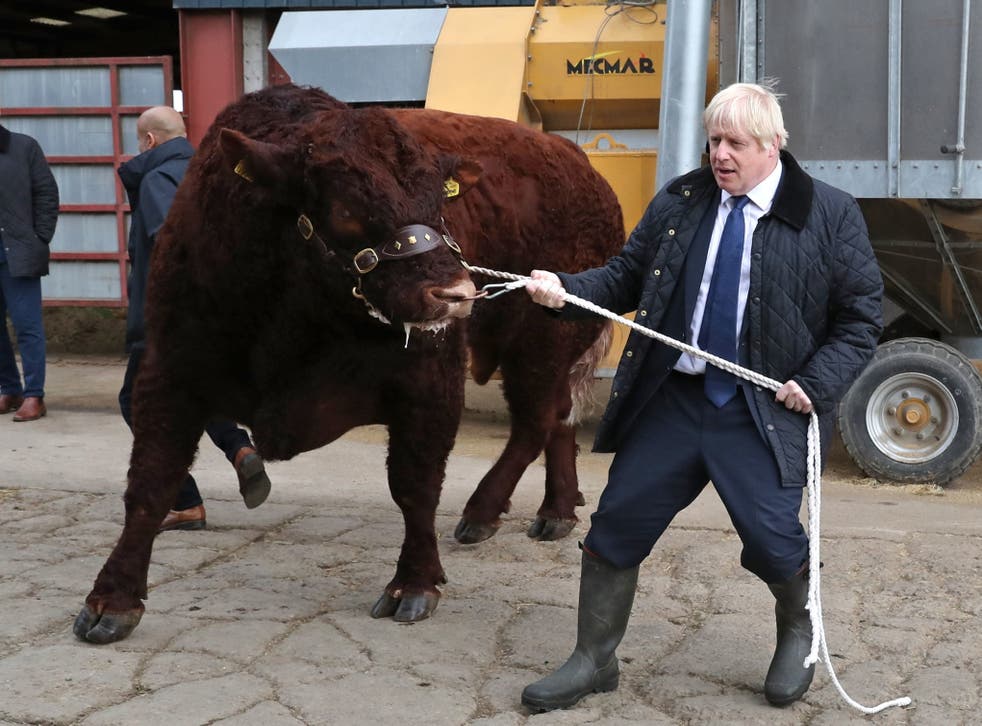 Boris Johnson's Conservatives face a wipe-out in Scotland if a general election is called, with all 13 of the party's seats north of the border set to fall to the SNP amid widespread rejection of his "do or die" Brexit message, according to new polling.
The YouGov poll, released as the prime minister spends his first night with the Queen at her Scottish estate at Balmoral, records a 14 per cent slump in the Tories' share of the vote in the constituencies which they won in Scotland in 2017.
And it finds voters in these Conservative-held areas back a second EU referendum by 58 per cent to 42 and would back Remain by 63 per cent to 37 if one were held, if don't-knows and non-voters are excluded.
The dramatic figures come just days after the resignation of Ruth Davidson, whose leadership had seen the Scottish Tories recover from near-extinction to become Scotland's second party.
They suggest the progress made under her leadership since 2011 will be all but wiped out in the snap election expected this autumn, costing the seats of Scotland secretary Alister Jack in Dumfries and Galloway and his predecessor David Mundell in Dumfriesshire, Clydesdale and Tweeddale. Ms Davidson's former pollster Lord Cooper said Tories risked being "eliminated" as a major force in Scottish politics.
Thousands protest after Boris Johnson requests to suspend parliament

Show all 29
The apocalyptic picture of Tory fortunes emerged as a senior MP warned that the prime minister's commitment to leaving the EU with or without a deal on 31 October risked driving millions of supporters into the arms of the SNP and Labour.
Former defence secretary Sir Michael Fallon said the recent expulsion of 21 Tories who voted to block no deal sent "the wrong message" to the party's supporters.
"I think, by definition, some 5 million Conservatives must have voted Remain and I think we have got to be very careful not to drive them into the hands of Remainer parties like the Liberal Democrats in England or the Scottish nationalists in Scotland," he told BBC Radio 4's Today programme.
Across the 13 Tory-held seats in Scotland, the Conservative share of vote stood at just 30 per cent, compared to 44 per cent at the last election, while the Scottish National Party tally rose from 34 per cent to 42 per cent.
On a uniform swing, this would see every Tory seat fall to the SNP, with Nicola Sturgeon's party establishing a lead over Conservatives of as much as 22 points in Stirling and 16 in Angus, and Ochil and South Perthshire.
The poll, commissioned by the People's Vote campaign, found that voters in the Tory-held seats are deeply pessimistic about the impact of any form of Brexit, with 53 per cent saying it will leave the economy weaker, against 17 per cent who thought it would be stronger and a similar ratio (48-13) saying it would make the NHS worse rather than better.
By almost seven to one – 48 per cent to 7 per cent – those questioned said they expected their own family to be worse off as a result of Brexit. Some 48 per cent said they expected taxes to rise as a result of Brexit, against just 5 per cent who think they will fall.
Lord Cooper said: "This poll sends a very serious warning to the Conservative and Unionist Party in Scotland. Boris Johnson's threat to them is not that he will be a bump in the road on a slow but continuing recovery, but that he will effectively eliminate them overnight as a major force in Scottish politics.
"Asking Scottish voters to choose between their British and their European identities and forcing Scottish voters to back a nationalist agenda that might work in some parts of England looks as though it will spectacularly backfire."
The leader of the SNP group in Westminster, Ian Blackford, said: "This stunning poll underlines the strength of opposition to Brexit in Scotland.
"Boris Johnson's reckless plans for an extreme Brexit would be devastating – threatening to destroy 100,000 Scottish jobs and inflict lasting harm on living standards, public services, and the economy. It is shameful that Scottish Tory MPs have completely failed to oppose them."
Support free-thinking journalism and attend Independent events
Following a visit to Aberdeenshire on Friday, Mr Johnson and his partner Carrie Symonds were having dinner with the Queen and spending the night at Balmoral before returning to London.
The PM's traditional long autumn weekend with the sovereign at her Scottish estate was cut short because of the current political crisis.
YouGov questioned 887 people in Conservative-held seats in Scotland between 28 August and 4 September.
Join our new commenting forum
Join thought-provoking conversations, follow other Independent readers and see their replies