Theresa May admits Boris Johnson to miss crucial Heathrow vote despite Tory MPs being ordered to back government plans
Foreign secretary had vowed to 'lie down with you in front of those bulldozers', but will not turn up in the Commons when colleagues decide on the controversial proposal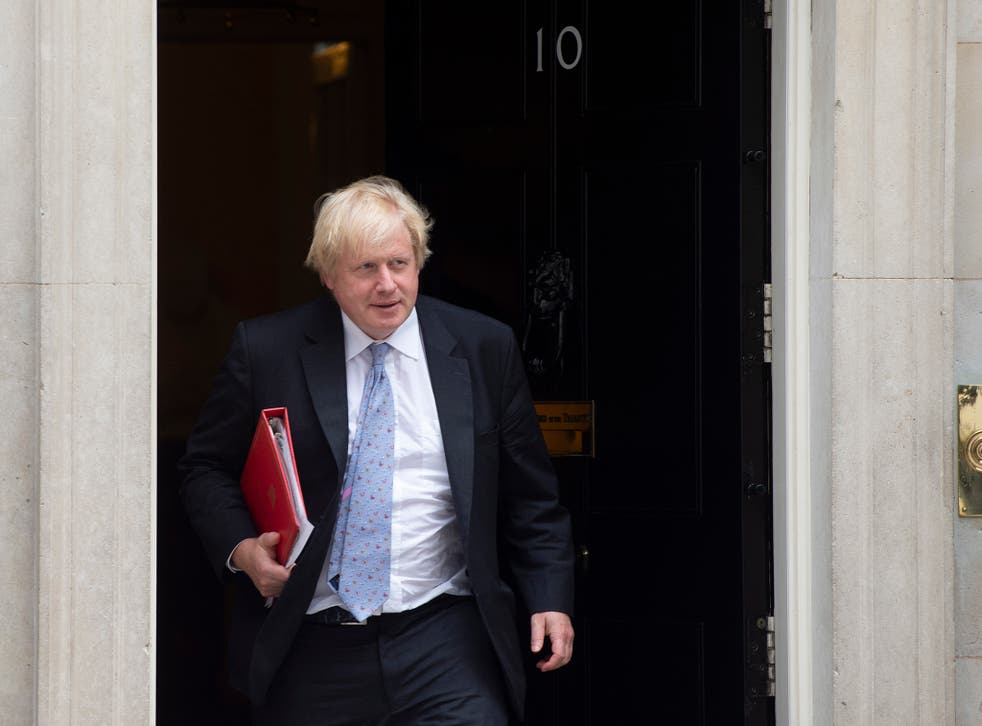 Boris Johnson is to miss a crucial vote on plans for a third runway at Heathrow airport as he will be "the living embodiment of global Britain" on a foreign trip coinciding with the Commons division, Theresa May has said.
The foreign secretary – a long-standing critic of Heathrow expansion – had previously pledged to anti-expansion protesters that he would "lie down with you in front of those bulldozers" and "stop the construction of that third runway".
But on Thursday, the prime minister confirmed Mr Johnson would be absent for the vote – despite Conservative MPs facing a strict three-line whip to vote for the government's expansion plans.
His overseas visit means it will spare the prime minister the prospect of another high-profile resignation from the cabinet which would once again expose the political fragility of her government.
Greg Hands, who has served in various government posts for seven years announced on Thursday he had stepped down from his position as a trade minister in order to vote against the airport expansion plans in the Commons on Monday.
When asked about the vote at a press conference yesterday, the prime minister told reporters in Downing Street: "The foreign secretary early next week will be what I would describe as the living embodiment of global Britain.
"He will be out there actually showing the UK's continued presence around the world and the work that the UK continues to do around the world with our diplomacy, working on so many of the issues and challenges that we face across the world today."
Ms May reiterated the government's commitment to increasing capacity at Heathrow because it was important for the "ambitions we have as a trading nation for the future".
It is expected that Heathrow's third runway will be get the green light next week after Labour said it will give its MPs a free vote on the issue despite the government's plans failing the party's environmental tests.
Liberal Democrat leader Sir Vince Cable said: "Heathrow expansion is expensive, will damage the environment and will end up hurting rather than helping regional economies.
UK news in pictures

Show all 50
"I hope that other ministers, such as Boris Johnson, who have previously taken a staunch anti-Heathrow expansion stance will now follow the Liberal Democrats and vote against the third runway."
Following the announcement earlier this month that the Government intended to press ahead with a third runway, Downing Street indicated ministers with long-standing objections would be able to voice their opposition at a "local level" but would not be permitted to speak against it in the Commons.
Ahead of the vote, officials said the expansion of Heathrow would create 114,000 extra jobs in the area around the airport by 2030.
Register for free to continue reading
Registration is a free and easy way to support our truly independent journalism
By registering, you will also enjoy limited access to Premium articles, exclusive newsletters, commenting, and virtual events with our leading journalists
Already have an account? sign in
Register for free to continue reading
Registration is a free and easy way to support our truly independent journalism
By registering, you will also enjoy limited access to Premium articles, exclusive newsletters, commenting, and virtual events with our leading journalists
Already have an account? sign in
Join our new commenting forum
Join thought-provoking conversations, follow other Independent readers and see their replies