Boris Johnson raises 'profound concern' at suffering of people in Yemen conflict
The Foreign Secretary is reported to have refused to apologise after suggesting Saudi Arabia is involved in a 'proxy war' in the country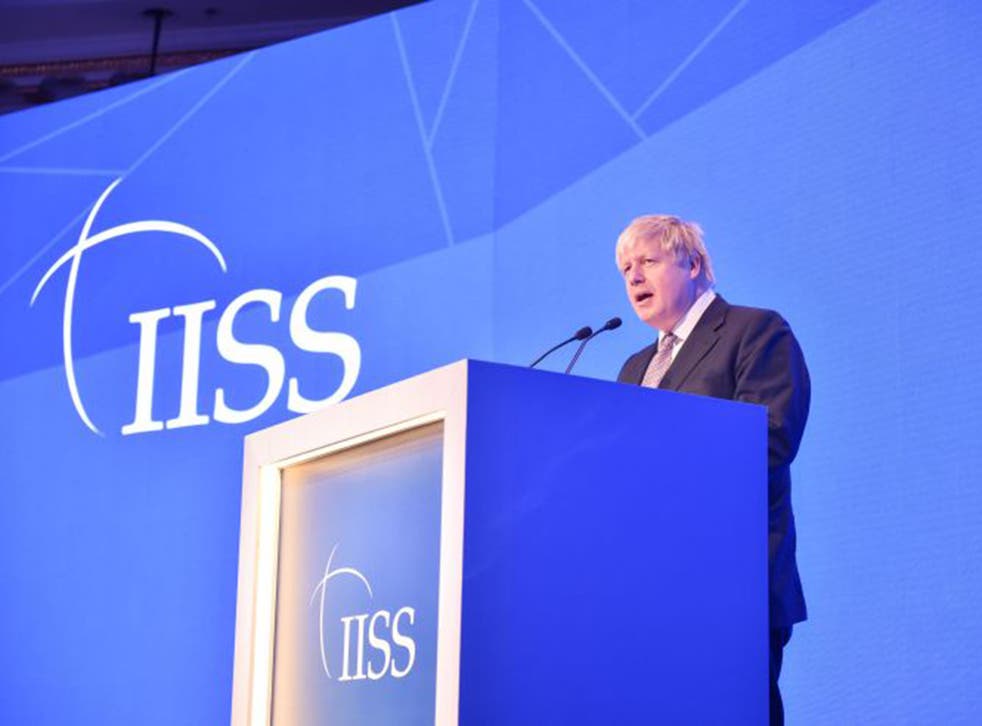 Boris Johnson has used his first speech since his controversial comments about Saudi Arabia, to underline his "profound concern" at the suffering of people in Yemen.
Mr Johnson said stability in Yemen, which has been heavily bombarded by a Saudi-led coalition, could not be brought about by force alone.
It follows reports that Mr Johnson has refused to apologise for his claim last week that Saudi is involved in a "proxy war" in Yemen – words which embarrassed Theresa May who had just returned from a relationship-building trip to the Gulf.
The furore over those comments has also sparked a row in the Tory party, with critics claiming Mr Johnson should leave the Foreign Office and others backing him, like Scottish Tory leader Ruth Davidson who said he is "absolutely right".
After outlining his "profound concern" over suffering in Yemen at an event hosted by the International Institute for Strategic Studies in Bahrain today, Mr Johnson went on: "I think we can all agree on at least this key point, that force alone will not bring about a stable Yemen. That's why we in London have been working so hard with all our partners to drive that political process forwards.
"The same point about the need above all for a political solution can be made about every other conflict and struggle in this region."
Mr Johnson sought to realign his rhetoric in some way with Ms May's by launching an attack on Russian and Iranian backing for the regime of Bashar Assad in Syria.
Boris Johnson caught on video accusing ally Saudi Arabia of 'playing proxy wars'
But at the Med2 conference in Rome last week, Mr Johnson accused all politicians in the region of "twisting and abusing religion…in order to further their own political objectives."
He added: "And that's why you have these proxy wars being fought the whole time in that area…there is not strong enough leadership in the countries themselves."
Mr Johnson then lumped the Saudis in with Iran suggesting the two nations are both "puppeteering and playing proxy wars".
Afterwards, Ms May's official spokesperson said the Foreign Secretary's comments were his own view and did not reflect Government policy, and indicated Mr Johnson would have a chance to recant when he visits Saudi leaders on Sunday.
Despite the reported incidents of civilian deaths and the worsening humanitarian situation in Yemen, the UK has signed off £3.3bn in arms sales to Saudi Arabia since the start of its offensive, with the Foreign Secretary himself having previously defended the exports.
The row over Mr Johnson's original comments continued today after Ms Davidson told BBC Radio 4's Westminster Hour: "I think Boris Johnson was absolutely right about what he said about proxy ways, and about Saudi and about Iran.
The world has forgotten the Yemen war, says senior UN humanitarian official
"And I agree with his analysis. Now, that might not be the position of the UK Government, but guess what? I am not in the UK Government and I think he was right."
On Downing Street's treatment of the Foreign Secretary she said: "I think there is a longstanding diplomatic convention about not panning your allies in public.
"I think that this situation, particularly in Yemen, is desperate. I think that the UK Government is trying its hardest to make a dreadful situation better and I absolutely understand why the UK Government had to come out and say what it said - but I don't think Boris was wrong."
Earlier in the day ex-Tory Foreign Secretary Sir Malcolm Rifkind suggested Mr Johnson could be "dangerous" in his job and indicated that it might be better if he were moved.
Register for free to continue reading
Registration is a free and easy way to support our truly independent journalism
By registering, you will also enjoy limited access to Premium articles, exclusive newsletters, commenting, and virtual events with our leading journalists
Already have an account? sign in
Register for free to continue reading
Registration is a free and easy way to support our truly independent journalism
By registering, you will also enjoy limited access to Premium articles, exclusive newsletters, commenting, and virtual events with our leading journalists
Already have an account? sign in
Join our new commenting forum
Join thought-provoking conversations, follow other Independent readers and see their replies