Theresa May not doing her job by refusing to plan for 'no deal', influential Foreign Affairs Committee warns
Ministers were accused of a 'dereliction of duty'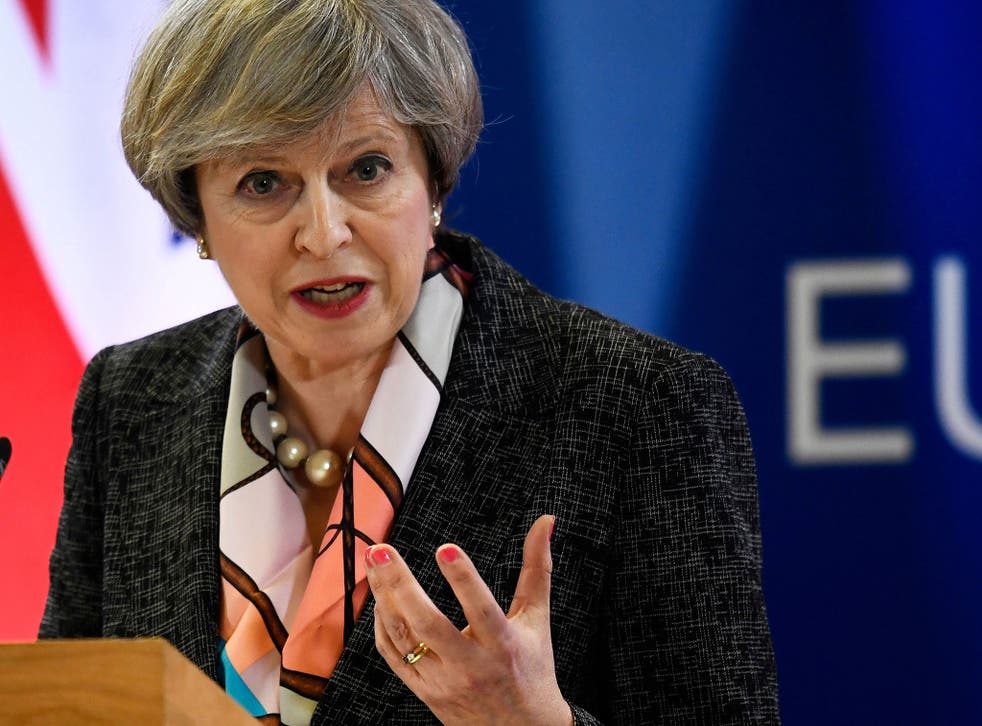 The Government is not doing its job properly by refusing to plan for the possibility that it cannot reach a trade agreement with the European Union within two years, an influential cross-party group of MPs has said.
The Commons Foreign Affairs Committee, which has been investigating Government preparation for Brexit, warned that there was a "real prospect" that negotiations could fail and that the current lack of preparation was "a dereliction of duty".
The warning, which comes just days before the triggering of Article 50, has echoes of criticisms leveled by the committee at the David Cameron ministry. Mr Cameron's government tried to make a virtue of resolutely failing to plan for leaving the EU, with Downing Street repeatedly dismissing the possibility of a Leave vote.
In a report outlining its findings the committee described the upcoming negotiations as "short, complex, and challenging". MPs were particularly alarmed at Brexit Secretary David Davis's characterisation of a no deal as "an exercise in guesswork".
They said in fact, that issues including the fate of EU and UK nationals living in other countries, legal and regulatory uncertainty, the sudden return of customs controls between the UK and Republic of Ireland, and uncertainty over the UK's participation in EU security policy would all be major issues that would need to be dealt with.
Committee chair and Tory MP Crispin Blunt said: "The possibility of 'no deal' is real enough to require the Government to plan how to deal with it. But there is no evidence to indicate that this is receiving the consideration it deserves or that serious contingency planning is underway.
"The Government has repeatedly said that it will walk away from a 'bad' final deal. That makes preparing for 'no deal' all the more essential. Such preparation reinforces that stance.
"Last year, the Committee described the Government's failure to plan for a Leave vote as an act of gross negligence. This Government must not make a comparable mistake.
"The Article 50 negotiations will hopefully be successful. There is a clear shared UK and EU interest in reaching agreement. Mutually assured damage is the alternative. The responsibility on the negotiators is substantial.
"But there is a real prospect that negotiations will fail. The Government should therefore require each Department to produce a 'no deal' plan identifying the likely consequences and making proposals, including guidance to individuals and businesses, to mitigate potential risks. Anything less would be a dereliction of duty."
Theresa May said in a speech outlining her Brexit plan earlier this year that "no deal" would be better than a "bad deal". The Government has yet to explain what it would do in the case of no deal, however.
The UK would likely be forced to revert to World Trade Organisation rule that would see tariff barriers erected around the EU, with which Britain does most of its trade. That possibility has been described by former Chancellor George Osborne as amounting to "the single biggest act of protectionism in British history".
Commenting on the report, a Government spokesperson said ministers would prepare for various eventualities.
Brexit Concerns

Show all 26
"We enter these negotiations aiming for a positive new partnership with the EU, including a comprehensive agreement on free trade. We are confident we can achieve such an outcome and that it is in the interests of both sides," he said.
"However, as the Secretary of State for Exiting the European Union has said, a responsible government should prepare for all potential outcomes.
"He briefed the Cabinet last month on the need to prepare not just for a negotiated settlement, but for the unlikely scenario in which no mutually satisfactory agreement can be reached."
Join our new commenting forum
Join thought-provoking conversations, follow other Independent readers and see their replies