Brexit is the 'battle of our times' says Labour's chief EU spokesman
Keir Starmer insists the party does have a coherent 'version of our future'
Rob Merrick
Tuesday 13 December 2016 01:16 Comments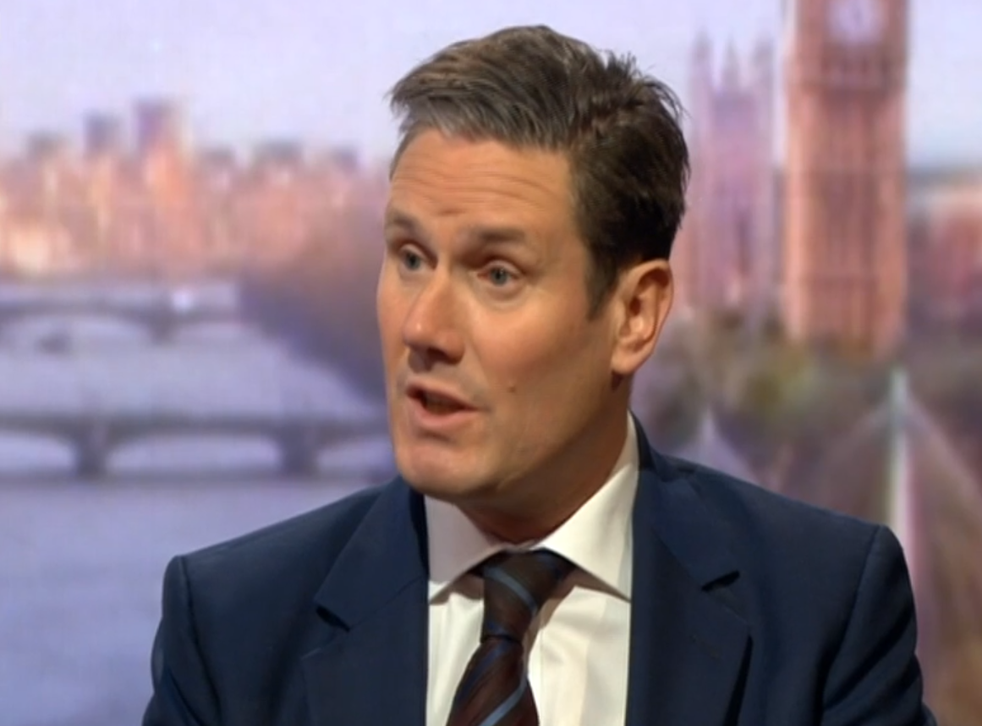 Labour's Brexit spokesman Keir Starmer will today declare the issue "the battle of our times", vowing the Opposition will not stand aside and allow the economy to be damaged.
Mr Starmer will attempt to draw a line under weeks of damaging Labour divisions on EU withdrawal, insisting the party does have a coherent "version of our future".
In a major speech, he will accuse Theresa May of failing to "bring the country back together' after the referendum, because she speaks to "one side of the divide" only.
And he will pledge to amend any Article 50 Bill brought forward next year if the Prime Minister fails to produce a "meaningful plan" for Brexit.
Mr Starmer will set out how Labour's aim – while accepting the reality of Brexit - is to "build a new and strong relationship with our EU partners" based on co-operation.
But pre-released excerpts of his speech hinted at the battle to convince his own party leadership to also make the terms of the exit the defining issue.
Many Labour MPs were horrified when Shadow Chancellor John McDonnell urged them to "embrace the enormous opportunities" of Brexit – instead of fighting to prevent its most damaging consequences.
Reflecting that internal fight, Mr Starmer will say: "The battle between these two versions of our future is the battle of our times. It will be fought out over the next few years.
"The Opposition needs to be in that battle. Labour needs to be in that battle. If we are not, the chance to shape the future of our country will be lost.
"Future generations will not forgive us for such a dereliction of duty."
Confusion about Labour's position was also stoked by the party's backing for a Government amendment in a key Commons vote last week.
Labour supported the Prime Minister's policy to "invoke Article 50 by 31 March 2017" in return for a vague commitment that she must publish a "plan" before then.
A total of 23 Labour MPs defied their party leadership – and dozens more abstained – but the motion passed with a huge majority of 372, to the delight of Brexit supporters.
Today, Mr Starmer will insist there is no "blank cheque" – because its backing is conditional on a proper Brexit plan being published.
He will pledge that Labour will make jobs, the economy and living standards – not immigration curbs - the priority for the negotiations.
And he will demand that Ms May reject a Brexit that "tears us apart from our EU partners. Out of the single market, out of the customs union".
Supreme Court Brexit Challenge

Show all 13
Such a policy would mean "reverting to World Trade Organisation rules, which would entail a range of harmful new barriers to trade and a desperate rush to sign new agreements with third party states to compensate".
It would also bring "a global race to the bottom which would not only put our economy and jobs at risk, but which would also abandon our shared scientific, educational and cultural endeavours with the EU. A so-called 'Hard' Brexit".
Register for free to continue reading
Registration is a free and easy way to support our truly independent journalism
By registering, you will also enjoy limited access to Premium articles, exclusive newsletters, commenting, and virtual events with our leading journalists
Already have an account? sign in
Join our new commenting forum
Join thought-provoking conversations, follow other Independent readers and see their replies