Brexit: Immigration controls will not be up for debate in EU 'divorce' talks, says David Davis
Mr Davis tells MPs key outcome of Brexit will be to give Parliament back control of Britain's borders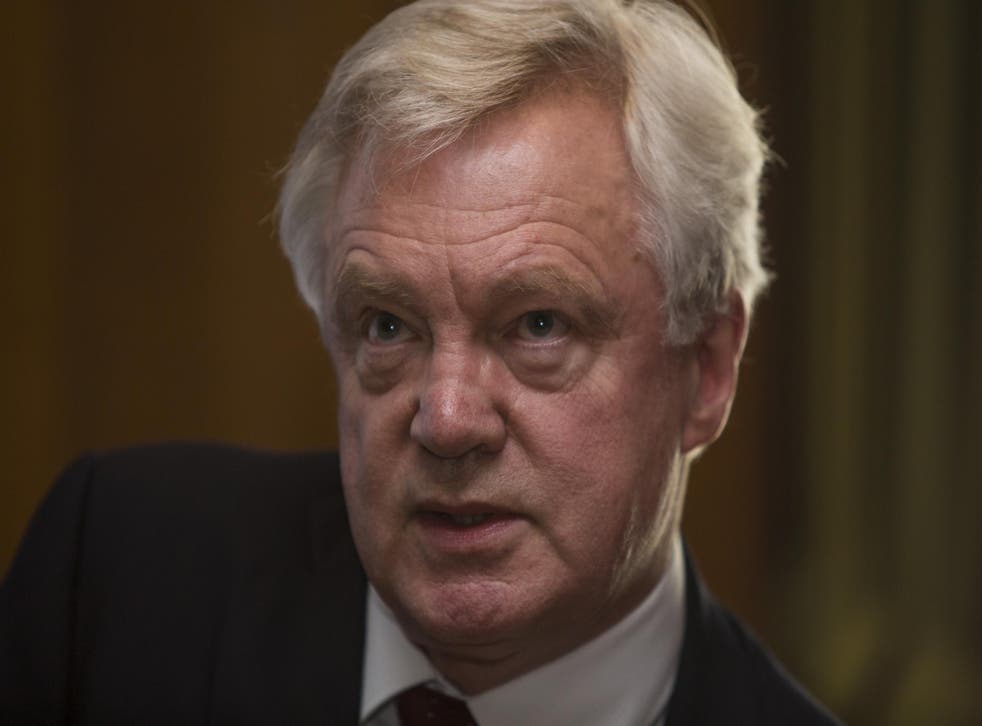 Immigration controls will not feature in the UK's "divorce deal" negotiations with Brussels, Brexit Secretary David Davis has said.
Mr Davis told MPs a key outcome of Brexit would be to give Parliament back control of Britain's borders.
The Brexit Secretary said he was ready to accept a transitional arrangement to implement the terms of Britain's withdrawal from the EU "if it's necessary", but no decision had yet been made about whether to stay in the Single Market long term.
Giving evidence to the Commons Exiting the EU Committee, Mr Davis made it clear the Government was not prepared to compromise on immigration controls.
"What we have to bear in mind is that we have to pay respects to the outcome of the referendum, and therefore it's got to be clear control by this Parliament. My job is to bring the decision back here, not exercise the decision."
Asked if he thought discussion of issues like preferential, skill-based migration for EU citizens would feature in the negotiations, Mr Davis said: "No, I don't.
"I think that the operation of that decision after we have left the European Union will be in the national interest and that will affect all levels of skill - the judgment that the Government comes to as to what's necessary for universities, what's necessary for business, and what's necessary for fruit picking."
The Brexit Secretary said that taking control of immigration would be a cornerstone of withdrawal as Switzerland believed it had agreed an "emergency break" with the EU, but that did not work in practice due to treaty obligations.
EU leaders have repeatedly insisted the UK will not be allowed to remain in the Single Market without accepting its free movement of labour rules.
Mr Davis indicated that the Government is working on four possible outcomes from the Brexit talks in relation to the European Customs Union.
These range from being fully or partially inside the union to having a free trade agreement and customs arrangement with the remaining EU to being "completely outside".
On the spectrum of possible outcomes being considered by the Government, he said: "The four I have in mind are inside the Customs Union; a 'partially inside' Turkish model; outside with a free trade agreement and a customs arrangement; and completely outside."
Mr Davis revealed that the Government's plan for Brexit will not be published before February, and declined to say whether it would come in the form of a White Paper, as some MPs have demanded.
The Brexit Secretary said that invoking Article 50 by the end of March would act as a wake-up call to EU leaders that the UK means business about withdrawal.
"As recently as October, at least one head of government was saying 'how are you going to reverse this?' And many of the others still feel that it can't really happen.
"Once we have served the Article 50 letter, one of the virtues of the article 50 process is that... it's very difficult to see it being revoked. We don't intend to revoke it, and it may not be revocable, I don't know."
Pressed on whether the Government was considering a special arrangement to allow Northern Ireland to remain in the customs union, in order to ensure that its border with the Republic remains open, Mr Davis said: "That's not one of the options we have been looking at - so far, anyway."
He said ministers were "determined to maintain that as an open border", suggesting it might be possible to replicate arrangements on the border between Norway, which is outside the Customs Union, and Sweden, which is a member.
Asked to rule out border controls being placed between the island of Ireland and Great Britain, Mr Davis said: "I don't know ... at the moment. My view here is, I don't see that would be the solution, to be honest.
"The primary concern for me is to make sure that we don't have that hard border, and there are various technical ways of resolving that."
Mr Davis insisted the UK had every intention of being a "good European citizen" after Brexit.
The Brexit Secretary would not be drawn on whether Parliament would get a vote on the final deal, saying: "We will obey the law to the letter."
Asked if the Government had decided whether to stay in the Single Market or not, Mr Davis said: "This is one of those things where we have to work out what's compatible, and our view at the moment is to keep that general purpose option, that strategic aim, open, for the moment. Full stop. Just open. And not come to a conclusion until we have done more work.
"But, broadly speaking, we are sticking to the over-arching aim - maximum possible access, services, goods, networks, and so on."
Pressed about remarks in the Commons in which he indicated he would consider paying to retain access to the Single Market, Mr Davis said he had not ruled that option in or out.
"At this stage, three months short of the start of the negotiation, I would hold every option open that I can. I am not going to shut something off unnecessarily. So, to not count it out is also to not count it in.
"It was slightly over-interpreted, but what I was trying to do was keep open as many negotiating tools as I can."
Mr Davis said he would seek common ground with the devolved administrations on their aims for EU withdrawal, but they would not have a veto.
Brexit Concerns

Show all 26
"You can't give one part of the country a veto over the outcome, but you can do everything possible to make sure they get the best outcome."
Mr Davis said he believed that the UK's Brexit deal should be "negotiable" within the 18-month timetable set out by Michel Barnier, the chief Brexit negotiator for the EU.
He played down suggestions that the EU will take a punitive approach to negotiations.
Responding to Mr Davis's comments on immigration policy, the Prime Minister's official spokeswoman said: "We have been clear throughout as we approach these negotiations one of the key objectives would be that it is clear that it would be the UK who will be controlling migration and that we will make the decisions about migration with regard to the EU in the way that we do with other countries."
PA
Register for free to continue reading
Registration is a free and easy way to support our truly independent journalism
By registering, you will also enjoy limited access to Premium articles, exclusive newsletters, commenting, and virtual events with our leading journalists
Already have an account? sign in
Register for free to continue reading
Registration is a free and easy way to support our truly independent journalism
By registering, you will also enjoy limited access to Premium articles, exclusive newsletters, commenting, and virtual events with our leading journalists
Already have an account? sign in
Join our new commenting forum
Join thought-provoking conversations, follow other Independent readers and see their replies