Brexit deal: Theresa May refuses to say she can win Commons vote amid mounting evidence MPs will reject plan
Prime minister hints that hopes are fading in Downing Street that the vote on 11 December can be turned around
Rob Merrick
Deputy Political Editor, in Buenos Aires
Friday 30 November 2018 14:07 Comments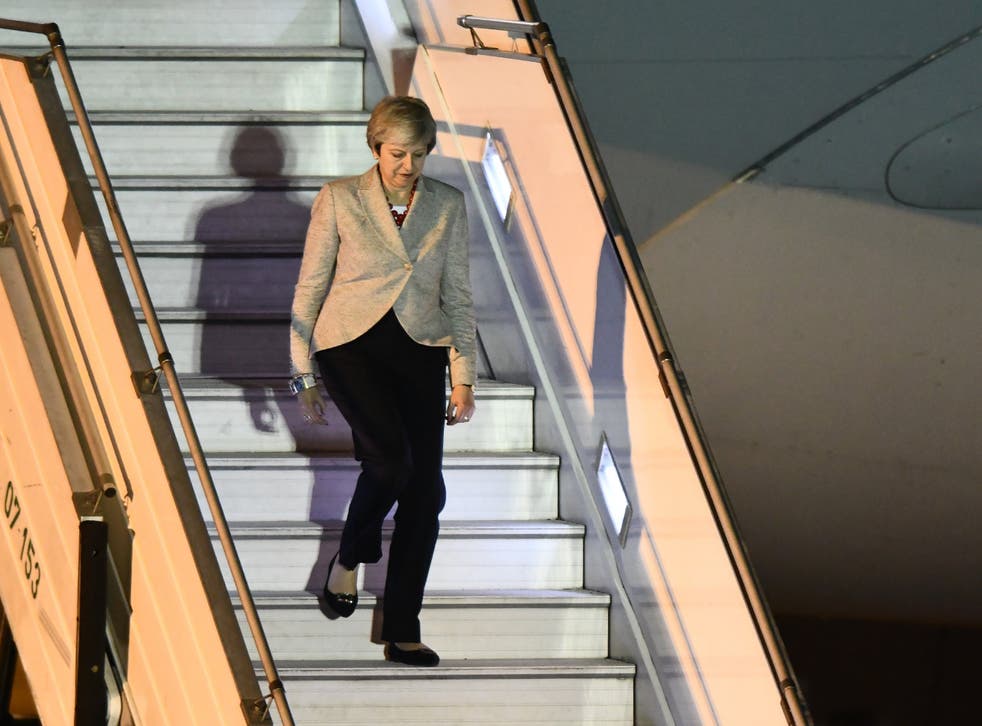 Theresa May has ducked two chances to say she can still win the crucial vote on her Brexit deal, amid mounting evidence that MPs will reject it
Speaking at the G20 summit, the prime minister appeared to concede that hopes are fading in Downing Street that the vote on 11 December could still go her way.
Asked "can you turn it round," Ms May would only say that she was "talking to colleagues about this vote".
And, pressed again, on whether "you have a chance of winning this vote", she instead turned her fire on Labour for refusing to back her agreement.
The prime minister also refused to rule out staging a second vote to try to ram the agreement through the Commons, perhaps after heading back to Brussels to change it following a defeat.
The gloomy comments came as the number of Tory backbenchers threatening to vote against the deal hit 100 – pointing to a crushing three-figure defeat in 12 days' time.
Ms May was also speaking as EU leaders dismissed her suggestion that the agreement could still be renegotiated, insisting the choice was "no-deal or no Brexit" if MPs vote it down.
In TV interviews in Buenos Aires, she insisted the British people were warming to the deal, pointing to "the message I get from members of the public".
"I think it's that interest in constituents that MPs need to have in their minds too when they come to vote," she told the BBC.
But, asked if she could still win the vote, she replied: "I am still working to ensure that when we come to the vote on December 11....", failing to complete the sentence.
Cabinet ministers resign over Brexit deal

Show all 13
Instead, she attacked Jeremy Corbyn, saying: "I think it's important for us all to be thinking of the national interest. Sadly, I see a Labour Party that is playing party politics with this.
"We need to put the national interest first. That's about delivering on the Brexit vote, it's about doing it in a way that thinks about constituents, thinks about their jobs and their futures."
And, pressed on whether she would attempt to hold another vote, she replied: "I'm focused on the vote that is taking place on 11 December and I want everybody who's going to participate, all members of parliament, to focus on what this vote does."
The prime minister was also asked whether her claims about a future independent trade policy and fishing rights were misleading.
On route to Argentina, she claimed the UK had already "negotiated a good trade deal with the EU" – despite the exit document having no agreed trading arrangements and no legal force.
"There's nothing misleading about what we've agreed," Ms May insisted.
"The political declaration is very clear - we will have an independent trade policy, we will be able to negotiate trade deals around the world.
"We're also very clear that there is not going to be a longstanding role for the European Court of Justice in having jurisdiction in the United Kingdom. It won't. That will come to an end."
Asked by ITV News, if she "risked your own MPs getting rid of you if you lose the vote?", she insisted: "It's not about me. This is about what is in the national interest."
Register for free to continue reading
Registration is a free and easy way to support our truly independent journalism
By registering, you will also enjoy limited access to Premium articles, exclusive newsletters, commenting, and virtual events with our leading journalists
Already have an account? sign in
Join our new commenting forum
Join thought-provoking conversations, follow other Independent readers and see their replies