Theresa May's stinging rebuke to Brexit critics who care more about 'looking good' than people's lives
The prime minister said her detractors are thinking too much about their 'privileged position and too little about their responsibility'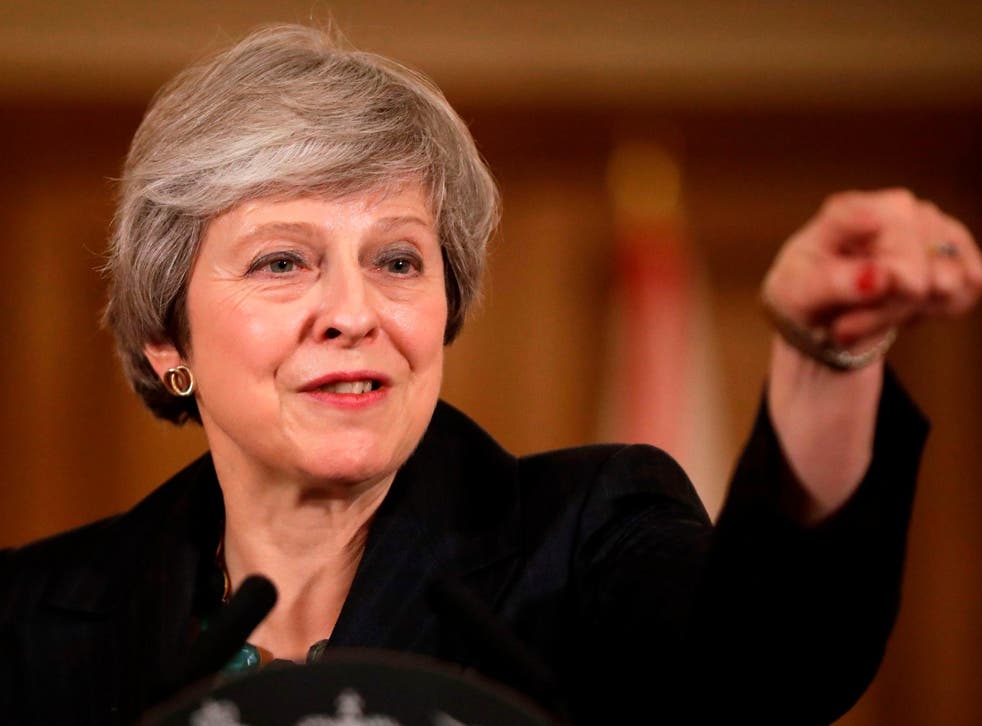 Theresa May has launched a stinging attack at Brexit critics she claims are more worried about whether they "look good" than improving the lives of people.
The prime minister said that some people in the Brexit debate appeared to be thinking too much about their "privileged position and too little about their responsibility".
She also said none of those plotting to scrap her Brexit strategy have an alternative that would solve the critical issue of the Irish border.
Her comments made in an interview on Saturday mark Ms May's latest attempt to get on the front foot following a tumultuous political week which also saw backbench plotters trying to depose her.
At the centre of the row tearing the Conservatives apart is the "backstop" for dealing with what happens to the Irish border if no new trade deal is set by December 2020.
Currently it would keep the whole of the UK in a customs union with the EU until a trade deal is solidified, with the UK only able to leave via mutual consent with Brussels – something Brexiteers hate.
Taking aim at her critics, Ms May said: "People say, 'if you could only just do something slightly different, have a Norway model or a Canada model, this backstop issue would go away'. It would not. That issue is still going to be there.
"Some politicians get so embroiled in the intricacies of their argument they forget it is not about this theory or that theory, or does it make me look good."
Conservative MP Steve Baker: MPs who backed Theresa May's Brexit deal cannot run as future leader
She went on: "It is what is best for people going about their lives day in and day out."
Among those attempting get her plans scrapped are former foreign secretary Boris Johnson, ex-Brexit secretary David Davis and backbench chair of the anti-EU European Research Group, Jacob Rees Mogg.
Mr Johnson has called on members of the cabinet to quit over Ms May's plans while, Mr Rees Mogg wants Ms May to be replaced and Mr Davis is also urging a looser relationship with the EU – all are believed to harbour leadership ambitions.
Without specifically naming anyone, Ms May said: "They think too much about their privileged position and too little about their responsibility.
"The job of a prime minister is to make tough decisions which are not always black or white. I have to find a way through, what best suits everybody's needs."
Ms May bolstered her cabinet by bringing back former home secretary Amber Rudd, who immediately pleaded with Tory rebels to back the prime minister and her Brexit deal.
The new work and pensions secretary said: "This is not a time for changing our leader."
Cabinet ministers resign over Brexit deal

Show all 13
But the prime minister's critics believe they have the numbers – 48 letters calling for her to resign are needed – to trigger a confidence vote within days.
The Independent reported on Saturday that a group of cabinet ministers are set to push Ms May to seek further concessions from Brussels ahead of a summit to sign off the withdrawal agreement later this month.
But Ireland's deputy premier has warned British politicians to sign up to the current Brexit agreement or risk crashing out of the EU without a deal.
Simon Coveney said people were "too quick" to write off Ms May, saying she has shown "resilience, courage" and a "reality check" to Brexiteers in Westminster.
Speaking ahead of Fine Gael's conference, he also warned it "will be difficult" to find an alternative deal that will prevent a hard border.
Join our new commenting forum
Join thought-provoking conversations, follow other Independent readers and see their replies