Brexit: Expats denied say in EU referendum due to missing postal votes demand re-run after scandal is revealed
Exclusive: Voters fear thousands of people may have been affected by delays and errors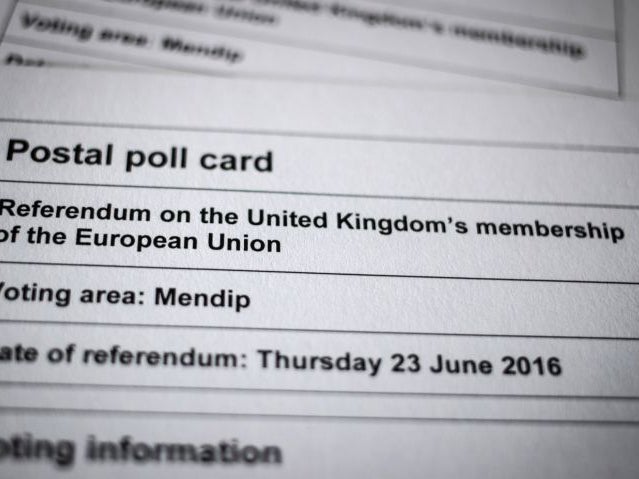 Anger is growing among countless British expats who say they have been "disenfranchised" in the EU referendum because their postal votes failed to arrive.
Since The Independent revealed the scandal on Thursday, more than 100 people have said they had confirmation that they registered within the Government's deadline but never received the ballot.
There were demands for an immediate investigation as the number of those known to be affected continued to grow, with some calling for a re-run of the referendum.
Christina Watkins, who lives in Normandy, told The Independent she had spoken to many other British friends in France who did not receive their postal votes.
How the UK felt about Brexit
"This has the potential, I believe, to demand a new referendum if the problem of overseas postal voting for expats is identified," she said.
"How many eligible voters who have been denied a vote must be identified before the Electoral Commission must act?
"The potential impact on people like me in a future where we are out of the EU could be catastrophic."
There were similar stories from British voters in countries including Peru, Iceland, Hong Kong, Turkey, South Africa and New Zealand, all of whom had their registrations for postal voting confirmed.
Michael Shorthouse, who did not receive his postal vote in the US, said the result of the referendum should be challenged, while another angry voter said the situation "makes a farce of the outcome of the EU referendum".
"I accept that this may be difficult…but at least morally, I would maintain time should at least be given to calls for a re-run, given the impact any mass-disenfranchisement could have had on the narrow margin of the result," he added.
EU referendum - in pictures
Show all 18
A Cardiff University professor, Bill Bell, said there should be a debate if the number of missing votes proves to be greater than the 1.3 million margin that gave the Leave campaign victory by 52 per cent to 48 per cent.
The majority of voters contacting The Independent said they had received no documents at all, but some said they did not arrive until shortly before the EU referendum or on the day of the vote itself, making it impossible to return them in time.
Jackie Donkin, who lives in Australia, said she received her postal vote on 23 June – complete with instructions to return it by 10pm on the same day.
"I am furious and disenfranchised," she said. "In this day of modern communications why is it not possible to enable a vote by means other than an unreliable postal system and, what is more, send out the ballot so late that it is clear that it is not going to be possible to return it by the deadline?"
Many voters said they had been told postal errors were to blame, although several said they had never had issues with the service in their respective countries and a man who contacted Iceland Post was told they had no record of the package.
Delays were confirmed by Castle Point Borough Council in Essex, which issued a letter to expats on 9 June saying it re-issued postal packs after being told those handed to Royal Mail on 25 May had not yet been delivered.
Sarah Newton said she was told by electoral officials at Kirklees Council in Yorkshire that the papers had not been sent out because of an unspecified "clerical error".
"I wonder how many other British expats have been disenfranchised in this way?" she asked.
"Presumably many of them would have voted Remain, concerned as they probably are for their own legal status in the country where they live."
In another mistake, one man found out his postal vote had been accidentally sent to an address in Australia, rather than his home in Austria.
Anna Szkalinska, who received her postal vote on polling day in Johannesburg, suggested that expats be allowed to vote in British consulates to avoid the problem in the future.
Many of those affected said they wanted to vote Remain, although many intended to back Leave and a man living in Australia said the vast majority of his acquaintances were pro-Brexit.
Sally Brimblecombe said council responsible for her vote, in Suffolk, blamed the error on the French postal system but raised the prospect of a "conspiracy" against pro-EU expats.
"I feel defeated, but thought my one vote would not make much difference in the end," she added. "If, as I now hear, this has affected many people living abroad in the EU, then I want to join them to be heard."
Karen and Paul Mehrlich, who live in France, believed the disappearances were "suspicious".
"It would be interesting to know how many expat postal votes were allegedly sent out and how many returned," the couple said in an email.
Jack Bownes, an Exeter University student on a year abroad in Paris, said that three out of seven of the English friends he met on Thursday evening had the same problem.
"Regardless of which way I was voting, and whether I am pleased or disappointed with the result, I am hugely upset that I wasn't able to have a say and exercise one of my basic human rights in what is an historic referendum," he added.
"It seems like a lot of postal votes didn't come through. It's simply not fair."
And the issue is not confined to expats – several British residents have also contacted The Independent. A spokesperson for the Electoral Commission said it would investigate the issue. "We are aware of the complaints from some overseas voters that they did not receive their postal votes ahead of the referendum," she added.
"We will be looking into this as part of our statutory report on the referendum."
She did not comment on individual cases or explain what had happened to the missing votes.
Did your postal vote fail to arrive? Let us know by emailing lizzie.dearden@independent.co.uk.
Join our commenting forum
Join thought-provoking conversations, follow other Independent readers and see their replies