UK will pay Brexit divorce bill even if no trade deal reached with EU, Hammond says
Chancellor also admits the Cabinet has not agreed - or even discussed - what it hopes to achieve for the Brexit 'end state'  
Rob Merrick
Deputy Political Editor
Wednesday 06 December 2017 15:41 Comments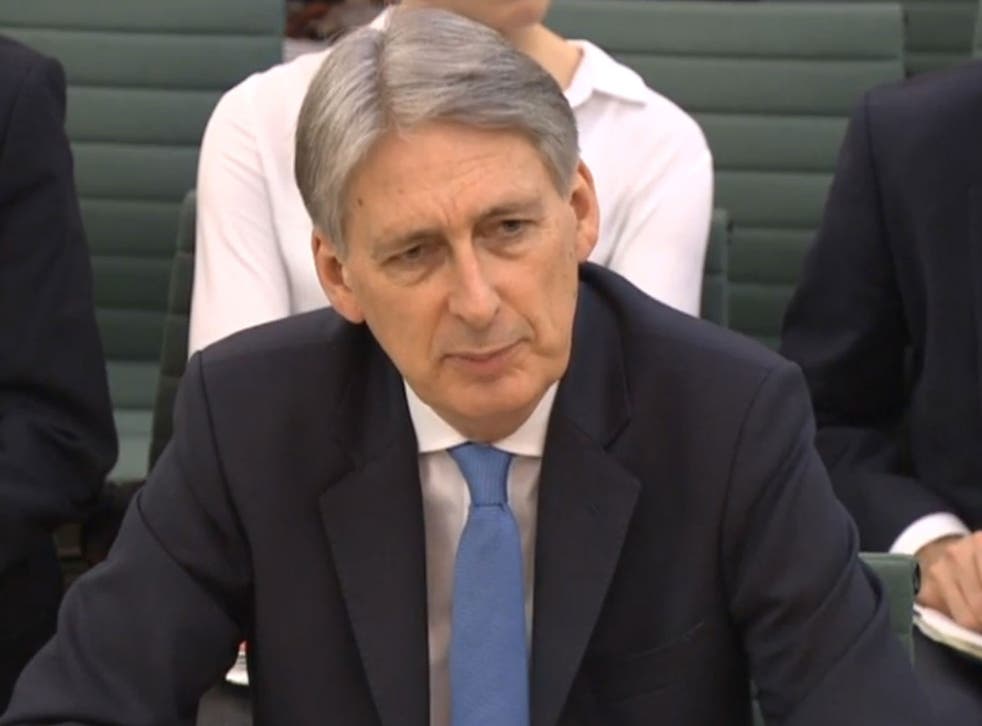 Philip Hammond has contradicted his own deputy by insisting the UK will pay its £45bn Brexit "divorce bill" even if no trade deal is struck with the EU.
The Chancellor said it was "inconceivable that we would walk away from obligations", regardless of the success or failure of the final negotiations.
"That would not make us credible partner for future international agreements," he told the Commons Treasury Select Committee.
The stance will alarm Tory MPs who believed they had won a guarantee from Theresa May that tens of billions would only be handed over if a trade deal follows.
It also directly contradicted his own deputy, Treasury Chief Secretary Liz Truss, who pledged - just seven days ago - that payment was "contingent" on Brussels delivering a trade deal.
Mr Hammond also confirmed that the Cabinet had not agreed, or even discussed, an "end state position" for what it hopes to achieve when trade talks finally begin with Brussels.
It has long been rumoured that the debate has been avoided – because of the Prime Minister's fears that doing so would open up splits and risk damaging resignations.
Boris Johnson and Michael Gove are arguing for a clean break from the EU's economic structures, while the likes of Mr Hammond want much deeper access, even at the price of adopting more EU rules and regulations.
The Chancellor said no discussion would take place until trade talks get underway, starting with a discussion by an inner Cabinet committee.
"Logically that will happen once we have confirmation that we have reached "sufficient progress" and are going to begin the phase two process with the European Union," he said.
And he defended the delay, telling MPs: "We are not yet at that stage and it would have been premature to have that discussion before we reach that stage."
The admission was quickly condemned as "beyond parody" by Labour MP Alison McGovern, a supporter of the pro-EU Open Britain group.
"The Government is flailing around trying to get agreement to move on to talks on the future UK-EU relationship," she said.
"Yet they don't even know what they want that relationship to be once they make that progress. They are breathtakingly dysfunctional."
After months of prevarication, the Government agreed, last week, to pay the EU around £45bn to settle its financial obligations from 40 years of EU membership.
The move appeared to clear the way for talks on future trade and a transitional deal to get underway – provided guarantees are also given on avoiding a hard Irish border.
No figure has been revealed and the exact sum will not be known for many years, because it depends on future pensions and development projects, but it is expected to be at least £45bn.
To calm Tory anger, Ms Truss, answering an emergency question last week, pledged that payments would only be made in return for a trade deal – suggesting no firm commitment.
"It has to be contingent on getting a suitable outcome from those negotiations," Ms Truss told Conservative backbenchers.
Later, Downing Street rejected Mr Hammond's comments, insisting the mantra that "nothing is agreed until everything is agreed" applied to the divorce bill as much as to other parts of the negotiations.
The Chancellor also said he would deliver his first Spring Statement on March 13, after the Budget was shifted to the autumn from last month.
However, he downplayed expectations of major tax and spending changes, saying: "It is not a major fiscal event. It will be an opportunity for me to respond to the OBR's [Office for Budget Responsibility] second forecasts of the year."
Register for free to continue reading
Registration is a free and easy way to support our truly independent journalism
By registering, you will also enjoy limited access to Premium articles, exclusive newsletters, commenting, and virtual events with our leading journalists
Already have an account? sign in
Join our new commenting forum
Join thought-provoking conversations, follow other Independent readers and see their replies