Nine out of 10 voters reject Theresa May's claim election is about Brexit and say it's about public services
PM sought to switch the spotlight away from public services after her U-turn on the Tory manifesto social care plan
Andrew Grice
Wednesday 07 June 2017 18:09 Comments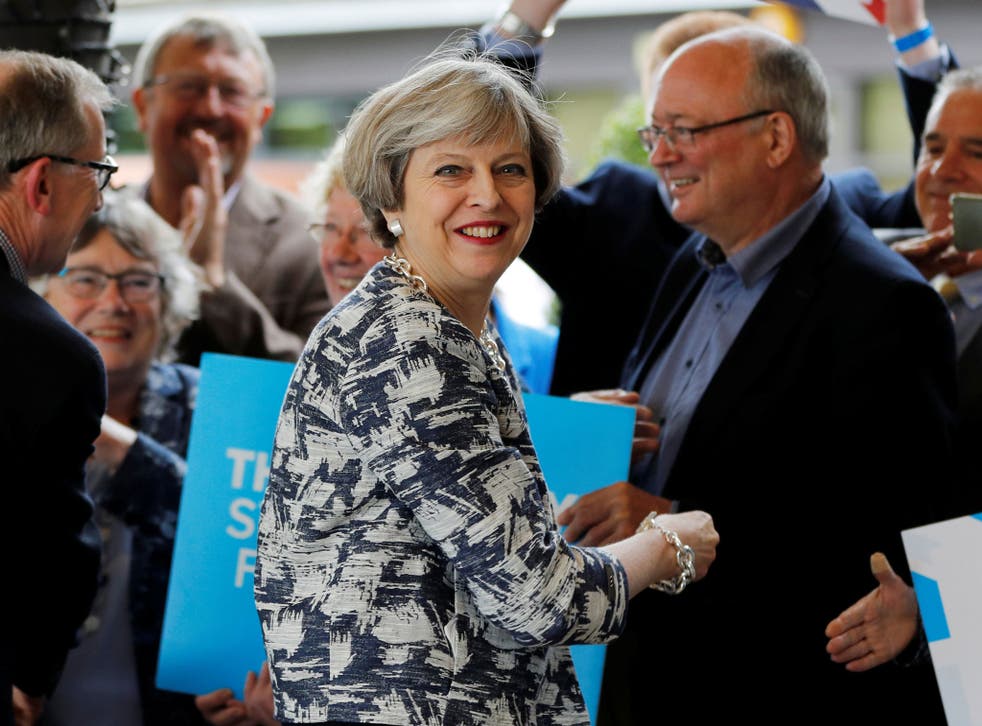 Nine out of 10 people reject Theresa May's idea of a "Brexit election" and insist that it should also be about public services, according to an exclusive poll for The Independent.
ORB found that for only 15 per cent of people, choosing the best prime minister will be uppermost in their mind when they decide how to vote in the election.
Ms May has framed the election as a presidential-style contest between her and Jeremy Corbyn. She has put Brexit centre-stage and sought to switch the spotlight away from public services after her U-turn on the Tory manifesto social care plan dubbed the "dementia tax".
According to ORB, 90 per cent of people agree that the election should not just be about Brexit but also public services – Labour's preferred ground -- while only 10 per cent disagree. Some 89 per cent of people who voted Tory in 2015, and 88 per cent of those who backed Leave in last year's referendum, agree that it should not just be a "Brexit election."
However, when asked to name the single most important issue in their mind when deciding how to vote, more people (24 per cent) opt for Brexit than any of the other six options offered. The economy, including living standards, is not far behind on 22 per cent, followed by the NHS (19 per cent); the best candidate to be prime minister (15 per cent); security, including defence and terrorism (8 per cent) ; social care, including pensioners (4 per cent) and education (2 per cent).
Older people are more likely to rate Brexit their top issue than young adults. Some 31 per cent of over-65s say it is their single most important issue, compared to 20 per cent of 18-24 year-olds and 17 per cent of 25-34 year-olds.
UK General Election 2017

Show all 47
The two top priorities for young adults are the economy and the NHS, highlighting Labour's need to mobilise young people -- the group least likely to vote. The economy is a less important factor for older people; only 11 per cent of over 65s make it their top issue, compared to more than 30 per cent of 18-34 year-olds.
Brexit is the most important issue for 2015 Tory voters (34 per cent) but only 12 per cent of Labour's then supporters agree. For them, the NHS and the economy will most influence their vote (both 31 per cent). Brexit is the number one issue for people who backed Leave in last year's referendum but Remain voters name the economy.
The Conservatives have a strong lead when people are asked which party has the best policy on Brexit: 47 name the Tories and only 19 per cent Labour. One in five 2015 Labour voters thinks the Tories now have the best approach to Brexit.
In another hopeful sign for Ms May, voters back her "no deal is better than a bad deal" mantra by 66 per cent to 34 per cent. Although Labour opposes this idea, some 62 per cent of its 2015 voters back Ms May's argument. So do 52 per cent of Liberal Democrat supporters and 58 per cent of those who voted Remain last year.
However, Labour will take comfort from its ratings on policies. Some 38 per cent of people say Mr Corbyn's party has the best policy on the economy, while 36 per cent name the Tories – a sharp contrast with surveys at the start of the campaign giving the Tories a big lead on the issue. Labour is ahead among women but trails among men.
Funniest moments from the General Election campaign
Labour is viewed as the best party on the NHS by 43 per cent of the public, including one in five who voted Tory at the last election, while only 24 per cent opt for the Conservatives.
Labour has a similar lead on social care following the "dementia tax" controversy. While 41 per cent say Labour has the best policy, 23 per cent choose the Tories. On education, Labour (36 per cent) is also ahead of the Tories (30 per cent).
Labour's advance on policy has not been matched by Mr Corbyn's personal ratings. Six out of 10 people (59 per cent) disagree with the statement that he is "ready to be prime minister," including 29 per cent of 2015 Labour voters. Some 41 per cent agree he is ready for the job.
Similarly, 45 per cent of the public, including 15 per cent of 2015 Labour supporters, think the Tories have the best candidate for prime minister, while 27 per cent name Labour.
ORB interviewed online a total of 2,038 adults aged 18+ throughout the UK on 31 May-1 June. The data has been weighted to be nationally representative of the UK adult population.
Register for free to continue reading
Registration is a free and easy way to support our truly independent journalism
By registering, you will also enjoy limited access to Premium articles, exclusive newsletters, commenting, and virtual events with our leading journalists
Already have an account? sign in
Join our new commenting forum
Join thought-provoking conversations, follow other Independent readers and see their replies