Brexit: Jeremy Corbyn faces leadership challenge as Labour MPs call for resignation and mull no-confidence vote
'Our main striker often wasn't on the pitch, and when he was, he failed to put the ball into the net,' Chuka Umunna says of leader
Andy McSmith
Whitehall Correspondent
,
Charlie Cooper
Friday 24 June 2016 14:07 Comments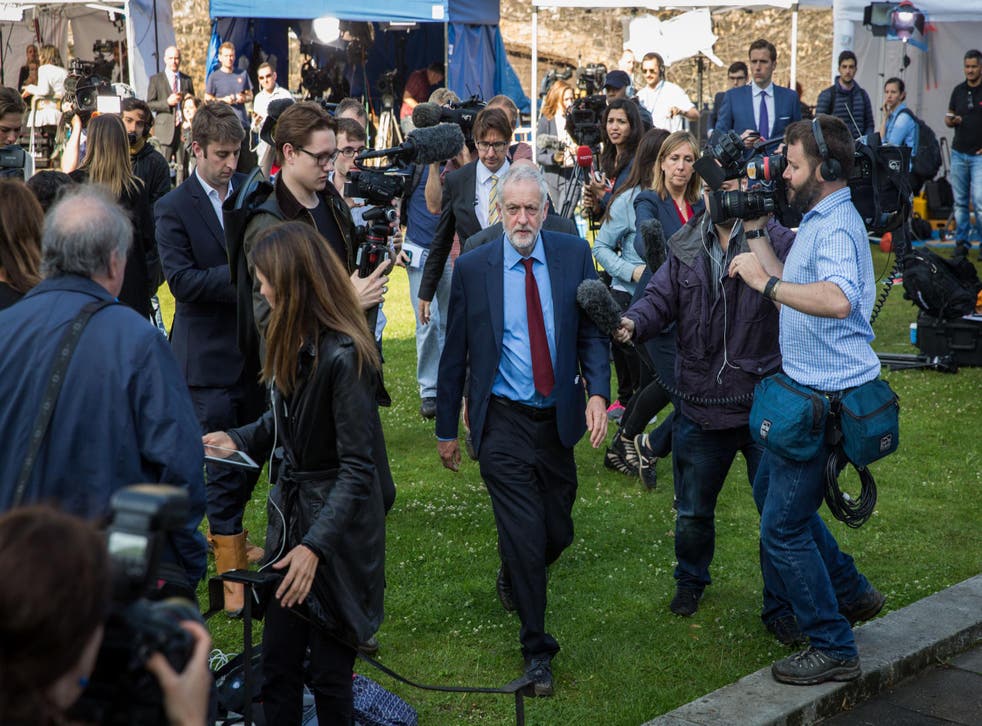 Jeremy Corbyn will face his most serious leadership challenge to date next week, as Labour MPs consider a motion of no confidence amid a growing backlash over his handling of party's EU campaign.
Dame Margaret Hodge, who along with MP Ann Coffey has submitted the motion to Parliamentary Labour Party chairman, John Cryer, said that Mr Corbyn had "failed" a "test of leadership".
A former Labour minister told The Independent that Labour needed a new leader to "steer a path between market ideology on the one hand and fantasy on the other", while senior MP Chuka Umunna criticised Mr Corbyn's leadership during the EU campaign, telling the i newspaper: "Our main striker often wasn't on the pitch, and when he was, he failed to put the ball into the net."
Aberavon MP Stephen Kinnock and Ben Bradshaw, MP for Exeter and a former minister, said they would support the motion of no confidence.
But Mr Corbyn was boosted by a joint statement from 12 union leaders warning "a manufactured leadership row" was "the last thing Labour needs".
The statement was supported by the general secretaries of Unite, Unison and GMB.
Brexit: Boris thanks Cameron
But Helen Goodman, a former Work and Pensions minister, told The Independent that change was needed at the top of the party.
"What the leaders of the Brexit campaign did was raise the hopes of many ordinary people across Britain that they could solve their problems. I don't believe that Michael Gove, Boris Johnson and Iain Duncan Smith and their right wing programme of tax cuts can begin to deliver for these people.
"So what we need is a positive programme that is practical and energetic, and we need to steer a path between market ideology on the one hand and fantasy on the other, and we need a new leader of the Labour Party to do that, because Jeremy plainly can't."
Her views were echoed by the long-serving Labour MP Siobhain McDonagh. She told The Independent: "I am just off to do my constituency surgery where I will meet a lot of people I can do nothing for. We need a radical change in this country – a new government – and Jeremy Corbyn is standing in the way of that."
And in an article for the i newspaper, former leadership hopeful and Streatham MP Chuka Umunna said the party needed to confront the fact that many of its supporters backed Brexit out of concern over immigration, and called for "a middle way between shutting our borders and shutting our ears to people's concerns" while warning that it was "inconceivable" that freedom of movement should be part of any new settlement with the EU. He said leadership on the issue had been lacking from Mr Corbyn.
Brexit reactions – in pictures

Show all 10
The Labour leader was due to address the immigration question in a speech in London on Saturday. He told Channel 4 News last night that Margaret Hodge should consider whether the motion of no confidence was "really a good idea" given the political instability that had followed the Brexit vote.
Another MP, Angela Smith, was the first to call for Mr Corbyn to go, over his perceived failure to rally the Labour vote behind the Remain campaign. She said: "Jeremy Corbyn has got to take responsibility. He should consider his position. He's shown insufficient leadership."
The Labour leader is under fire for running what his critics saw as a half-hearted campaign to rally support for the Remain side in the referendum. Unlike other leading Labour figures such as the London Mayor Sadiq Khan, Mr Corbyn refused to be seen on a platform with David Cameron or other pro-Remain Tories, which shackled his attempt to reach a mass audience.
For most of his political life he was an opponent of British membership of the EU. He voted against signing major EU treaties in 1992 and 2007. One survey indicated that as many as 50 per cent of Labour voters did not know that the party was backing Remain.
Mr Corbyn's handling of the campaign drew criticism from some of the big names from Labour's time in government, including Tony Blair, who described Labour's contribution as "pretty lukewarm".
Lord Mandelson, a former Labour Deputy Prime Minister and ally of Tony Blair said that Mr Corbyn's voice had been "curiously muted" during the campaign. He added: "But when he did say anything there were mixed messages."
News that Labour MPs hope to use the post-referendum crisis as an opportunity to oust him will come as no surprise to the Labour leader's office. The Spectator magazine has obtained a leaked copy of a briefing paper drawn up by Mr Corbyn's staff setting our arguments to answers to those who say Mr Corbyn shares some of the blame the defeat of the Remain side.
The document argues that Labour voters used the referendum to "kick a Conservative government", and claims: "Jeremy Corbyn has showed that he is far closer to the centre of gravity of the British public than other politicians. He is now the only politician who can unite a divided country, as he can speak to both sides."
Register for free to continue reading
Registration is a free and easy way to support our truly independent journalism
By registering, you will also enjoy limited access to Premium articles, exclusive newsletters, commenting, and virtual events with our leading journalists
Already have an account? sign in
Join our new commenting forum
Join thought-provoking conversations, follow other Independent readers and see their replies