Brexit: Jeremy Corbyn mocks 'disarray' at heart of Theresa May's Government
Labour leader says party is ready for another election after June's vote 'changed politics'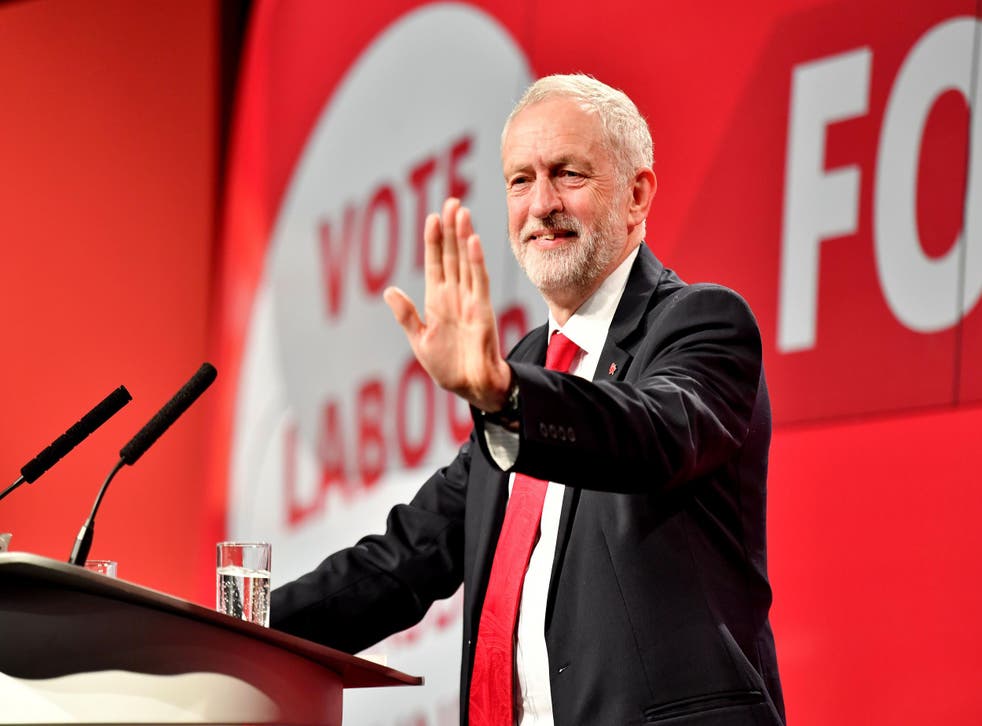 Jeremy Corbyn has mocked "disarray" at the heart of Theresa May's Government as he proclaimed that Labour was the party of the mainstream.
The Labour leader said the row over Boris Johnson's recent blueprint for Brexit revealed Ms May had lost her grip on her Cabinet and insisted Labour MPs would not dare to mount such an intervention under his leadership.
Emboldened by Labour's performance at the polls in June, Mr Corbyn said he would keep the party on an election footing, vowing to unseat senior Conservative MPs with small majorities including Amber Rudd, Iain Duncan Smith and Justine Greening and to widen his tour of Tory marginal seats.
Speaking ahead of the party's annual conference, he told The Guardian: "The election has changed politics in this country. We are now the mainstream.
"The government lacks any sense of direction. They are hiding behind parliamentary power grabs to avoid scrutiny."
Mr Corbyn said he would "challenge the Tories at every step" in Parliament and across the country as he pledged to roll out his tour of marginal seats to 100 constituencies by the end of the year.
He said: "It is a government that is in disarray. We will keep up pressure in parliament.
"There is a social agenda, investment, housing, health and social care and industrial needs … We are ready for an election and we will keep on demanding that this takes place in parliament."
He said Labour was already selecting candidates in key seats and putting detailed policy papers together.
"We are preparing by campaigning over the country, continuing to challenge austerity," he said.
"And we have made enormous progress in changing the political debate. The campaign showed what Labour can do when we go out with a message of hope."
He also attacked Mr Johnson's attempt to outline his Brexit vision only days before Ms May delivered a major speech on the EU withdrawal in Florence.
Mr Corbyn said: "It is a very strange set of circumstances when the Foreign Secretary writes a 4,000-word article for the Daily Telegraph. Which is essentially a manifesto for destroying workers' rights, undercutting, damaging all the protections we enjoy.
Asked if a shadow cabinet member would behave that way, Mr Corbyn replied: "They wouldn't do it. It wouldn't happen.
"We would expect and they would consult with my office before it was done."
UK news in pictures

Show all 50
It comes after a poll for The Independent found that Mr Corbyn will head into the conference season with a stronger leadership rating than Ms May, who has been weakened by losing her party's majority and repeated rows over Brexit.
The survey also put the two parties neck and neck on voting intention, with both winning support from almost four in 10 voters.
Register for free to continue reading
Registration is a free and easy way to support our truly independent journalism
By registering, you will also enjoy limited access to Premium articles, exclusive newsletters, commenting, and virtual events with our leading journalists
Already have an account? sign in
Register for free to continue reading
Registration is a free and easy way to support our truly independent journalism
By registering, you will also enjoy limited access to Premium articles, exclusive newsletters, commenting, and virtual events with our leading journalists
Already have an account? sign in
Join our new commenting forum
Join thought-provoking conversations, follow other Independent readers and see their replies