Corbyn will pledge to keep the UK in customs union, Welsh First Minister says
Exclusive: Carwyn Jones says he believes Labour's policy will change 'within months' as he warns party leader that leaving bloc would be 'economically daft'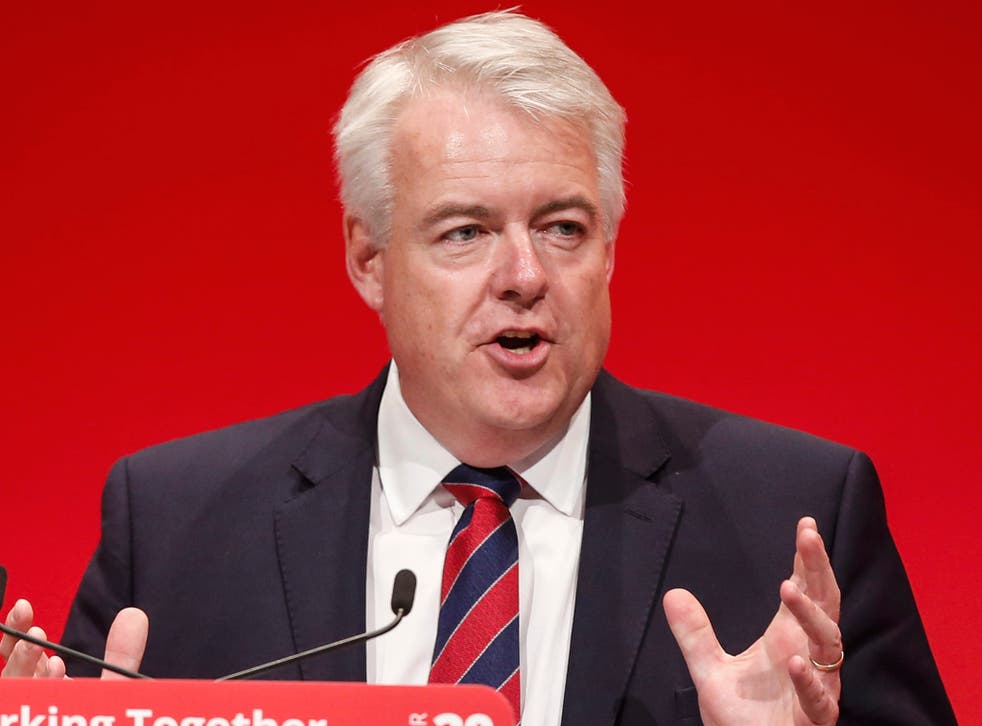 Jeremy Corbyn will change tack and pledge to keep the UK in the EU customs union, the Welsh First Minister has said.
Carwyn Jones said he had discussed the issue with Mr Corbyn and Sir Keir Starmer, the Shadow Brexit Secretary, and believed a policy change was likely "in the next few months".
Urging his party leader to "keep all options open" and "be guided by what is best for working people", Mr Jones said Labour should reject the "wrong option" of leaving the customs union.
The comments are some of the strongest from a senior Labour representative in favour of remaining in the bloc and add to the growing clamour among Labour figures for the party to change its approach,
Last week, some of Mr Corbyn's MPs urged him to "get off the fence" and stop "hedging bets".
The Labour leader has previously said the UK could remain in some form of customs union with the EU but suggested Britain should leave the existing bloc.
Speaking to The Independent, Mr Jones revealed that he expects Labour's policy on the issue to shift, saying the current stance is "undergoing revision and review".
He said: "Jeremy is smart enough to understand that this is a debate that has to be looked at afresh from time to time, but above all we have to be guided by what is best for the people of Britain.
"A hard Brexit, which means putting barriers up between ourselves and our biggest market, is not the right option."
Suggesting that the party leadership could bow to mounting calls for a shift, he added: "Keir Starmer, Jeremy and I all understand that we've got to find the best way forwards for working people."
UK will be worse off in every possible scenario after Brexit, concludes leaked Government analysis
And asked if he believed his party's leadership is edging closer to his position on retaining customs union membership, he said: "Yes, I think so. They're not resistant to it, they are exploring it, and I very much welcome that."
Mr Jones said he believed a final decision on Labour's policy was likely within months, saying: "It has to be during the passage of the EU (Withdrawal) Bill, which goes to the Lords now, so we've got to get to a position as a party in the next few months."
The First Minister launched a scathing attack on plans for a hard Brexit, which applies to his own party leadership as well as the Conservatives, and claimed leaving the customs union would be a triumph of "nationalism" over "common sense".
He said: "Nobody can convince me or show any evidence to suggest we'd be better off outside the customs union. Europe is our main market: 90 per cent of our food and drink exports go there, 60 per cent of our overall exports go there and it's on our doorstep.
"You're never going to replace that kind of market.
"Leaving the customs union is economically daft, it's a step driven by ideology and nationalism, not by common sense and pragmatism."
UK news in pictures

Show all 50
He added: "Why would any sensible, rational, sane government want to look at its most important market and then say 'well, A, this isn't important and, B, let's put some barriers up to make it more difficult for our own exporters to export to that market, but then say, when it comes to the rest of the world, it's the opposite."
His comments came as new analysis commissioned by the Welsh government revealed a hard Brexit could see the Welsh economy shrink by up to 20 per cent, with major employers in industries such as steel and aerospace hit particularly card.
Mr Jones told The Independent the analysis highlighted the need to "be sensible" on Brexit.
He said: "All we want is a sensible Brexit, not one that is going push us off the edge of a cliff.
"I don't believe people voted for a Brexit that would cause them to lose jobs, where people's incomes would fall, so let's have a sensible Brexit that's good for the UK and people who live in the UK."
Mr Jones said he would like a model based on Norway's relationship with the EU, including membership of the customs union and "full and unfettered" access to the single market.
The First Minister is currently at loggerheads with the Government over plans for EU powers on matters that would usually be dealt with by the devolved administrations to instead be handed to ministers in Whitehall – a dispute that could cause a major headache for Theresa May as she attempts to get crucial Brexit legislation through Parliament.
While the Welsh government cannot veto Brexit, it could refuse to give its legislative consent to the EU (Withdrawal) Bill – something the First Minister said was certain to happen unless the bill is amended. Under the long-standing Sewel Convention, the UK Government does not interfere with matters that are under the control of the devolved assemblies.
Mr Jones warned Ms May that she risks causing a "constitutional crisis" if she overrules the devolved assemblies on the matter.
"It would be very serious indeed," he said. "It would mean that legislative consent had been refused by the Scottish and Welsh parliaments and ignored by the Westminster Parliament. That's not the basis for a stable constitutional settlement."
Mr Jones said powers to be returned from Brussels relating to devolved matters should instead be given back to the devolved administrations, who would then agree not to use them until a common UK-wide framework had been agreed. Welsh and Scottish leaders should also be more closely included in the Brexit decision-making process, he said.
There have been suggestions that the House of Lords could refuse to breach the Sewel Convention by passing the EU (Withdrawal) Bill without the consent of the Scottish and Welsh assemblies.
Mr Jones said: "The House of Lords is the constitutional guardian of the UK in many ways and I think the House of Lords would be very uneasy about passing a bill without the consent of the Scottish and Welsh legislatures."
With an agreement between the Government and the devolved administrations still some way off, the issue has the potential to delay the approval of the EU (Withdrawal) Bill and potentially even push back the date of Brexit.
"We're not close to a solution yet but those discussions are ongoing," Mr Jones said.
The First Minister also claimed he had found interactions with Ms May to be "bizarre" because she refuses to give him detailed answers to questions.
"In the meetings I tend not to get much information", he said. "If I ask questions I get pretty stock answers. We've not really had a discussion on things – that's the problem.
"It is quite bizarre in a way I've never come across before. Gordon Brown was Prime Minister when I became First Minister, then I had David Cameron. There was much more discussion with David Cameron than there is with Theresa May. We quite often didn't agree with each other, but at least there was interaction. It didn't feel staged.
"That's just her personality, it's just the way she is."
Join our new commenting forum
Join thought-provoking conversations, follow other Independent readers and see their replies