Claims Boris Johnson told diplomats he supports freedom of movement denied as critics say voters 'treated like fools'
Foreign Secretary reportedly told diplomats he was personally in favour of open borders but it was not Government policy
Caroline Mortimer
Thursday 01 December 2016 00:39 Comments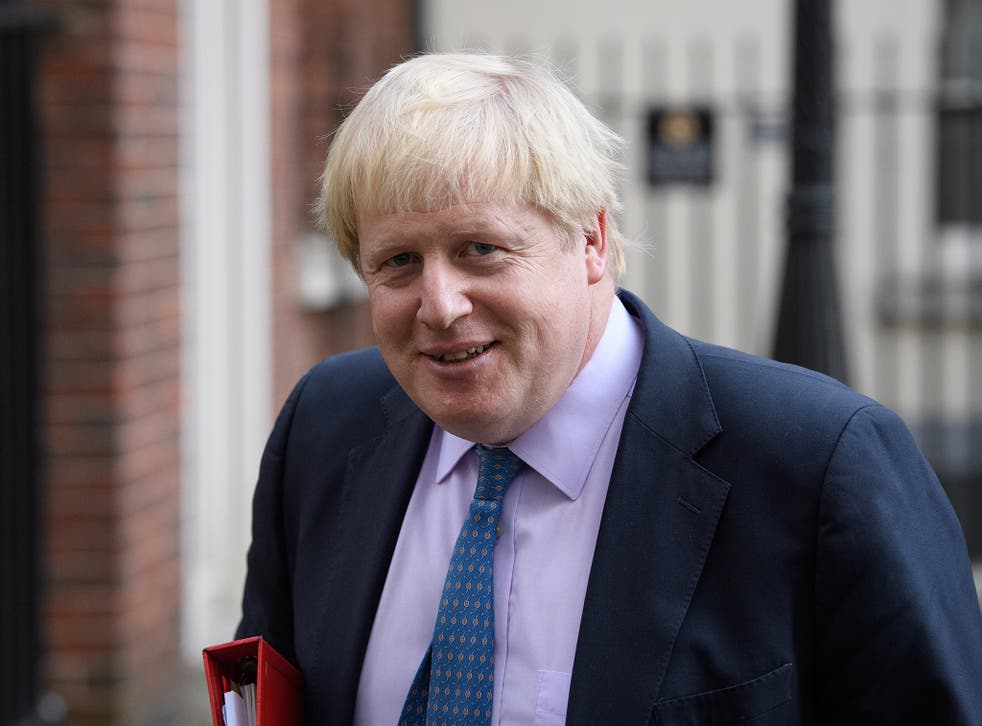 Claims that Boris Johnson told at least four EU ambassadors that he supports freedom of movement have been dismissed as a "total lie" by sources close to the Foreign Secretary.
Several high-ranking diplomats said Mr Johnson had indicated he was personally in favour of allowing free work and travel for all EU citizens – despite indications that the Government plans to opt for a "hard Brexit".
One ambassador told Sky News: "He did say he was personally in favour of free movement, as it corresponds to his own beliefs. But he said it wasn't Government policy."
Boris Johnson says free movement of people as a founding principle of EU is 'bollocks'
Another diplomat, who claimed Mr Johnson had also told him about being in favour of open borders, said he was "shocked" at the Government's dysfunctional diplomacy.
But sources dismissed the claims as a "lie" and said the politician "never said anything of the sort".
Reacting to the news, former deputy Prime Minister and Liberal Democrat Brexit spokesman Nick Clegg accused Mr Johnson of treating the voters like "fools".
He said: "If these reports are to be believed then Boris Johnson, the figurehead of the Brexit campaign, is treating voters like fools. It now appears he never even believed in the central message of the Brexit campaign – to end freedom of movement.
"With every passing day the cracks in the Government's Brexit position are widening into gaping holes.
Brexit Concerns

Show all 26
"If they still cannot agree amongst themselves what Brexit means after five months, how do they expect to successfully negotiate a good deal for the British people?"
Similarly, shadow Brexit Secretary Keir Starmer said: "Boris may find his own running commentary amusing, but this is no way to approach the most serious set of challenges Britain has faced for generations.
"Day by day more inconsistent fragments of the Government's non-strategy for Brexit are slipping out. The Prime Minister needs to get a grip, end this confusion and publish a clear plan and strategy of Brexit.
"Otherwise we'll see the continuation of this fiasco for the next two years."
A spokesman for Mr Johnson said: "Boris said what he has said many times before – he is pro immigration but wants to take back control to limit numbers.
"He did not say he supported freedom of movement and challenges anyone to show proof that he ever said that."
It comes after the Government was embarrassed by secret notes written by a senior Conservative party official and photographed outside Downing Street which appeared to suggested the Government wanted to "have its cake and eat it".
The note, scrawled by the chief of staff to Conservative Party vice-chairman Mark Field, suggested that the government had already given up on staying in the single market as EU negotiators will allow them to restrict immigration at the same time.
It suggested the Government wanted to have a "Canada plus" trade deal rather than remain a member of the European Economic Area (EEA) but negotiating over services, especially the financial sector, is likely to be "difficult".
Downing Street denied the notes reflected official policy on Brexit negotiations, saying they were "individual notes (which) do not belong to a Government official or special adviser".
Additional reporting by PA
Register for free to continue reading
Registration is a free and easy way to support our truly independent journalism
By registering, you will also enjoy limited access to Premium articles, exclusive newsletters, commenting, and virtual events with our leading journalists
Already have an account? sign in
Join our new commenting forum
Join thought-provoking conversations, follow other Independent readers and see their replies