Brexit leaked memo: 10 of the most important things we've learned
Doubts about the likelihood of single market access and fears over French obstructiveness among the key points to emerge in secret document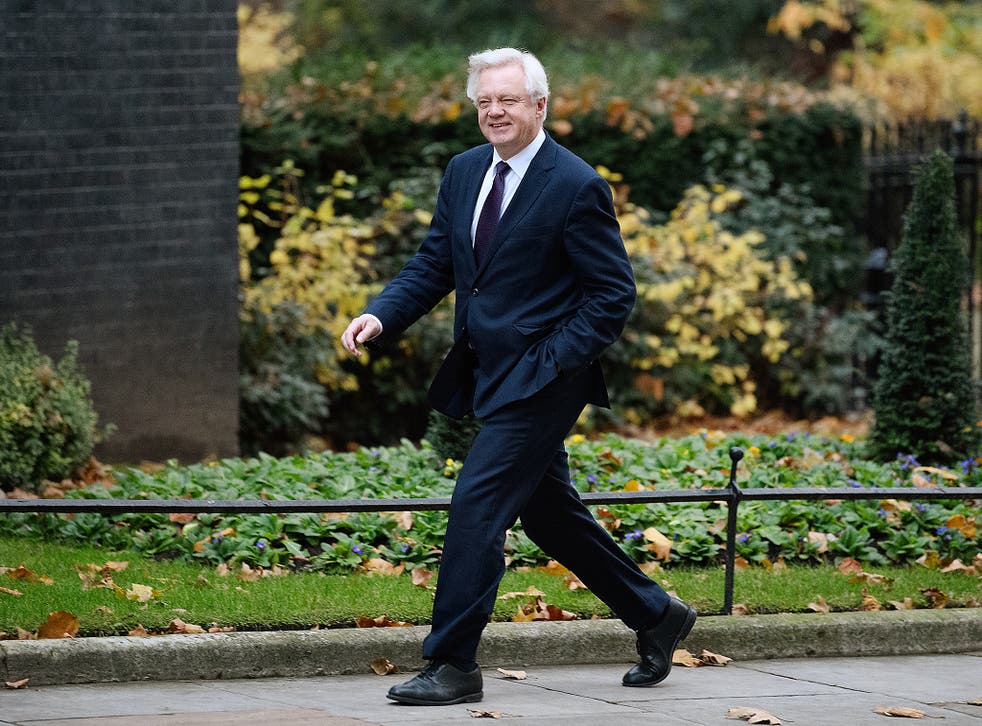 A handwritten note, carried by an MP's aide after a meeting at the Department for Exiting the European Union, has been called the most revealing glimpse so far into Theresa May's Brexit strategy.
While the document has been dismissed by Downing Street as not reflecting Government policy, its contents have already prompted reactions from leaders across the continent.
Here are 10 things we learned from the embarrassing gaffe:
Ministers still expect to 'have their cake and eat it'
This was Boris Johnson's infamous phrase about Brexit – summing up his bullish boast that Britain can keep trading freely with the EU, while also curbing immigration.
EU leaders have repeatedly insisted this will not be possible, but it appears Brexit Secretary David Davis also believes sweet treats can be both consumed and set aside for later.
'We think it's unlikely we'll be offered single market'
A key sentence. Not surprising of course, but Ms May has refused to rule out continued membership and has hinted that some sectors of the economy could continue to "operate within" it.
The document also says "No Norway" – which is in the single market and abides by European Court of Justice rulings, something the Prime Minister has vowed to end for Britain.
Ministers are peering across the Atlantic instead
"Looking at a Canadian deal", the document reads, also pointing to the prospect of "Canada Plus" with "more on services".
Canada has recently negotiated a wide-ranging agreement with the EU which it is claimed will eliminate 98 per cent of tariffs – but it took seven years to achieve and does not match Britain's current access to the single market.
Services will be the toughest nut to crack in the negotiations
The document states "manufacturing relatively straightforward; services harder because French hoping for business".
This should worry ministers, given that the services sector accounts for no less than 80 per cent of the British economy – while manufacturing is just ten per cent.
It's the dastardly French we need to look out for
Not only is Paris touting for British business, but the memo warns that "French likely to be most difficult" in the attempts to strike a deal.
This may well be a reference to Michel Barnier, the European Commission's French negotiator, who has previously declared war on bankers and their huge bonuses – and wanted the talks carried out in French.
'Transitional (deal) – loathe to do it'
Perhaps the most important snippet, given that the Prime Minister gave the impression that she shared fears of the "cliff edge" if businesses crash out of the single market with no replacement trade deal.
But it's clear the Brexit department fears any transition would drag on and on and is keen to settle the issue. The document reads: "Whitehall will hold on to it. We need to bring an end to the expectation". The City of London will be particularly worried.
Ms May's hopes of preventing 'a running commentary' on the Brexit negotiations are doomed to failure
The order was already proving impossible to enforce. The juicy details of departmental clashes over Brexit policy are leaked to newspapers regularly – and EU governments reveal conversations abroad.
Now we have an MP's aide strolling around Downing Street, giving what one wag called "a walking commentary".
Intelligent people are incapable of heeding repeated warnings to cover up important documents when in the Prime Minister's street
There is allegedly a sign on the Brexit department's doors reading: "Stop! Are your documents on show?" – yet Julia Dockerill put her notes on display.
One person is particularly delighted – Steve Back, the photographer whose long lens has caught out ministers, police chiefs, officials and aides.
Barely-known MPs have 'chiefs of staff'
You might think that Mark Field, a backbench MP – albeit a Conservative vice-chairman – might make do with an "assistant", or a "researcher", but no. He gave Ms Dockerill a job title to die for.
As veteran Tory MP Nicholas Soames tweeted: "Doesn't it make you howl that @MarkFieldMP apparently has a Chief of Staff? I thought that was a White House job #sograndsooverthetopmustget.
Ministers are also split on cake policy
Asked about the memo, Business Secretary Greg Clark told the BBC: "I was interested and amused. It doesn't reflect any of the conversations I have had."
On whether cake could be both scoffed now and left in the cupboard, he added: "It would be nice to have, but it's not the [Government] policy".
Join our new commenting forum
Join thought-provoking conversations, follow other Independent readers and see their replies