Brexit: EU's latest key negotiating stances revealed in leaked position papers
Exclusive: Commission spells out how UK can make progress in key areas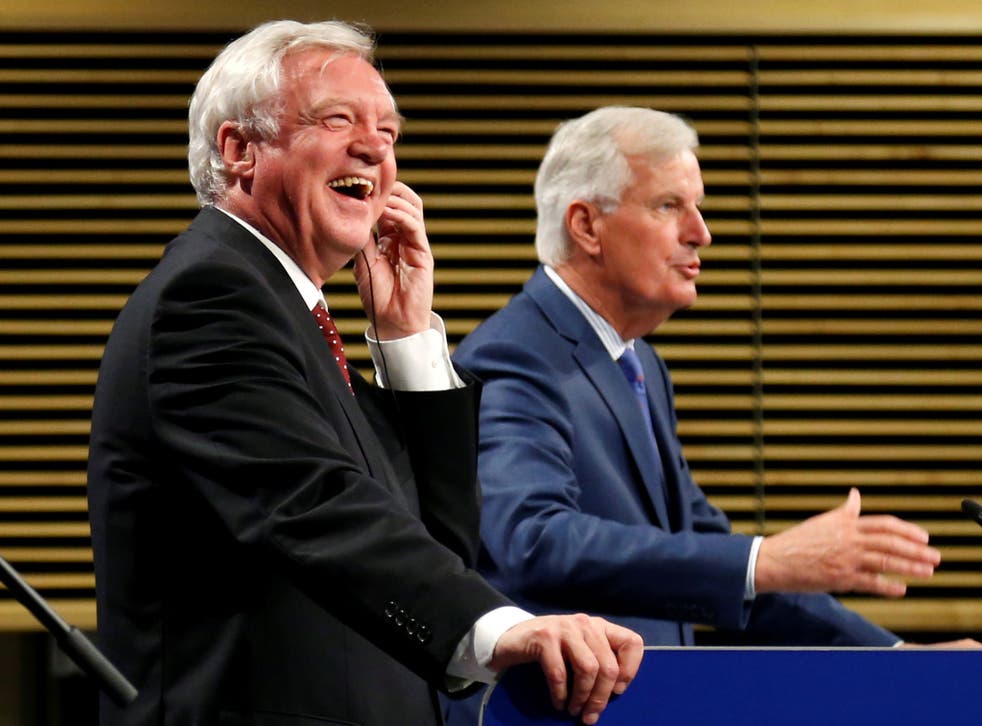 EU negotiators will release a volley of new position papers on Thursday in a bid to break the Brexit talks deadlock and shoot down British claims that progress is impossible without discussing future trade.
The papers leaked to The Independent, spell out the European Commission's approach to a raft of key areas including the Northern Ireland question and customs arrangements on Brexit day.
But they also appear to show how the UK could meet EU demands to settle key elements of the "divorce settlement" now, something Theresa May and David Davis have said should be done in parallel to addressing post-Brexit trade arrangements.
Around two-dozen pages worth of content also covers data protection regulations, intellectual property rights and public procurement – three areas omitted from an earlier round of EU position papers.
An EU official told The Independent the papers represented a move by the Commission to make sure not only that its positions were unambiguous, but to make clear the EU's insistence that issues being discussed were purely "separation issues" as far as Brussels is concerned.
Theresa May and David Davis have been pushing for talks to progress on to a post-Brexit trade deal, and have sought to claim parts of the divorce settlement the EU wants agreed first are impossible to decide without also talking about future relations.
In particular, UK negotiators have suggested a resolution to problems surrounding Northern Ireland's border cannot be solved without a broader discussion of future customs arrangements.
While the EU papers make clear "the onus" is on the UK to propose a solution, they indicate that Britain could, for example, guarantee there is no border infrastructure between Northern Ireland and Ireland and pledge to maintain protections from discrimination currently enshrined in EU law after Brexit.
They also say Northern Irish citizens should be able to continue to choose whether they identify as British or Irish, and by default an EU citizen.
They add: "Common Travel Area arrangements [across the border], in conformity with European Union law, should be recognised."
Brexit talks are set to resume in Brussels on 18 September, after no "decisive progress" was made in a round last week, according to the EU's chief negotiator Michel Barnier.
British officials close to the negotiating team blamed the deadlock on Mr Barnier's "inflexible" approach to talks, pointing to his mandate that they said was preventing him from discussing future arrangements.
'No decisive progress' on Brexit, says EU negotiator Michel Barnier
But in an apparent slap down to the British reluctance to move ahead with the Northern Ireland question without the chance to discuss elements of future relations, the Commission says the border problem "will require a unique solution which cannot serve to preconfigure solutions in the context of the wider discussions on the future relationship between the European Union and the United Kingdom".
As well as spelling out how issues can potentially be settled within the Commission's negotiating framework, the papers to be released at lunchtime on Thursday ensure all areas covered by UK position papers are addressed by the EU.
A paper on customs arrangements around the moment of Brexit appears to set out a similar approach to that given by the UK in its paper on the movement of goods – essentially that anything which begins its shipping process before Brexit day, continues to be regulated by EU law until the completion of its export or import.
Brexit: the deciders

Show all 8
Meanwhile the paper on data protection sees the Commission issue an ultimatum to the UK, warning that "the United Kingdom's access to networks, information systems, and databases established by Union law is, as a general rule, terminated on the date of withdrawal".
This ending of UK access – which could cause serious technical headaches for the British Government and businesses that use personal data – will be waived "only if the conditions set out in the paper are fulfilled", it warns.
On intellectual property, too, the Commission is demanding that the UK legislate to recognise name-restricted products with "geographical indicators" such as Champagne and Parmesan before leaving the EU. These demands could play havoc with any future trade deal with the US – which notably does not recognise any controlled named.
But the Commission insists that intellectual property rights should not "be undermined by the withdrawal of the UK from the EU".
The Commission also warns that there will be uncertainty around what will happen to government contracts out to tender and covered by EU rules at the time of Britain's exit.
Register for free to continue reading
Registration is a free and easy way to support our truly independent journalism
By registering, you will also enjoy limited access to Premium articles, exclusive newsletters, commenting, and virtual events with our leading journalists
Already have an account? sign in
Join our new commenting forum
Join thought-provoking conversations, follow other Independent readers and see their replies