Bill to trigger Article 50 'revealed by the end of the week'
Ministers want a short Bill which is harder for opponents to tamper with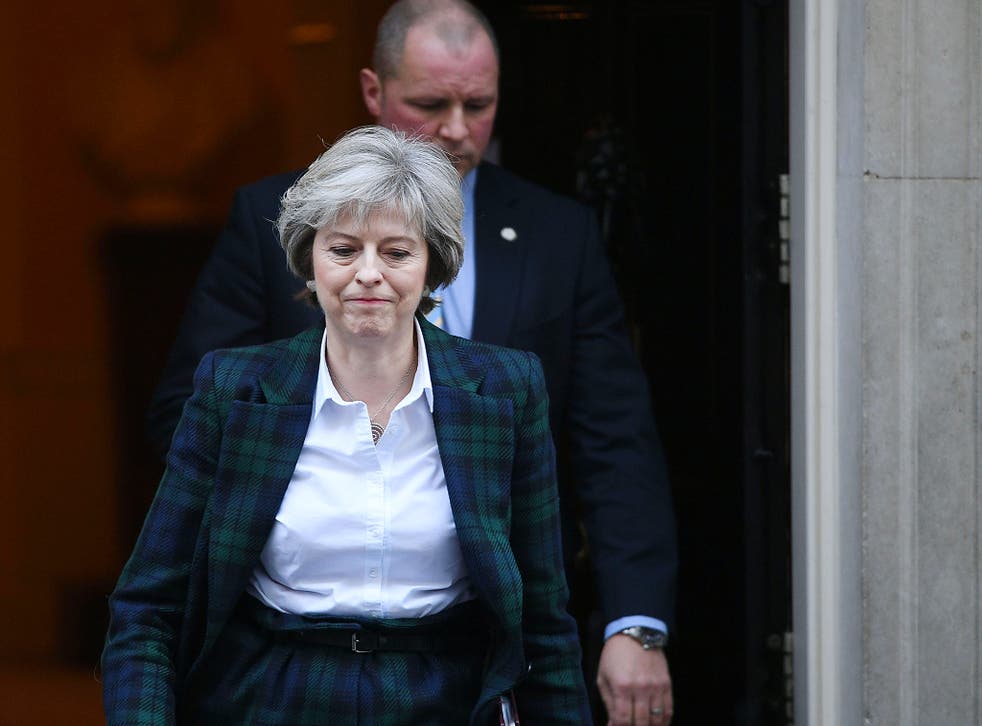 Theresa May will be ready to publish the key piece of legislation that will set Britain on the road to Brexit by the end of this week, The Independent has learnt.
Government sources said the hotly anticipated Bill will likely be completed just days after the Supreme Court makes a landmark ruling on the issue on Tuesday.
The legislation is likely to be the centre of a major Commons wrangle, as it marks the last parliamentary hurdle for Theresa May as she moves to fire the starting gun on Brexit no later than March.
At the weekend Labour signalled it is already planning at least two potential attempts to amend the Bill in a bid to give Parliament more grip on the Prime Minister's rush to the exit door. Even some Tories want their leader to be more accountable, suspecting she will allow MPs as little influence on her plans as she can.
Ministers have expected for weeks that the Supreme Court will order Ms May to give Parliament a vote on triggering Article 50 of the Lisbon Treaty, beginning a two-year countdown to Brexit.
But a Government source said: "The detail of the judgment is going to be very important in terms of the precise course of action the Government will be taking when it comes to any legislation and that needs to be digested very quickly.
"It will take a couple of days to fully digest the judgment and determine what the response will be. Officials can work quickly but they won't be able to work miracles to bring it out on the morning."
Angela Merkel's senior economic adviser says May's Brexit plan is impossible
The well-placed source added: "We need to look at the issues that arise and after that we can make a decision pretty swiftly. I don't think it's unreasonable to expect the Bill to be published later in the week."
Ms May had originally wanted to use royal prerogative powers to invoke Article 50 herself. But after losing the initial case at the High Court, she tasked officials to prepare a range of possible options for legislation to be put before Parliament for a vote.
Four separate drafts are said to have been primed, but which is chosen depends on what is necessary to adhere to the ruling. It is clear either way that ministers want the eventual Bill to be brief, ideally a few sentences, minimising the breadth of debate that would precede the vote and making it harder to amend by opposition MPs.
The source went on: "It's an advantage to have a short Bill, in a sense that it is clear and, of course, it makes it more difficult to amend.
"The disadvantages are, there may be other litigations going on, about the European Economic Area for example, and whether there's a possibility that case could cause complications for a narrow piece of legislation, with some believing it may mean you then need further legislation down the line.
Brexit Concerns

Show all 26
"But overall, there are advantages in making it clear, straightforward and getting on with the job."
The shadow Brexit Secretary, Sir Keir Starmer, said Labour was likely to seek to attach amendments to whatever piece of legislation ministers bring forward.
He told The Independent on Sunday that one amendment would see Labour demand the Government publish the plan, laid out in Ms May's speech, in a command document that can be scrutinised and debated by Parliament, something Downing Street has signalled it does not intend to do.
Another potential Labour amendment would seek to set the terms of the vote in Parliament that Ms May has promised on the eventual Brexit deal she finally agrees.
Former Tory Chancellor Ken Clarke and ex-business minister Anna Soubry both challenged the Prime Minister to allow the House of Commons a greater say in forming her plans last week.
Speaking in the Commons, Mr Clarke demanded a vote on the Brexit approach set out in the Prime Minister's key speech, something he wants to happen before Article 50 negotiations are finished.
Ms Soubry asked that the Prime Minister to consider publishing her 12 Brexit objectives in a White Paper, an official parliamentary document that would allow greater scrutiny, so that the Commons can debate them before Article 50 is triggered.
Register for free to continue reading
Registration is a free and easy way to support our truly independent journalism
By registering, you will also enjoy limited access to Premium articles, exclusive newsletters, commenting, and virtual events with our leading journalists
Already have an account? sign in
Join our new commenting forum
Join thought-provoking conversations, follow other Independent readers and see their replies