'Hard Brexit' will lead to price hikes for many of UK's favourite foods, Clegg warns
'A hard Brexit will lead us off a cliff edge towards higher food prices'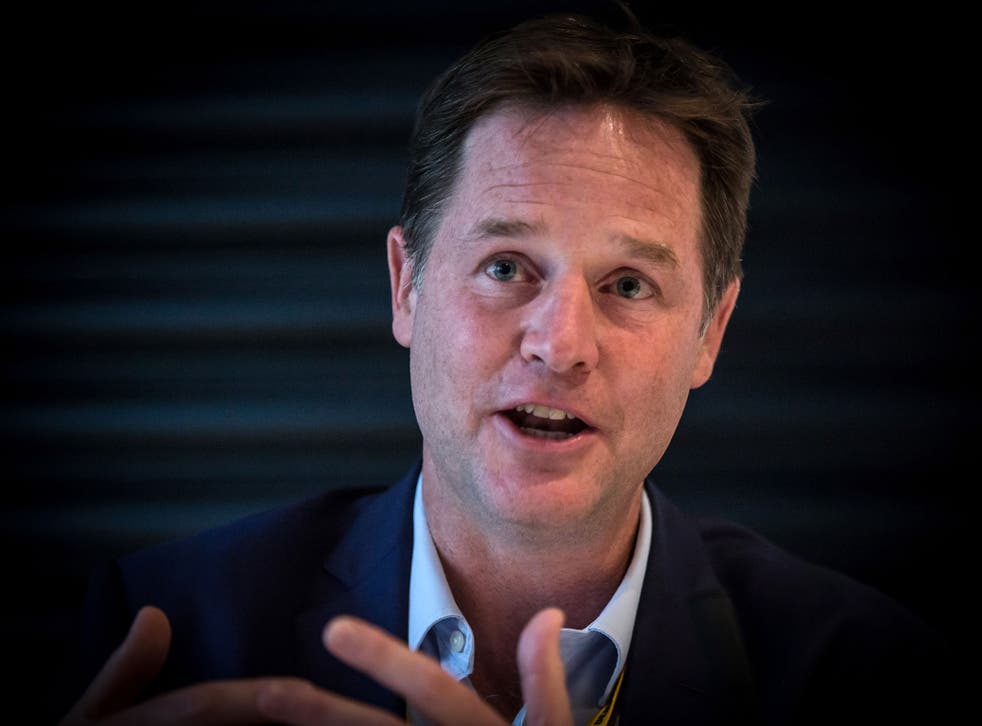 Britain could see sharp rises in the price of some of the nation's favourite foods if Theresa May persists with a "hard Brexit" strategy, Nick Clegg has warned.
The former Liberal Democrat leader has been criticised in some sections of the media after he admitted he was willing to delay Britain's exit from the EU if it meant keeping access to some benefits like access to the single market, describing a slowdown as "a good thing".
And in a new report, his party suggested the recent furore over the price of marmite could be just the start of a "triple whammy" of economic fallout from May's Brexit plan.
Mr Clegg said only a "soft" Brexit, with some compromises on immigration and EU payments, could avoid tariffs on beef exports of 59 per cent, chocolate at 38 per cent, cheese at 40 per cent and wine at 14 per cent.
Brexit 'could mean end of fresh British fruit and vegetables'
He said: "A hard Brexit will lead us off a cliff edge towards higher food prices, with a triple whammy of punishing tariffs, customs checks and workforce shortages.
"We must hold Theresa May's Government to account and fight to ensure what comes next is best for British consumers and businesses."
The Lib Dems said British exporters would also suffer from a "hard Brexit", with £11 billion of farm produce hit by tariffs of an average 22.3 per cent.
Earlier, Mr Clegg told the BBC's Andrew Marr Show that Parliament was trying to ensure Ms May doesn't "throw the single market baby out with the EU bath water".
The former deputy prime minister is leading a cross-party effort to force the Prime Minister to set out her Brexit plan for a Commons vote, and his allies include former Labour leader Ed Miliband, shadow Brexit Secretary Sir Keir Starmer, and Tories Nick Herbert and Stephen Phillips.
He denied it was a plot to derail leaving the EU altogether, saying he suspected Parliament would support "a sensible coherent plan for Brexit".
However, he admitted that if MPs voted against the Government's Brexit plans, the Prime Minister would be forced to pause going ahead with the official withdrawal process.
Meanwhile, anxiety over the Government's apparent support for a hard Brexit has led devolved leaders across the UK to call for their own bespoke deals with the EU.
Scottish First Minister Nicola Sturgeon said she believes Scotland could stay in the single market if other parts of the UK leave, promising detailed proposals within weeks.
And Northern Ireland's Deputy First Minister Martin McGuinness warned of economic "disaster" for the country outside the single market, with a knock-on effect on its neighbour Ireland.
He renewed calls for Northern Ireland to have special EU status.
Mr McGuinness told the Guardian: "Fifty-six per cent of the population voted to Remain and we could not have achieved that result without a substantial section of the unionist community voting for a future in Europe.
"The vote was not on sectarian lines, but on how destructive it would be politically, socially and economically.
"May says she is negotiating on behalf of the United Kingdom, but there is absolutely nothing united about a so-called United Kingdom. We don't agree. We see our future in Europe. Scotland sees its future in Europe."
On Sunday, pro-Brexit International Development Secretary Priti Patel rejected cross-party calls for the Government to spell out in a White Paper-style document whether it sees the UK in or out of the single market before beginning negotiations.
"If I were to sit down and play poker with you this morning, I'm not going to show you my cards before we even start playing the game," she told the Andrew Marr Show.
Register for free to continue reading
Registration is a free and easy way to support our truly independent journalism
By registering, you will also enjoy limited access to Premium articles, exclusive newsletters, commenting, and virtual events with our leading journalists
Already have an account? sign in
Register for free to continue reading
Registration is a free and easy way to support our truly independent journalism
By registering, you will also enjoy limited access to Premium articles, exclusive newsletters, commenting, and virtual events with our leading journalists
Already have an account? sign in
Join our new commenting forum
Join thought-provoking conversations, follow other Independent readers and see their replies