Brexit: Theresa May faces 'tension and bad blood' unless she bows to pressure to publish plans in Parliament
The Supreme Court extinguished Ms May's hopes of triggering Article 50 without a Commons vote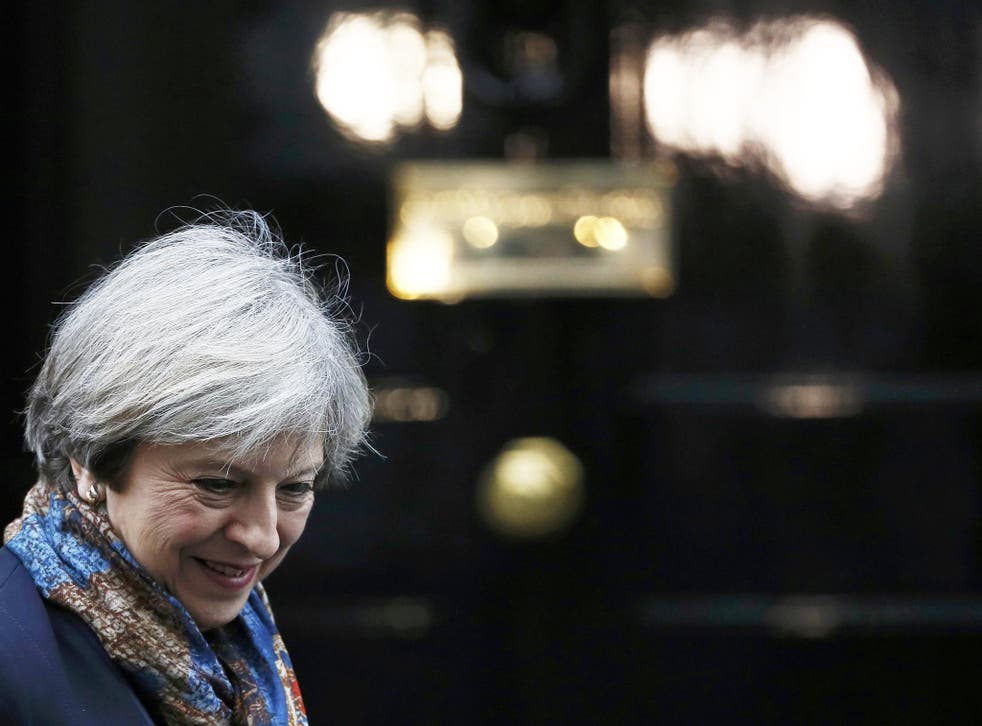 Tory rebels joined forces with Labour today in a bid to force Theresa May to publish her EU withdrawal plans in Parliament or face the prospect of two years of "tension and bad blood" from her own MPs.
Around a dozen Conservatives want her objectives set out in a White Paper so they can be officially debated in Parliament before she fires the starting gun on Brexit. An initial vote on triggering Article 50 might now happen as early as next week.
A string of Tories openly demanded the concession in Parliament, with one later telling The Independent that if Ms May failed to give way, she faced fraught relations with her own benches just as she tries to pass complex Brexit laws on a narrow timescale, with a tiny Commons majority.
The warning came just hours after the Supreme Court stamped out Ms May's hopes of triggering Article 50 without a vote in Parliament.
Judges said that because Brexit would cut off a source of UK law, there was no way Ms May could hope to start EU withdrawal talks without authorisation from MPs and Lords.
With the victory for Parliament still hanging in the air, both Ms May and those MPs seeking to rein her in moved swiftly to secure their political high ground.
Brexit Secretary David Davis said the Government would publish a bill "within days" and warned against any attempt to "thwart the will of the people".
Sources indicated that on Thursday the Government would introduce to Parliament a short bill to trigger Article 50, starting a two-year countdown to Brexit in which the UK's new relationship with Europe must be decided.
Brexit ruling: Government to introduce legislation within days
The bill's second reading could take place next week, in hope that the Lords can start considering the legislation at the end of February, with the final stages passing in early to mid-March.
But immediately after Mr Davis's statement, six Tory MPs stood to call for Ms May to publish her Brexit plans in a White Paper, with one more saying the same in an interview afterwards.
Some indicated Ms May might enjoy a smoother ride on passing her bill to trigger Article 50 if she agreed to publish her objectives in the White Paper – which in turn would give MPs something concrete to hold her too as she negotiates with Brussels.
Former cabinet minister Nicky Morgan reminded ministers that Theresa May had effectively promised to publish a plan in December, arguing that the key speech she had given on Brexit was not enough.
She said: "I would suggest to [Mr Davis] that the passage of [Article 50] will be swifter if a White Paper is published and debates happen on that, too."
Brexit round-up: Supreme Court rules against Government
Former ministers Alistair Burt and Anna Sourby and Bath MP Ben Howlett, 70 per cent of whose constituents voted to remain in the EU, also called for the document.
Former Chancellor Ken Clarke said the Government needed to bring something forward that improved Parliament's ability to "give or withhold its consent to major policy objectives".
Education Select Committee chair Neil Carmichael told the BBC: "What we need to do is make sure we have a plan that we can see and feel, and that is in the form of a White Paper. We do need to have that kind of detail so that we can have a proper informed discussion."
The MPs are still likely to vote for triggering Article 50, but a Tory MP told The Independent: "If [a White Paper] fails to happen there will be tension and bad blood.
"The tone of [Ms May's] speech last week was markedly better in terms of trying to build bridges.
"But it's hard to maintain that call for unity if, when people call for something that's perfectly reasonable, that's then not delivered."
Shadow Brexit Secretary Sir Keir Starmer also called for the Government to produce a formal White Paper, rather than relying on the Prime Minister's Lancaster House speech.
He told Mr Davis: "You can't have a speech as the only basis for accountability for two years or more."
Brexit Concerns

Show all 26
Indicating that Labour would seek changes to the Article 50 legislation ministers publish, Sir Keir told MPs: "On issues as important as this it would be wrong for the Government to seek to minimise the role of Parliament and to avoid amendments."
His party indicated that, as well as the White Paper, it would push for amendments seeking to guarantee the rights of EU citizens, secure a meaningful vote on the deal Ms May eventually agrees and for Parliament to have regular updates on negotiations.
But Labour had its own problems, with leader Jeremy Corbyn urging MPs to vote for triggering Article 50 despite more than 20 apparently planning to vote against it.
The Liberal Democrats, who have just nine MPs but more than 100 peers, will vote against Article 50 unless there is a guarantee of the public having a vote on the final deal, said leader Tim Farron.
He added: "This Tory Brexit Government are keen to laud the democratic process when it suits them, but will not give the people a voice over the final deal. They seem happy to start with democracy and end in a stitch-up."
Nicola Sturgeon's SNP suffered a blow after Supreme Court also ruled the UK Government is "not legally compelled" to consult the devolved administrations before formally triggering the Brexit process.
The party said it would submit 50 amendments to the Article 50 Bill, including one aimed at ensuring Scottish ministers effectively have a veto on triggering the process.
Register for free to continue reading
Registration is a free and easy way to support our truly independent journalism
By registering, you will also enjoy limited access to Premium articles, exclusive newsletters, commenting, and virtual events with our leading journalists
Already have an account? sign in
Join our new commenting forum
Join thought-provoking conversations, follow other Independent readers and see their replies