UK could be forced to stay in single market after Brexit if new legal challenge succeeds
Claimants want judicial review into whether the Government can leave the single market without asking Parliament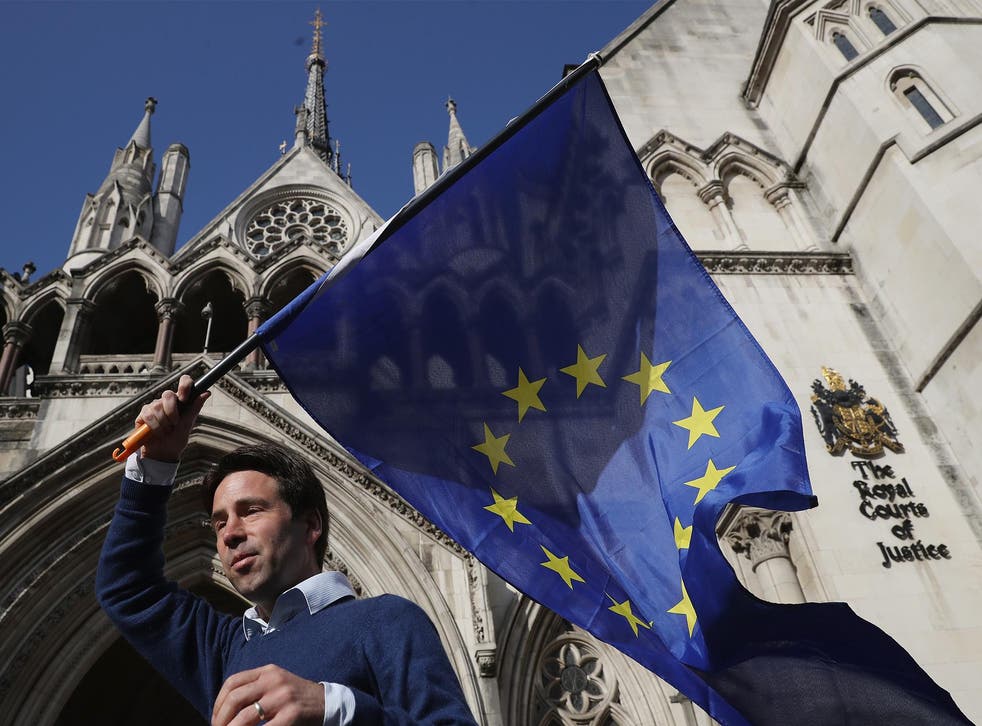 Theresa May is facing a fresh legal challenge to her Brexit plans as campaigners prepare to petition the High Court for Britain to stay in the single market.
The claimants, including one Remain and one Leave voter, are seeking a judicial review into Ms May's apparent decision to opt for a hard Brexit – meaning foregoing access to the single market in exchange for withdrawing Britain from freedom of movement for European workers.
Such a review could theoretically give MPs the power of veto over the terms of the UK's exit.
Peter Wilding, chairman of the pro-Europe pressure group British Influence who is credited with coining the word Brexit, and Adrian Yalland, a Conservative lobbyist who voted to leave, launched the High Court bid to ensure the country got a "win-win, smart Brexit; not a lose-lose ideological hard Brexit which will damage the UK".
They told The Sunday Times there was no mandate for leaving the single market and were concerned the country would be acting illegally if it did not get a proper mandate.
Mr Yalland, whose partner is Polish, said: "The Government thinks we leave the single market 'automatically' when we leave the EU. I think they could be wrong.
"So my judicial review will ask the court to decide who is correct.
"Why does this matter? Well, because membership of the single market is the 'ace' card which the EU obviously wants in its hand during the Brexit negotiations.
Supreme Court Brexit Challenge

Show all 13
"But if the UK can trigger Brexit and not be forced out of the single market then the 'ace' card is actually in the UK's hands, which significantly enhances the UK's Brexit negotiating position."
He said if the courts rule the Government is wrong about single market membership, they must also trigger Article 127 of the Lisbon Treaty which regulates it.
If they do so, he argues, they may need to get the permission of Parliament as membership was originally ratified there in 1993.
It comes as the Government faces being forced to get Parliament's approval to trigger Article 50 after the Supreme Court heard arguments from campaigners Gina Miller and Deir Dos Santos this week.
They argue the Government cannot take away British citizens' rights without the consent of Parliament, while the Government argues it alone has the right to decide on foreign policy matters.
The judgement is due to be published in a few weeks.
Register for free to continue reading
Registration is a free and easy way to support our truly independent journalism
By registering, you will also enjoy limited access to Premium articles, exclusive newsletters, commenting, and virtual events with our leading journalists
Already have an account? sign in
Register for free to continue reading
Registration is a free and easy way to support our truly independent journalism
By registering, you will also enjoy limited access to Premium articles, exclusive newsletters, commenting, and virtual events with our leading journalists
Already have an account? sign in
Join our new commenting forum
Join thought-provoking conversations, follow other Independent readers and see their replies