Brexit negotiations: Brussels officials expecting slow progress as EU withdrawal talks get underway
David Davis and Michel Barnier will hold discussions throughout Monday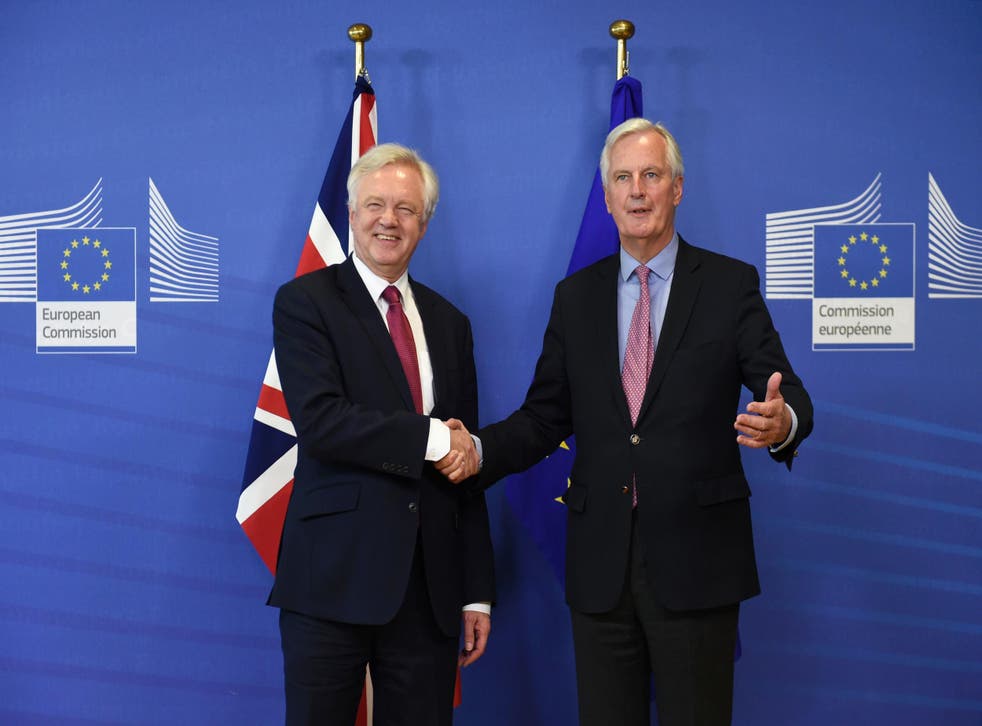 European officials are expecting little real progress in Brussels today as official Brexit negotiations kick off, The Independent understands.
Separate sources said talks were little more than a marker, with one describing today's meeting between Brexit Secretary David Davis and the EU's chief negotiator Michel Barnier as "window dressing".
Even progress on establishing working groups to deal with specific issues, could be limited due to questions over the UK's position.
It comes as Theresa May's cabinet is torn over how to approach negotiations with Chancellor Philip Hammond and others pushing for a softer approach, while Brexiteers threaten to resign if the Prime Minister abandons her tough stance.
At the end of the week, Ms May will speak to other leaders at European Council summit and while Brexit is not on the main agenda, some officials expect the Prime Minister to signal a more nuanced stance.
Mr Davis and Mr Barnier and their officials will have a working lunch and hold a press conference, where there are likely to be statements of agreement on broad principle, but officials suggested progress is stymied by the British Government's position and a lack of clarity over its intentions.
One source said: "The day will be a lot of window dressing, hand shaking and spoken words – but it's not the day for real progress."
How Brexit affected Britain's favourite foods from Weetabix to Marmite

Show all 8
One session will discuss the establishment of working groups to get stuck into how an agreement may be formed on key issues.
But another source suggested even this would be "easier said than done".
On Sunday Mr Hammond dodged a question about Ms May's future, refusing to say how long he thinks she will remain in post following the botched election campaign and anger around her handling of the Grenfell fire.
In an interview, Mr Hammond made some signals towards a softer Brexit, hinting at a longer transition period to any new status after business groups demanded the UK stay in the customs union.
Moving away from Ms May's "no deal is better than a bad deal" rhetoric, he said the failure of talks would be "very, very bad" for Britain.
Scottish Tory Leader Ruth Davidson has also called for a more economically minded Brexit deal in the wake of the election.
Theresa May should admit result is a rejection of hard Brexit, says EU negotiator
But two Sunday newspapers in the UK reported pressure on Ms May to turn her administration around or face a leadership challenge, with Brexiteer cabinet ministers reportedly threatening to quit if she dares soften her Brexit stance.
Cabinet minister Michael Gove, who has recently returned to the Cabinet as Environment Secretary, told BBC Radio 4's Today programme that he is confident Ms May will be the Prime Minister to deliver Brexit and that it should remain the kind of Brexit she made part of her election campaign.
"I think that there's support across the Conservative Party for Theresa, and also support for the position that she outlined before, during and after the election," he said.
Asked if he expects Ms May to stay in post, Foreign Secretary Boris Johnson told the programme: "My strong feeling is that the last thing the electorate wants is more elections or more political shenanigans of one kind or another.
"There's a huge task to get on with with Brexit."
Join our new commenting forum
Join thought-provoking conversations, follow other Independent readers and see their replies