Campaigners gear up for fresh Final Say march demanding second Brexit referendum
Brexit: Lib Dems table second referendum amendment to force Boris Johnson to allow new vote
If amendment is selected, MPs will vote on the bid next week
Pro-EU MPs will mount a fresh bid to force Boris Johnson to allow a public vote on any Brexit deal he wins from Brussels at a crunch EU summit in the coming days.
The Liberal Democrats have tabled an amendment to the Queen's Speech instructing the government to prepare for a referendum, which would offer a choice between a deal and cancelling Brexit.
If the amendment is selected by John Bercow, the Commons speaker, MPs will vote on the plans at the beginning of next week.
The clash will come as the prime minister seeks to win a vote on the Queen's Speech - which sets out the government's legislative agenda for the parliamentary session.
But Mr Johnson faces an uphill battle to pass the plan, after he wiped out his own majority by sacking 21 Tory MPs for rebelling over Brexit.
Boris Johnson and Brexit merchandise for sale at the Tory conference

Show all 10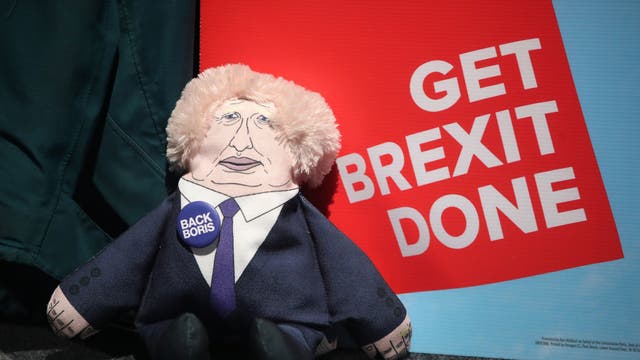 Liberal Democrat leader Jo Swinson said: "Boris Johnson is determined to have a general election, but the best way to resolve the Brexit chaos is to have a People's Vote and give the British people the final say about their future.
"The best deal we have is as members of the European Union and we want to give the people the chance to choose to stop Brexit."
It comes as the prime minister was racing against time to hammer out a deal with Brussels ahead of the EU Council summit on Thursday.
The two-day summit will prove a critical moment, as Mr Johnson must get a new deal by Saturday to avoid being forced to ask for a Brexit delay.
The prime minister's hands have been tied by a backbench law - tabled by Labour's Hilary Benn - which compels him to ask for an extension by 19 October if he has not secured a deal.
Mr Johnson has stood by his "do or die" pledge to leave the EU on 31 October, with or without a deal, prompting fears among backbench MPs that Downing Street has found a way to get around the Benn Act.
Paul Scully, deputy Tory chairman, said: "Yesterday the Liberal Democrats wanted to ignore 17.4 million voters by revoking Brexit, today they want to do it by holding a second referendum.
Support free-thinking journalism and attend Independent events
"Whatever they wake up saying tomorrow, it's clear that what you'll get with them is more delay, gridlock and uncertainty. Politicians can't pick and choose which votes they respect."
Meanwhile, hundreds of thousands of people are expected to join a major march for a Final Say referendum on Saturday.
Organised by the People's Vote campaign and supported by The Independent, the demonstration takes place only two weeks before the Halloween Brexit deadline.
Join our new commenting forum
Join thought-provoking conversations, follow other Independent readers and see their replies