Stopping Brexit could provide the NHS £300m a week, Sir Vince Cable says
'It is crucial that once the real consequences of leaving the EU are clear, the public is given a chance to exit from Brexit and stay in the EU,' the Liberal Democrat leader said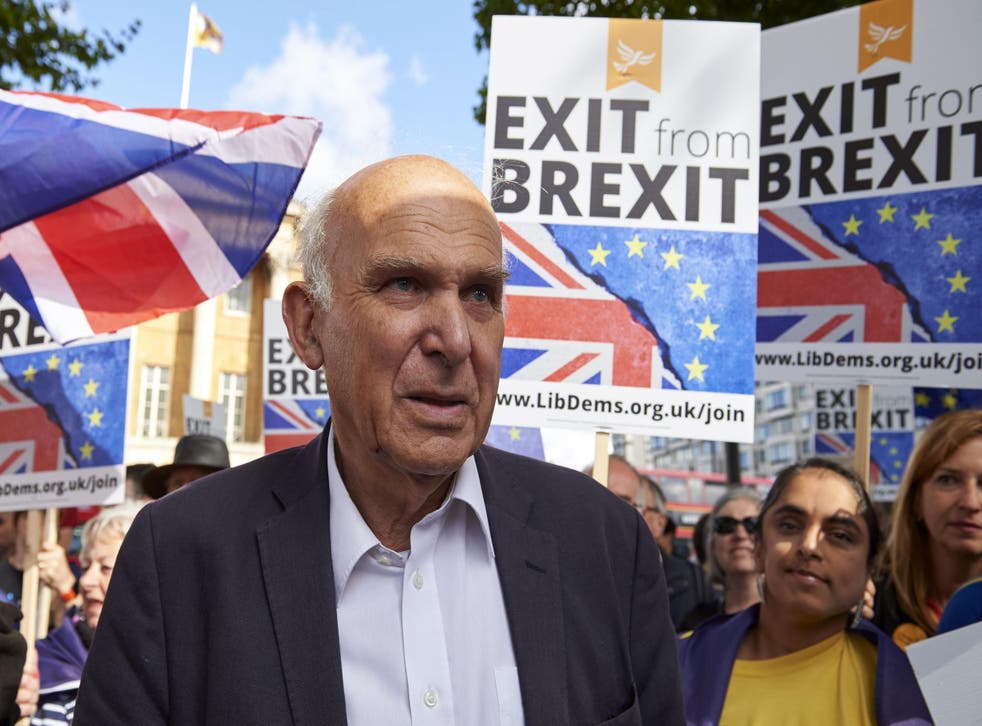 Stopping Brexit could provide the NHS and social care with an extra £300m a week, according to the Liberal Democrat leader Sir Vince Cable, who claims it could plug the funding gap in the services by the end of the decade.
Sir Vince, who is calling for a "referendum on the facts" when a deal is offered by the European Union in the Brexit negotiations, told The Independent that, instead of the extra money promised by the Brexiteers during the 2016 referendum, "public finances are set to be damaged to the tune of billions of pounds per year".
"On top of that, the Government is spending £3bn of taxpayers' money on lawyers and lorry parks to prepare for Brexit, and paying a costly divorce bill," he said.
"Many people will be rightly asking whether the price being paid for Brexit is really worth it, when the NHS is being stretched to breaking point.
Mocking the widely discredited claim deployed by Brexiteers during last year's EU referendum that the NHS could receive an extra £350m a week after Brexit, Sir Vince added: "An exit from Brexit would mean we could be spending an extra £300m a week on the NHS and care.
"That is enough money to fix the NHS crisis and provide our hospitals and care homes with the additional funding they desperately need.
"It is crucial that, once the real consequences of leaving the EU are clear, the public is given a chance to exit from Brexit and stay in the EU."
The Liberal Democrats made the claim using the 2016 November forecasts from the Office for Budget Responsibility (OBR), which said the economic effects of Brexit could weaken the public finances by £15bn per year in the early 2020s – outweighing the UK's net contribution to the EU. "This is equivalent to almost £300m a week," the party said.
This, it added, is on top of the so-called divorce bill, due to be paid by Britain to the bloc, and the £3bn set aside by the Chancellor Philip Hammond in the Budget to prepare for Britain's exit from the European Union.
UK news in pictures

Show all 50
"We're determined the ensure that the country is prepared for every possible outcome," the Chancellor said in November. "We have already invested almost £700m in Brexit preparations. Today I am setting aside over the next two years another £3bn. And I stand ready to allocate further sums if and when needed."
Prior to the Budget, the Nuffield Trust, the Health Foundation and the King's Fund issued a briefing to address the "critical state" of health and social care. They estimated that by 2019-20 there would be a £2.5bn funding gap in social care.
Mr Hammond said at the Budget the NHS services in England will get an extra £2.8bn, adding "we will always back it". The money includes a £350m package for this winter, with the rest coming before 2020.
The organisations added: "The Chancellor's announcements have provided some temporary respite, but the extra money falls far short of what we estimate is needed to maintain standards of care."
Register for free to continue reading
Registration is a free and easy way to support our truly independent journalism
By registering, you will also enjoy limited access to Premium articles, exclusive newsletters, commenting, and virtual events with our leading journalists
Already have an account? sign in
Register for free to continue reading
Registration is a free and easy way to support our truly independent journalism
By registering, you will also enjoy limited access to Premium articles, exclusive newsletters, commenting, and virtual events with our leading journalists
Already have an account? sign in
Join our new commenting forum
Join thought-provoking conversations, follow other Independent readers and see their replies