Brexit 'bad boys' Nigel Farage and Arron Banks investigated for Russia links during EU referendum
"Hysterical accusations" being thrown around, says Farage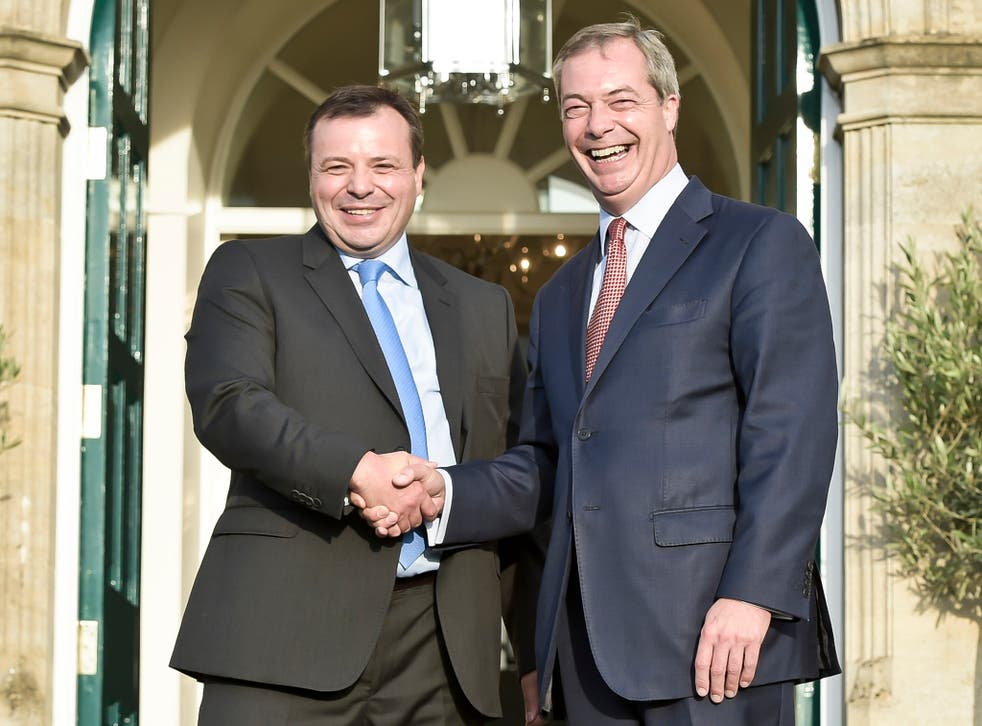 The interactions between Brexit campaigners, Arron Banks and Nigel Farage, and the Trump campaign have drawn the interest of Robert Mueller as part of his investigation into Russia's interference in the 2016 presidential election. But how did the self-styled "bad boys" of Brexit simultaneously forge ties with Trump and Russia?
Mr Banks, who has stakes in a South African diamond mine, made the biggest political gamble of his life by pouring millions into Leave.EU's Brexit campaign, headed by Mr Farage. That sudden splurge of money made him the UK's largest political donor.
This brought Mr Banks to the attention of figures further afield, including the Russian ambassador to the UK, Alexander Yakovenko, whom he met on 19 August, 2016.
Mr Yakovenko was aware of Mr Banks's friendship with Mr Farage, and the two men's deepening ties to Donald Trump's insurgent presidential bid in the United States. Mr Banks and his fellow Brexiteer had been invited to attend a fundraiser with Mr Trump in Mississippi.
Less than a week after the Yakovenko meeting, Mr Banks and Mr Farage – by then a cult hero among some anti-establishment Trump supporters – were huddling privately with the Republican nominee in Jackson, Mississippi, where Mr Farage wowed a foot-stomping crowd at a Trump rally.
Mr Banks built a first-name rapport with Mr Yakovenko, exchanging frequent digital communications, and meeting with him in person four times in about 12 months. At the same time, he and Mr Farage also intently pursued entree to Trump's world, according to interviews and dozens of emails and text messages Mr Banks provided to The Washington Post.
As both relationships deepened, Mr Banks and his associates discussed Mr Trump's bid and the US presidential campaign with Mr Yakovenko. At least two of the meetings between Mr Banks and the ambassador came shortly before or after meetings with Mr Trump.
The efforts of Mr Banks and Mr Farage to foster contact with both Russian officials and Trump's campaign have captured the interest of investigators in the UK and the US.
Nigel Farage welcomes Donald Trump to the UK in Fox News interview
Both inquiries centre on questions of Russia's involvement in seismic political events that have shaken the world order, with the European Union losing a key member and US voters electing a president critical of Washington's traditional alliances.
Recent revelations about Banks's Russian contacts have triggered scrutiny of whether the Russians sought to bolster the Brexit effort. In the US, congressional Democrats who recently obtained a trove of Mr Banks's communications have begun exploring a different question: did the Brexit leaders serve as a bridge between the Kremlin and Trump's operation?
Banks rejected the notion that he was a go-between, insisting his contacts were routine business and diplomatic exchanges. He says the investigations are a "witch hunt."
But he acknowledged that the interactions raised reasonable questions about whether the Brexiteers were "a back channel to the Russians."
"The only problem with all of that is that not one shred of evidence has been produced. It doesn't go anywhere," Mr Banks said in one of two interviews with The Washington Post in Bristol this week.
Asked whether Russians had been probing them or seeking to win influence or intelligence, Mr Banks conceded, "They may have. But if so, it wasn't a very good probe."
Two people – former Trump communications official Michael Caputo and another person, who spoke on the condition of anonymity because of the ongoing investigation – told The Post that Mr Mueller's investigators asked about Mr Farage's relationship to Trump associates in witness interviews this year, including Mr Caputo last month.
A spokesman for the special counsel, Robert Mueller, declined to comment, as did a White House spokesman.
Nigel Farage's most controversial moments

Show all 12
Mr Trump's lawyer, the ex-mayor of New York, Rudolph Giuliani, said he was not aware of any questions from Mr Mueller about the Brexit backers and had seen nothing about the topic in documents he has reviewed. "I never heard anything about the Russian ambassador [to London] nor have I ever talked to the president about this," he said.
Mr Farage and Mr Banks said they have not been contacted by Mueller's investigators and disputed the idea that they ferried information for the Trump campaign or the Kremlin.
"There seems to be a culture of throwing hysterical accusations around without any evidence whatsoever," Mr Farage said in an email response to questions.
Mr Banks said he and his fellow Brexit leaders have sought to be transparent about their dealings with Russia. Shortly after Mr Trump's election, he said, they reached out to officials from the US Embassy in London in the wake of a report suggesting they were pro-Russian actors.
Mr Banks said he and Mr Farage each met once with American embassy officials to describe their contacts.
The Washington Post
Register for free to continue reading
Registration is a free and easy way to support our truly independent journalism
By registering, you will also enjoy limited access to Premium articles, exclusive newsletters, commenting, and virtual events with our leading journalists
Already have an account? sign in
Register for free to continue reading
Registration is a free and easy way to support our truly independent journalism
By registering, you will also enjoy limited access to Premium articles, exclusive newsletters, commenting, and virtual events with our leading journalists
Already have an account? sign in
Join our new commenting forum
Join thought-provoking conversations, follow other Independent readers and see their replies