Philip Hammond should be sacked for coming 'very close to sabotage' over Brexit, Lord Lawson says
Chancellor branded 'grossly irresponsible' for refusing to spend huge sums of money now to prepare for a 'no deal' exit
Rob Merrick
Deputy Political Editor
Thursday 12 October 2017 13:08 Comments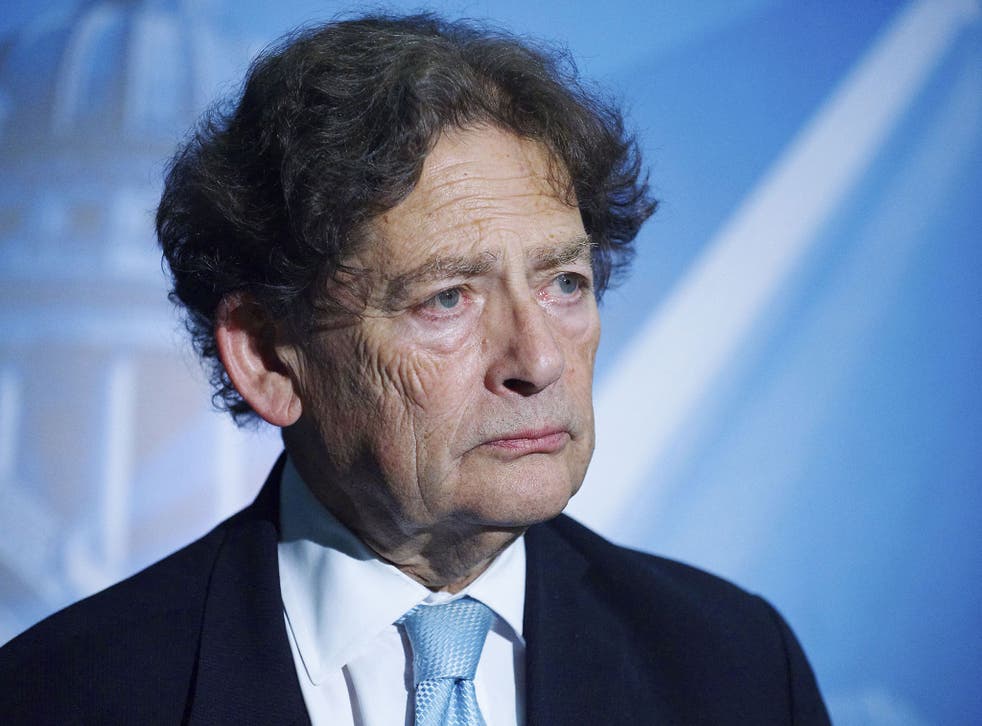 Chancellor Philip Hammond should be sacked for coming "very close to sabotage" over Brexit, Tory grandee Lord Lawson has said.
The former Chancellor called on Theresa May to act, branding his successor "grossly irresponsible" for refusing to spend many millions now to prepare for an exit with no deal struck with the EU.
"He may not intend it, but in practice what he is doing is very close to sabotage," Lord Lawson, a leading Leave campaigner said.
"You have to spend money from time to time, and there is nothing more important than preparing for what has always been the most likely outcome," Lord Lawson added.
The peer agreed Mr Hammond's stance was "grossly irresponsible" and, asked what was the solution, replied: "I think probably a reshuffle."
Michael Gove, who returned to the Cabinet last month, could be a suitable replacement at the Treasury, he suggested.
Lord Lawson also branded Conservative backbencher Anna Soubry, a leading campaigner against a hard Brexit, a "complete fanatic".
He insisted Britain could cope with crashing out of the EU with no agreement – if the Chancellor agreed to make the necessary preparations now.
"That is what it is so irresponsible not to be making those contingency arrangements," he told BBC2's Daily Politics show.
Lord Lawson is the first Conservative politician to call openly for Mr Hammond to be sacked, although leading Brexitteers have pushed for it privately.
It comes after a damaging rift opened up between the Prime Minister and her most important Cabinet colleague over the preparations for the exit talks collapsing.
Mr Gove has led a push in Cabinet for emergency plans to be put into operation now, to convince the EU that Britain is serious about accepting a no deal exit if necessary.
Failing to do so would be seen as "a sign of weakness" by EU leaders, former Brexit minister David Jones claimed.
Mr Hammond warned diverting funds would mean less money for the NHS and social care – insisting it would not happen until the "very last moment", if the need became clear.
But, just minutes later, in the Commons chamber, Ms May vowed to spend taxpayers' cash immediately, telling MPs: "We are committing money to prepare for Brexit, including a no deal scenario."
The Prime Minister revealed that "in some cases departments will need to spend money before the relevant legislation has gone through".
The issue has become urgent as the exit talks flounder, after the EU said it would also turn to preparing for no deal Brexit unless there was progress by the New Year.
Register for free to continue reading
Registration is a free and easy way to support our truly independent journalism
By registering, you will also enjoy limited access to Premium articles, exclusive newsletters, commenting, and virtual events with our leading journalists
Already have an account? sign in
Join our new commenting forum
Join thought-provoking conversations, follow other Independent readers and see their replies