Northern Ireland protocol: Critics and protesters 'offer no alternative', says EU ambassador
'No one came with a better idea,' says top Brussels official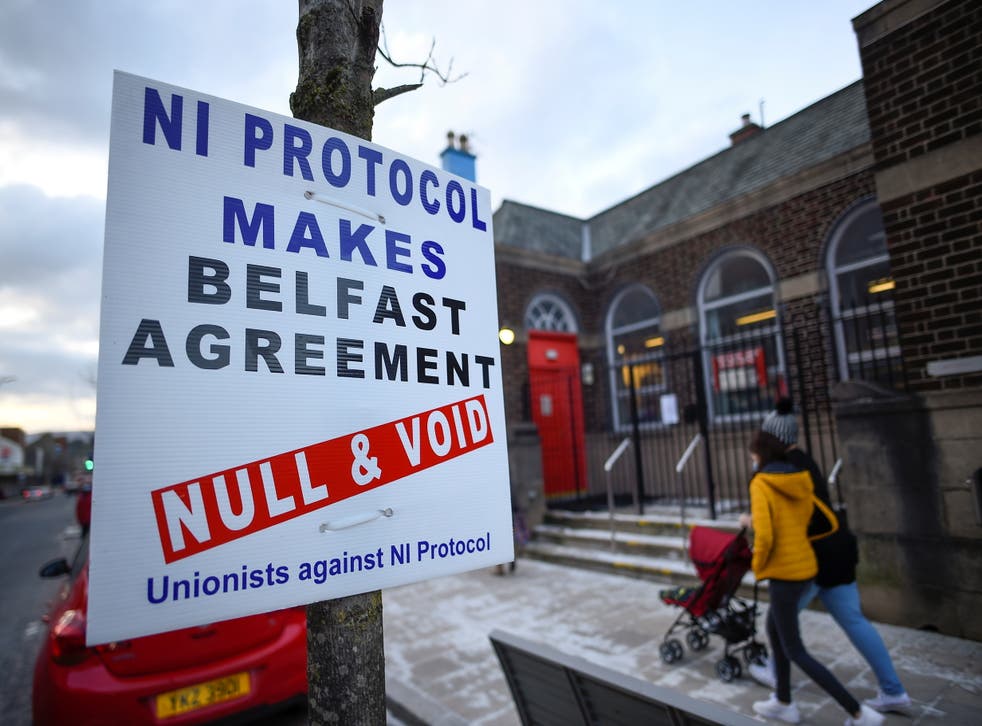 Politicians who want to scrap the Northern Ireland protocol have failed to come up with a better alternative, the EU ambassador to the UK has said, amid an outbreak of violence in the province.
João Vale de Almeida said Conservative MPs and unionist leaders who have railed against the trade border in the Irish Sea must focus on making current Brexit arrangement work.
It comes as Northern Ireland's justice minister accused the UK government of having stoke the violence by being "dishonest" about the consequences of its hard Brexit policies.
The EU ambassador Mr Vale de Almeida said: "Even those who attack the protocol today, who would like to see it scrapped, have no alternative to the protoco. So that what should be our focus. Our focus should be to implement the protocol."
He added that the EU would work with Boris Johnson's government to "make [the protocol] even more flexible" – but insisted its basic principles would have to stay in place.
"The protocol is the solution for the problems created by Brexit in Northern Ireland and that's where I believe we should focus," he told The Guardian's politics podcast.
"[The protocol] took a few years to negotiate, I can guarantee that from listening to those who negotiated – and Michel Barnier and David Frost were among them – I can tell you that they turned every stone to try to find alternatives to this protocol. No one came with a better idea."
The ambassador said EU chiefs were now carefully examining a plan for the implementation of the protocol delivered to Brussels by No 10 last week. Mr Vale de Almeida said the bloc was "fully committed in a constructive way to find solutions for those problems".
The top official's comments come after four nights of violence in some loyalist areas of Northern Ireland. The Police Service of Northern Ireland said 41 officers had been injured, with petrol bombs thrown in the Carrickfergus area.
The Northern Ireland Assembly has been recalled early to discuss the disorder. Politicians, who will gather again at Stormont on Thursday, are united in calling for the violence end – but remain divided over the reasons why it has erupted.
Sinn Fein MLA Gerry Kelly claimed the political rhetoric around the protocol from the DUP and other unionist parties had not helped. "Political figures in unionism are winding young people up and destroying their lives," he said.
Mark Lindsay, the Police Federation for Northern Ireland chairman, said young people are being "cynically used" by "more sinister elements of society" to cause disorder.
He said a "perfect storm" had emerged linked to various issues, including the decision not to prosecute Sinn Fein members in relation to a large gathering at the funeral of Bobby Storey, as well as problems over the implementation of the protocol.
Mr Lindsay told BBC Radio 4's Today programme: "There are young people who are being cynically used by older, more sinister elements of society – more than likely aligned to what we would call paramilitary, but which in anywhere else are criminal organisations and large criminal gangs.
He added: "Young people are often the cannon fodder they use to go onto the streets to attack police."
Meanwhile Northern Ireland's justice minister Naomi Long said the UK government's "dishonesty" over the consequences of its decision to go with a hard Brexit had contributed to loyalist anger.
"Instead of trying to work through the issues legally, it opted to promote lawlessness by suspending the Northern Ireland protocol," she told BBC Radio 4's Today programme.
"They promised people unfettered access, which is not the case. And they denied the existence of borders, even as those borders were being erected. I think that that dishonesty, and the lack of clarity around these issues has contributed to a sense of anger in parts of our community."
The minister added: "We have to recognise, and this is fundamental, that when we decided that Brexit was the way forward, and when we choose a particularly hard Brexit, that there would be consequences. And those consequences would be felt most acutely in Northern Ireland, where there is some land border."
Join our new commenting forum
Join thought-provoking conversations, follow other Independent readers and see their replies