Brexit: Petition demanding change to EU referendum rules to force second vote passes 700,000 signatures
Another petition is calling on London to gain independence from the UK and remain in the EU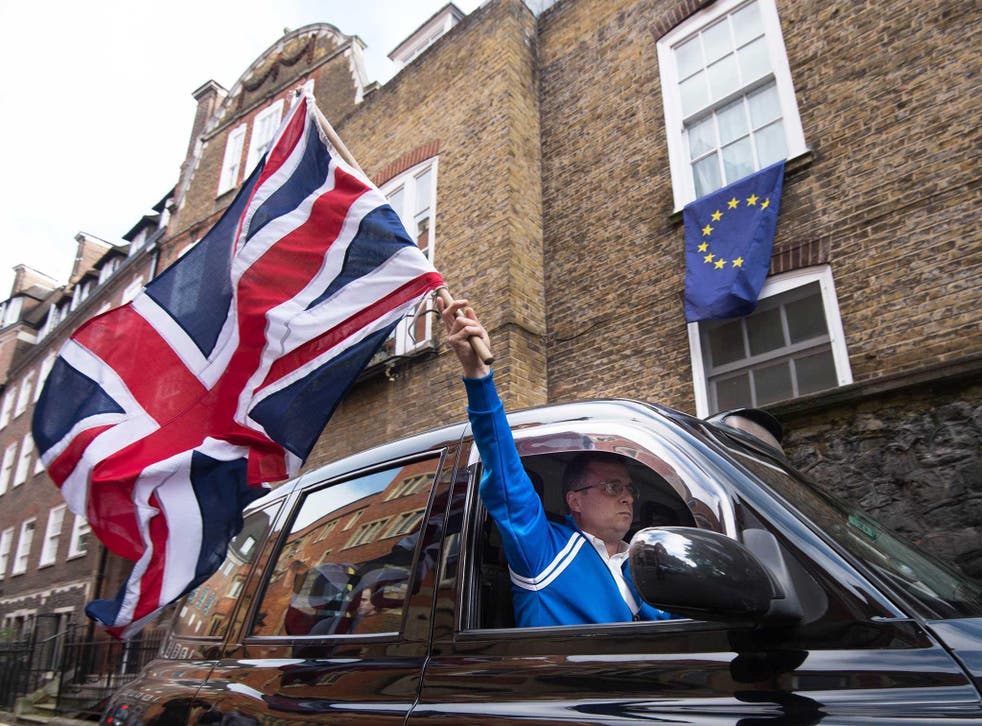 More than 700,000 people have signed a petition demanding a second EU referendum as the UK continues to reel from the vote for a Brexit.
Signatories are calling for a new rule to be implemented stipulating that polls on the European Union with a majority under 60 per cent and turnout under 75 per cent must be re-started.
The petition, started by William Oliver Healey, reads: "We the undersigned call upon HM Government to implement a rule that if the Remain or Leave vote is less than 60 per cent based a turnout less than 75 per cent there should be another referendum."
It passed 750,000 signatures on Saturday morning, with votes most concentrated in London, Brighton, Oxford, Cambridge and Manchester.
The pattern largely followed that of the strongest votes for Remain in Thursday's referendum, which ended with a result of 48 per cent, to 52 per cent for Leave, on a turnout of 72 per cent.
Such was the petition's popularity on Friday morning that it crashed the government's website, and its popularity means that it must be considered for a Parliamentary debate.
It was unclear if such a rule, if created and inserted into UK legislation, could be applied retrospectively.
Some were interpreting the petition to mean there was a pre-existing rule that could be applied to the result, although The Independent understands that no such provision exists in British or European legislation.
How the UK felt about Brexit
It has been causing fierce debate on Twitter, where some people accused supporters of "insulting democracy".
"To those signing the EU Referendum Rules petition: accept the result, move on! It will only be debated! Not definitely trigger another ref!," one person wrote.
"Frankly a second referendum would be a disgrace," another added. "Totally disrespectful to democracy."
Another tweet said: "Regardless of what you think about the outcome, good or bad, democracy has spoken. Accept it and deal with it."
When a Remain vote was considered likely in May, Nigel Farage suggested he would support a second referendum if his side lost by a narrow margin.
The Ukip leader told the Mirror: "In a 52-48 referendum this would be unfinished business by a long way. If the Remain campaign win two-thirds to one-third that ends it."
Brexit reactions – in pictures

Show all 10
He made no mention of the sentiment on Friday, when he triumphantly hailed "independence day" for Britain.
After the Scottish independence referendum in 2014, the 45 per cent of voters who lost started a similar campaign for another vote, and could now get their wish after Nicola Sturgeon said there had been a "significant change" to the circumstances of the original poll.
Another petition has been started by Remain voters in London, where most electoral districts voted Remain by some of the largest majorities in the UK.
More than 100,000 people are calling on the capital to be declared independent from the rest of the country and apply to join the EU as its own state.
Addressed to Mayor Sadiq Khan, the petition reads: "London is an international city, and we want to remain at the heart of Europe.
"Let's face it - the rest of the country disagrees. So rather than passive aggressively vote against each other at every election, let's make the divorce official and move in with our friends on the continent."
Join our new commenting forum
Join thought-provoking conversations, follow other Independent readers and see their replies