Post-Brexit salary caps for EU workers will be 'detrimental' to science, minister warns
Concerns that threshold of £30,000 will leave UK short of key workers in scientific professions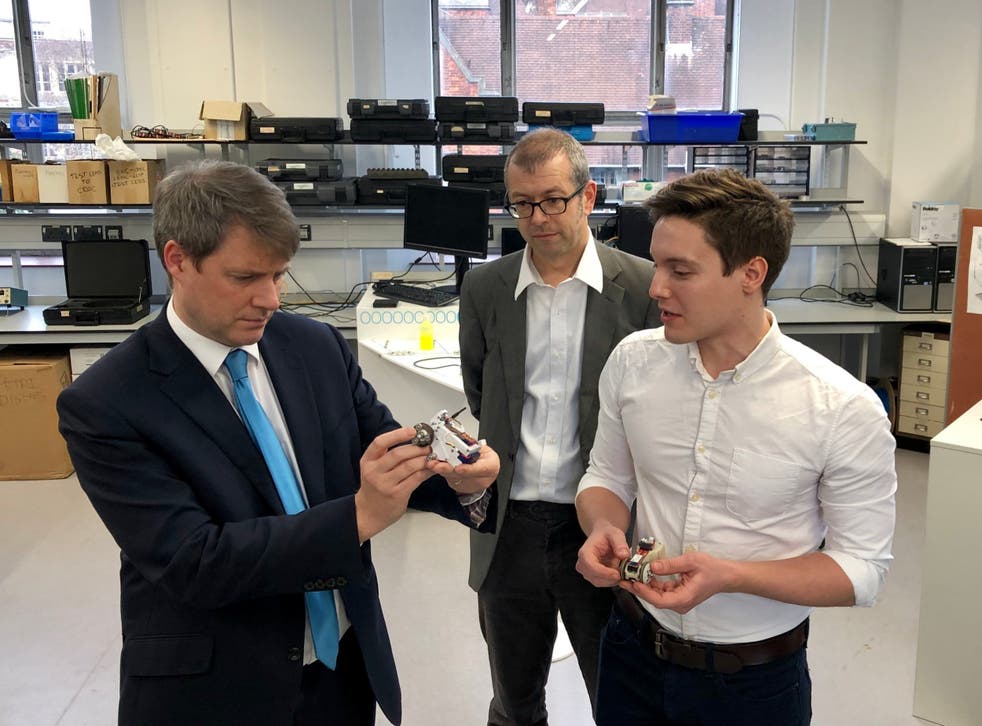 The government's refusal to give visas to science workers earning less than £30,000 could damage the research sector in post-Brexit Britain, the science minister has warned.
Chris Skidmore said he was trying to convince home secretary Sajid Javid to scrap the salary threshold which has been recommended in a document underpinning future immigration plans.
He said he was concerned about the impact on lab technicians and other employees who earn below the cap but make a vital contribution to UK science and technology.
His comments came after the government's strategy for post-Brexit immigration policy was released.
Mr Skidmore said he was committed to ensuring Britain "remains the best possible place for international researchers".
Science news in pictures

Show all 20
"We made quite a clear statement on ensuring we have no cap on international students, but I want to go further," he told the Science and Technology Committee. "For instance the £30,000 cap on salary can be seen as quite detrimental to the science community."
He added that while he was new to the job, he understood the importance of not breaking up research groups and ensuring the families of scientists could accompany them to the UK.
He said he was in the process of working with universities to build a case and make this clear to the home secretary.
Asked by the committee's chair Norman Lamb if he wanted to remove the cap altogether, the minister said he wanted to "look at what alternatives there would be."
Last year, the Migration Advisory Committee recommended there should be no cap on high-skilled workers allowed into the UK, but that the existing £30,000 salary threshold should be maintained.
Current policy is to allow 20,700 high-skilled workers from abroad into the country.
The Home Office said they are now undertaking a period of consultations to establish what a suitable salary threshold would be.
According to the union Prospect, keeping such a high cap on salaries for workers from the EU will have profound consequences for public sector science, technology and engineering.
'It's unicorns again, isn't it?' Cathy Newman challenges former Brexit Secretary Dominic Raab over backstop
They list postdoctoral researchers, veterinary inspectors and agricultural research technicians as some of the professions earning below £30,000 for which the country currently relies on European workers.
Dr Mike Galsworthy from campaign group Scientists for EU said Mr Skidmore's comments revealed a "woeful state of affairs".
"The matter of highly-skilled, highly-talented but low-paid staff in our science and innovation system has long been known, but the new science minister only wants 'to look at... alternatives' at this late stage, on the eve of a potential crash out," he said.
Science is a sector that faces a great deal of disruption following Brexit, given the extensive collaborations and shared funding networks operating between the UK and Europe.
Many researchers have expressed concern about the UK's future as a leading scientific power, despite assurances by ministers that any lost funding will be matched.
Particularly concerning is the prospect of a no-deal Brexit, which Mr Skidmore admitted would be disruptive to British science.
He said that while the government had underwritten guarantees to ensure UK researchers supported by the EU's Horizon 2020 scheme would not lose funding, when it comes to future schemes such as Horizon Europe "we are crossroads".
He added: "We are leaving the EU but we do not want to break those long standing ties."
Register for free to continue reading
Registration is a free and easy way to support our truly independent journalism
By registering, you will also enjoy limited access to Premium articles, exclusive newsletters, commenting, and virtual events with our leading journalists
Already have an account? sign in
Register for free to continue reading
Registration is a free and easy way to support our truly independent journalism
By registering, you will also enjoy limited access to Premium articles, exclusive newsletters, commenting, and virtual events with our leading journalists
Already have an account? sign in
Join our new commenting forum
Join thought-provoking conversations, follow other Independent readers and see their replies