Vince Cable says hard Brexit 'can be stopped' upon becoming Lib Dem leader
New leader challenges pro-EU Tories to 'stand up and fight'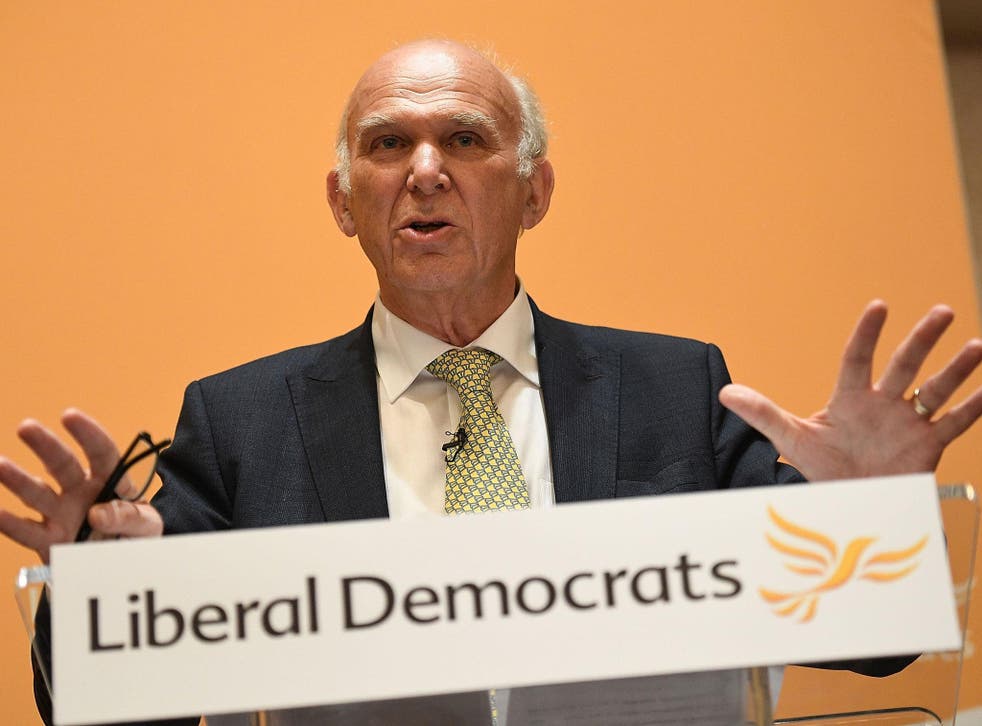 The new Liberal Democrat leader has called on pro-EU Conservative MPs to show courage and fight a hard Brexit, saying: "This process can be stopped."
Sir Vince Cable told The Independent he believed many Tories were "holding their fire" and could be persuaded to join a cross-party campaign to force Theresa May to change course.
"The question is how many will be sufficiently courageous and forthright to come out," he said, just moments after being crowned leader.
"We will give leadership on this issue. We will reach out to them [MPs], left and right.
"But it's up to them as to whether they are willing to stand up and fight. If they are willing to, then this process can be stopped and the damage can be massively reduced."
The aim would be to to keep the UK in the EU single market and customs union, as well as preserve collaboration on research with European partners, he said.
He gave "credit" to the 50-odd Labour MPs who backed single market membership recently, despite Jeremy Corbyn's refusal to do so.
The 74-year-old also promised to offer voters the chance of an "exit from Brexit", through a second referendum on EU membership, after any deal is agreed.
Voters should be asked "Do you wish to accept what is coming down the track, jumping off the cliff and hoping there's a tree to catch you or do we want to stay within the European Union?" he said.
And he pointed to the Chancellor, Philip Hammond, as a potential ally arguing for a softer Brexit against the hardline Brexiteers in the Cabinet.
"He is a political adult, you've got Boris Johnson in short trousers, and Dr Fox in nappies. In that company he deserves some qualified support," Sir Vince said.
The former Business Secretary became leader after no other Lib Dem MP chose to challenge him – becoming the oldest leader in the party's history.
The vacancy arose after Tim Farron quit, arguing he could not reconcile his Christian faith with the demands of leading a "progressive, liberal" party.
A disappointing general election campaign saw the party increase its tally of MPs by just three to stand at 12, despite its staunch opposition to Brexit.
At a press conference, Sir Vince said the Lib Dems had a real opportunity to occupy the "gigantic space in the middle of British politics" left by the two main parties' move to the extremes.
The Brexit negotiations were being conducted by a "dysfunctional, disorganised, disunited" administration, led by a Prime Minister who had lost her "political authority".
The new leader's age has led to speculation at Westminster that Sir Vince will effectively be a caretaker leader, handing over to new deputy Jo Swinson as the next general election approaches.
But Ms Swinson told the BBC: "There's been no kind of discussion like that. We will obviously work very closely together as we have before."
Sir Vince also insisted he was not a stop-gap leader, saying: "I will serve for as long as I need to. I'm not here for the short term, I'm not here as a caretaker."
Register for free to continue reading
Registration is a free and easy way to support our truly independent journalism
By registering, you will also enjoy limited access to Premium articles, exclusive newsletters, commenting, and virtual events with our leading journalists
Already have an account? sign in
Register for free to continue reading
Registration is a free and easy way to support our truly independent journalism
By registering, you will also enjoy limited access to Premium articles, exclusive newsletters, commenting, and virtual events with our leading journalists
Already have an account? sign in
Join our new commenting forum
Join thought-provoking conversations, follow other Independent readers and see their replies