Brexit: The head of the Treasury watchdog says he could be 'retired' before the economic impact is known
'I could be retired and you could be in the Lords – and much could have passed – before we know where we are' Robert Chote tells a Conservative MP
Rob Merrick
Deputy Political Editor
Wednesday 30 November 2016 18:53 Comments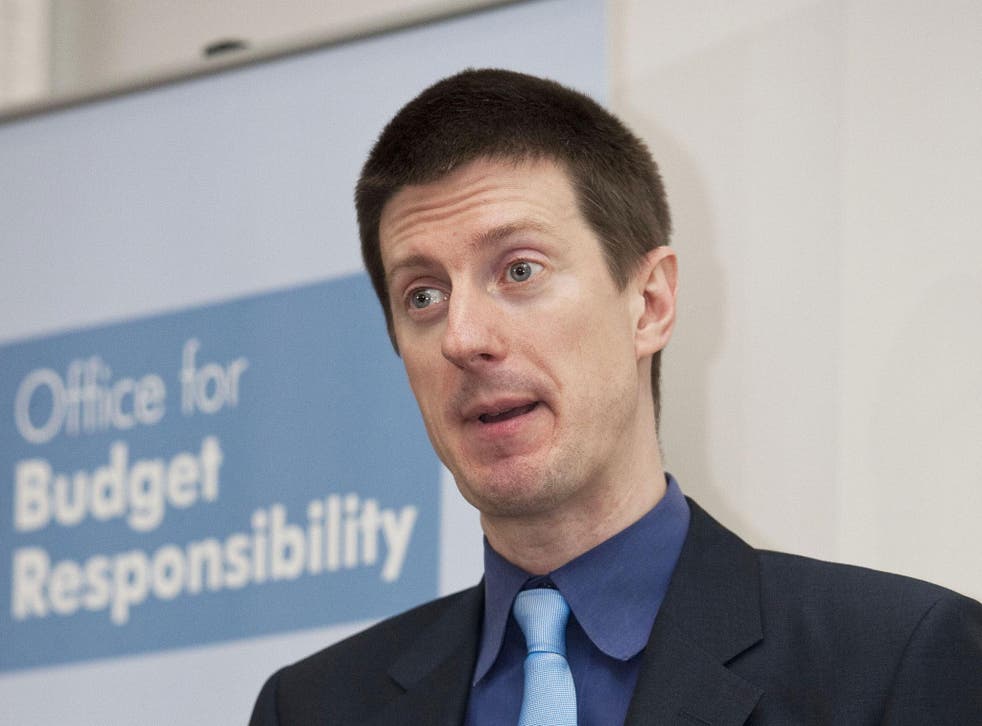 The head of the Treasury's watchdog says he could be "retired" before anyone knows the economic impact of leaving the EU.
Robert Chote, the chairman of the Office for Budget Responsibility (OBR), dismissed Conservative claims that its forecasts are too gloomy, because they ignore post-Brexit trade deals.
At a meeting of the Commons Treasury Select Committee, one Tory backbencher, Jacob Rees-Mogg, urged the OBR to recognise the likely economic bounce to come.
But Mr Chote told him: "The thing to be wary about there is that negotiation is a two-way street – and indeed, possibly, a multiple-way street.
"My suspicion is that, if we are in a negotiation in which pretty much nothing is agreed until everything is agreed, I could be retired and you could be in the Lords – and much could have passed – before we know where we are."
Since last week's Autumn Statement, the OBR – and its warning of a hefty economic blow from Brexit – has faced a barrage of criticism from pro-Brexit MPs and newspapers.
The OBR's controversial forecast said Britain will have to borrow an extra £122bn by 2022 – of which almost £58.7bn is a "black hole" opened up because of the uncertainty created by EU withdrawal.
The annual budget deficit is forecast to be £30bn in 2019-20, instead of the £10bn projected in March, a staggering £40bn swing into the red.
The OBR also downgraded its forecasts for GDP growth from 2.2 per cent to 1.4 per cent for 2017 and from 2.1 per cent to 1.7 per cent for 2018.
And it said Chancellor Philip Hammond will even struggle with his fresh target to wipe out the Budget deficit in the next Parliament – which could mean as late as 2025.
Giving evidence to the committee, Mr Chote confirmed the OBR's view that Brexit will cost Britain around £12bn a year, or about 0.5 per cent of its annual GDP.
In contrast, the Chancellor's plans to increase capital investment would add just 0.1 per cent to annual output "at most".
There was already evidence that businesses are already delaying or cancelling investment decisions because of the vote to leave the EU, he said.
Sir Stephen Nickell, an OBR committee member, said its experience was that even replacing the trade deals the EU currently has will "take an awful long time".
He told the MPs: "That's why we have this period of reduced trade which lasts until 2025 and then it gets back to something more like normal."
Meanwhile, the Chancellor has responded to criticism that he kept the OBR in the dark about promises made to persuade Nissan to carry on making cars in Sunderland.
In a confusing letter to Andrew Tyrie, the committee's Conservative chairman, Mr Hammond wrote that "no new contingent liabilities have been created" by the so-called "sweetheart deal".
But he also said: "In any case, we expect any commitments incurring costs to be managed within existing overall DEL [Departmental Expenditure Limits] totals."
Mr Chote added: "I look forward to hearing what the Treasury tells you when you ask them about it."
Register for free to continue reading
Registration is a free and easy way to support our truly independent journalism
By registering, you will also enjoy limited access to Premium articles, exclusive newsletters, commenting, and virtual events with our leading journalists
Already have an account? sign in
Join our new commenting forum
Join thought-provoking conversations, follow other Independent readers and see their replies