Theresa May rules out second referendum on Scottish independence
The Prime Minister also hinted that formal negotiations on Brexit will be delayed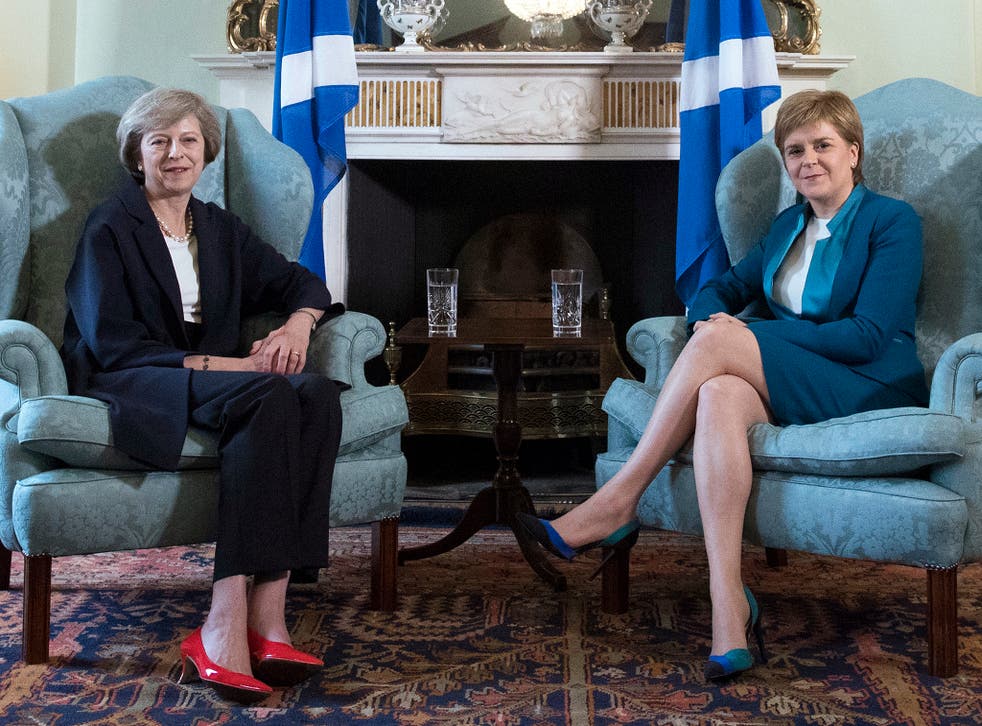 Scotland might be able to have a different relationship with the EU than the rest of the UK, Theresa May has suggested after talks in Edinburgh with Nicola Sturgeon, the SNP First Minister.
The Prime Minister also hinted that she will delay formal negotiations with the EU on Britain's exit terms – a move that would anger other EU members, who want the talks to start as soon as possible. "I won't be triggering Article 50 until I think that we have a UK approach and objectives," she said.
After a 45-minute meeting, Ms May ruled out a second referendum on Scottish independence, which Ms Sturgeon has described as "highly likely" after Scots voted to remain in the EU while the UK as a whole voted for Brexit. "As far as I'm concerned, the Scottish people have had their vote, they voted in 2014 and a very clear message came through. Both the United Kingdom and the Scottish Government said they would abide by that," Ms May said.
The Prime Minister said she would consider "any options" put forward by the Scottish Government before starting the formal withdrawal process. Asked if Scotland could have a different relationship with the EU than the rest of the UK, Ms May replied: "I want to get the best possible deal for the United Kingdom out of our negotiations for the UK leaving the EU, but I'm willing to listen to options. I've been very clear with the First Minister today that I want the Scottish Government to be fully engaged in our discussions and our considerations, and I will listen to any options that they bring forward."
She said she had "an excellent meeting" with Ms Sturgeon, and looked ahead to more "constructive and positive discussions". Her decision to choose Edinburgh for her first official visit since entering Downing Street symbolised her determination to preserve the Union. "I'm very clear that the government I lead will be for all parts of the United Kingdom and for all people," she said.
Ms Sturgeon, who argues that it is her duty to protect Scotland's status within the EU, said she was "very pleased" with the Prime Minister's "open and flexible" approach to the exit negotiations, which would allow the Scottish Government to be "fully involved".
The SNP leader said: "If we want to protect our relationship with the EU, then Scotland may have to consider becoming an independent member. If it proves not to be possible to fully protect Scotland's interests through the UK process, then the Prime Minister knows that a second independence referendum is of course on the table. However, I've also been consistently clear that I want to examine all options for protecting Scotland's position, protecting our interests, protecting our relationship with the EU."
Theresa May's Cabinet: Who's in – and who's out?

Show all 27
Although Ms Sturgeon had "big political disagreements" with the Prime Minister, she added: "We are both women who approach business in a similar way, so I think we can have a good working relationship."
Ms May has said she would not invoke Article 50 until after the end of this year, but that timescale was based on her taking power in September before she won the Tory leadership on Monday without a ballot of party members. She wants informal talks with other EU leaders first, since the EU will hold the whip hand once the formal process begins because there is a two-year time limit unless the EU extends it. But the European Commission opposes informal talks
Register for free to continue reading
Registration is a free and easy way to support our truly independent journalism
By registering, you will also enjoy limited access to Premium articles, exclusive newsletters, commenting, and virtual events with our leading journalists
Already have an account? sign in
Register for free to continue reading
Registration is a free and easy way to support our truly independent journalism
By registering, you will also enjoy limited access to Premium articles, exclusive newsletters, commenting, and virtual events with our leading journalists
Already have an account? sign in
Join our new commenting forum
Join thought-provoking conversations, follow other Independent readers and see their replies