Tony Blair's 'stop Brexit' campaign is attacked by... Blairite MPs
Former Labour Prime Minister is warned that his intervention is 'a mistake' that could create even more damaging divisions in the country than leaving the EU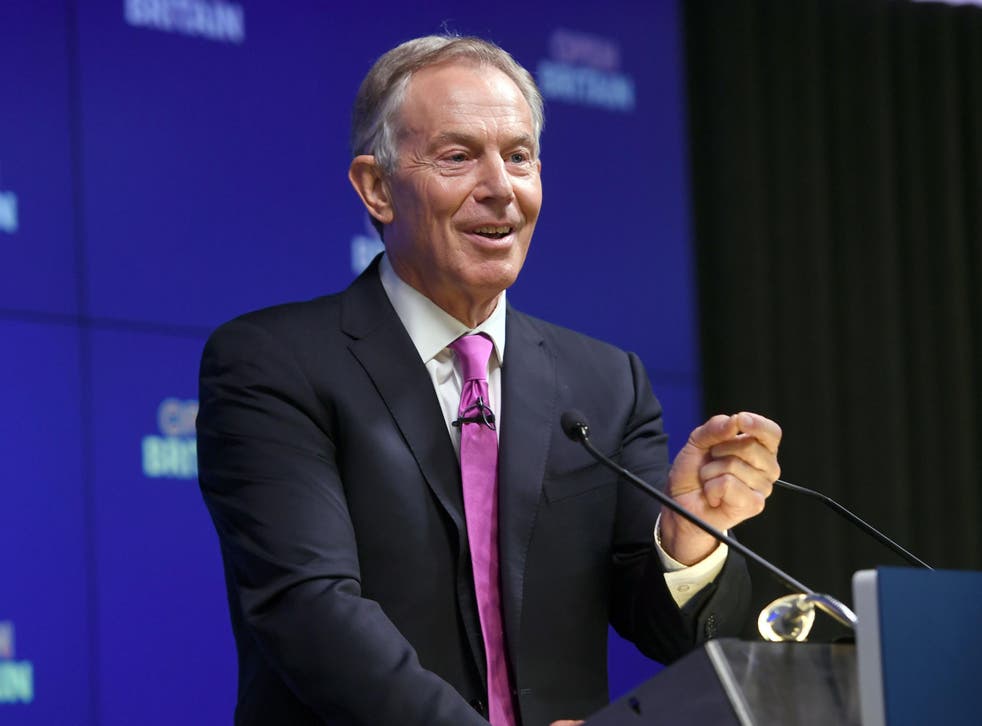 Tony Blair faced a backlash from some of his own supporters after his call for millions of worried Britons to rise up to halt Brexit.
Blairite Labour MPs joined the Conservatives and Ukip in criticising the former Prime Minister for refusing to accept "the result of the referendum".
One shadow minister, Jenny Chapman, warned the controversial intervention was a "mistake" that could create even more damaging divisions in the country than leaving the EU.
And Caroline Flint, a former minister, said Mr Blair was premature to warn of the economic damage from Theresa May's "Brexit at any cost" – because the future "terms of the trade" were still up for grabs.
One unnamed Labour source went further, telling the Press Association: "No wonder we are still trying to recover from Tony Blair's legacy when he has such contempt for democracy.
"What he doesn't seem to realise is people voted Leave precisely because they felt let down by 13 years of the Davos leftism he is still trying to flog."
The backlash came after Mr Blair staged a major speech in London to argue Brexit is not "inevitable", urging pro-Europe Britons to "rise up in defence of what we believe".
Criticising the "debilitation of the Labour Party" – which left no effective opposition – he insisted: "The one incontrovertible characteristic of politics today is its propensity for revolt.
"The Brexiteers were the beneficiaries of this wave, but now they want to freeze it to a date in June 2016.
"They will say the will of the people can't alter. It can. They will say that leaving is inevitable. It isn't.
"They will say they don't represent the will of the people. We do, many millions of them and – with determination – many millions more."
But Ms Chapman – who described herself as "often the only Blairite in the room" – said: "He doesn't seem to have accepted the result of the referendum, whereas the Labour Party has said very clearly that it does."
There would be an "audience" for Mr Blair's defiance, but she added: "I think that will be a minority occupation. Especially outside London, I don't think that will cut much ice.
"The principal reason many communities voted to leave wasn't immigration – it was a sense of being ignored," she told BBC Radio 4's The World at One.
"The wrong way to respond to that is just to ignore them a little bit more. I think that would be catastrophic for our country and far, far worse than anything Brexit would deliver upon us."
Ms Flint tweeted: "Too early for Blair's claim of #Brexit at any cost because terms of trade may not be settled for five years plus after we leave.
"Tony Blair's plan for two year campaign to overturn the #Euref is no way forward. Respect the result – fight for best deal."
More predictably, Boris Johnson, a prominent Leave campaigner, turned his scorn on the former Labour Prime Minister for "insulting the intelligence of the electorate" by arguing they had voted the wrong way.
"This is the guy who would have taken our country into the euro with what would have been catastrophic consequences," the Foreign Secretary told Sky News.
"This is the guy who dragooned the United Kingdom into the Iraq War on a completely false prospectus with consequences, which foreign ministers here are still trying to deal with.
"I urge the British people to rise up and turn off the TV next time Blair comes on with his condescending campaign."
Join our new commenting forum
Join thought-provoking conversations, follow other Independent readers and see their replies