EU 'set to suspend Brexit trade talks' over lack of progress on divorce bill and citizens' rights
Michel Barnier reportedly makes threat at private meeting with EU ambassadors over 'divorce bill'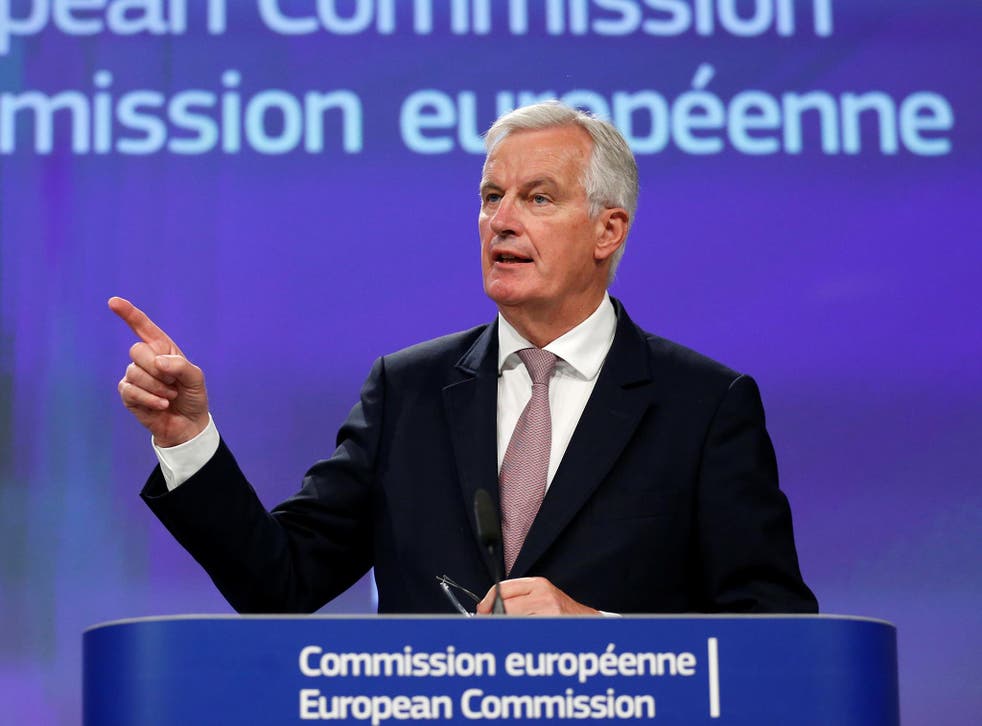 The EU has reportedly threatened a two-month delay to talks on a post-Brexit trade deal after exit negotiations stalled, in a further blow to Theresa May.
Michel Barnier, the EU's chief negotiator, made the warning at a private meeting in Brussels with EU ambassadors over the "divorce bill" – a highly contentious issue in the talks.
Mr Barnier reportedly told the ambassadors it would "very unlikely" that "sufficient progress" would be made on the exit talks by October and that the council's judgement on beginning trade talks – Theresa May's priority – could be delayed by two months.
"He said the likelihood of starting the future relationship talks in October appeared to be decreasing," one EU official involved in the talks told Reuters.
The official added: "Barnier expressed concerns that sufficient progress in October looked difficult now. Mainly because Britain has no position on finances, but also because they don't have positions on other issues as well.
"The more they drag on, the less time is left for second phase and special relationship they want."
Asked about the report, a spokesperson for Mr Barnier declined to comment. But in a statement, the Department for Exiting the European Union said it had made "good progress on a number of issues".
It added: "As the Secretary of State said, it is important that both sides demonstrate a dynamic and flexible approach to these negotiations. Government officials are working at pace and we are confident we will have made sufficient progress by October to advance the talks to the next phase.
"On the financial settlement, we have been clear that we recognise the UK has obligations to the EU and that the EU also has obligations to the UK."
In pictures: European parliament Brexit discussions

Show all 12
While there has been no official figure on the financial settlement, some estimates have placed the bill as €100bn. So far, the European Commission's Brexit taskforce has not requested a figure – and Britain has not offered one.
It comes after the second round of Brexit talks failed to produce a breakthrough on the issue and on the status of EU citizens. Mr Barnier then warned that talks could not move onto a future trade deal until Britain had provided the "clarification needed" on both citizens and the "divorce bill".
Laying bare his frustration that the UK was not accepting its "accounts must be settled", he added: "As soon as the UK is ready to clarify the nature of its commitments, we will be prepared to discuss this with the British negotiators.
"I know one has to compromise in negotiations but we are not there yet. That's the financial settlement, let's be very clear. We want clarity on that because we need to be able to work more until we come to areas of compromise."
Register for free to continue reading
Registration is a free and easy way to support our truly independent journalism
By registering, you will also enjoy limited access to Premium articles, exclusive newsletters, commenting, and virtual events with our leading journalists
Already have an account? sign in
Register for free to continue reading
Registration is a free and easy way to support our truly independent journalism
By registering, you will also enjoy limited access to Premium articles, exclusive newsletters, commenting, and virtual events with our leading journalists
Already have an account? sign in
Join our new commenting forum
Join thought-provoking conversations, follow other Independent readers and see their replies