Brexit: Plant and animal checks to be 'permanent barrier' to trade without new deal, study warns
EU said agreement on common rules 'on the table' - but UK would probably have to drop prized right to diverge
Rob Merrick
Deputy Political Editor
Thursday 25 March 2021 07:33 Comments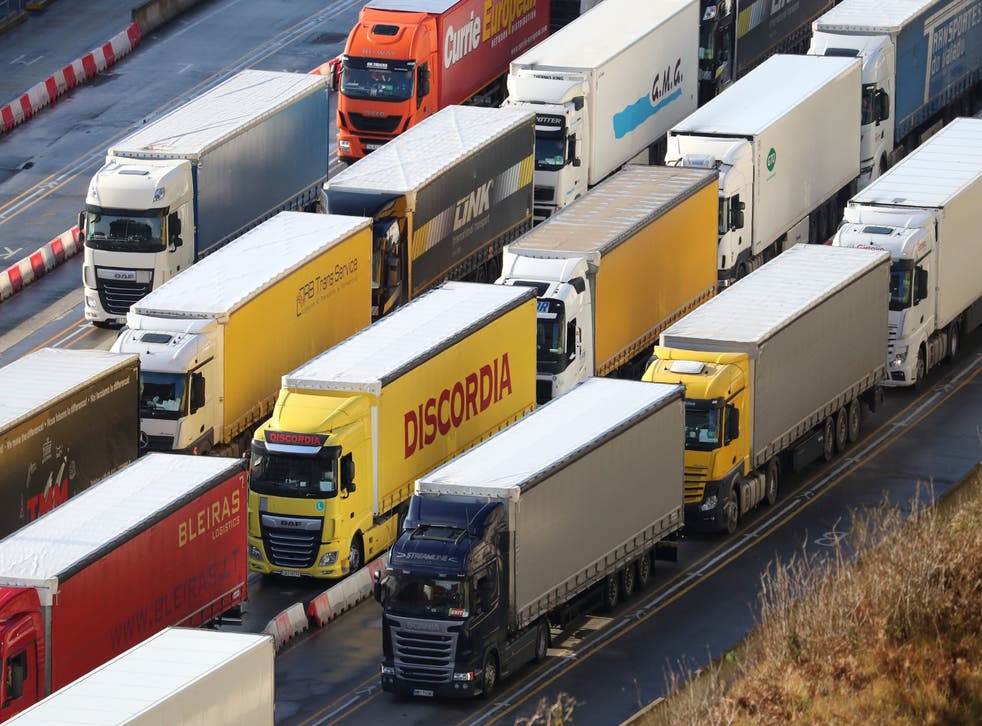 Plant and animal checks after Brexit are set to be "a permanent barrier" to trade unless the UK drops its opposition to a new deal with the EU, a study is warning.
It rejects Boris Johnson's claims of "teething problems" – arguing the punishing red tape is here to stay unless agreement can be reached with Brussels on common health and safety standards.
Last year's trade deal failed to include an agreement to avoid form-filling and physical inspections on plant and animal products, so-called sanitary and phytosanitary (SPS) controls.
They are already hurting exporters and deliveries to Northern Ireland, a problem set to grow when full Irish Sea checks – and, most crucially, controls on imports from the EU – finally come in.
Now the Lords EU goods sub-committee is calling for help for traders in animal and plant products "hit harder by red tape than perhaps any others".
Read more:
"Many of their products cannot be stockpiled, but face the most stringent checks," the peers' report states.
"While some of the sector's problems will improve as stakeholders gain familiarity with new requirements – at a cost – physical SPS checks could become a permanent barrier to trade in animal and plant products unless the UK and the EU can agree mitigations to the current regime."
The report notes that Maroš Šefčovič, the EU Commission vice-president, said last month that an agreement on common standards was "on the table".
But the inquiry was told that it would require the UK to drop its right to set its own food standards rules – something highly-prized by Brexiteers in the hunt for a US trade deal.
The Independent revealed last month that an expectation of new talks with Brussels had been dashed by the appointment of hardliner David Frost as the prime minister's pointman.
On Wednesday, the British Meat Processors Association released startling figures for how its traders are suffering – with new paperwork set to cost the meat industry up to £120m a year.
Some businesses expected a 50 per cent permanent loss to trade, faced with a mindboggling 26-step process for exports, with every shipment logged in multiple databases.
The report, entitled 'Beyond Brexit: Trade in goods' also raises the alarm over:
* The need to "move swiftly" to decide new subsidy rules – to lift the threat of EU "tariffs or other countervailing measures" if they fall foul of Brussels.
* The need for clarity on how rules of origin impose tariffs – despite the Brexit deal being described as "zero tariffs".
* The "significant blow" of the failure to agree on conformity assessments – adding the 'time and cost" of multiple testing requirements.
* The failure to recruit a promised 50,000 'customs agents' to help with red tape – with "numbers simply too low to deal with the increased checks".
* The need for new agreement on air rights – or "failing that" bilateral deals with EU members.
Baroness Verma, the committee's chair, warned of "unfinished business", saying: "Businesses, particularly SMEs, are feeling the squeeze of the non-tariff barriers resulting from the end of the transition period."
Register for free to continue reading
Registration is a free and easy way to support our truly independent journalism
By registering, you will also enjoy limited access to Premium articles, exclusive newsletters, commenting, and virtual events with our leading journalists
Already have an account? sign in
Join our new commenting forum
Join thought-provoking conversations, follow other Independent readers and see their replies