Vince Cable to attack Jeremy Corbyn for 'claiming to speak for the poor' while backing Brexit
'Jeremy Corbyn is letting down the very people he claims to defend,' Liberal Democrat leader will tell party conference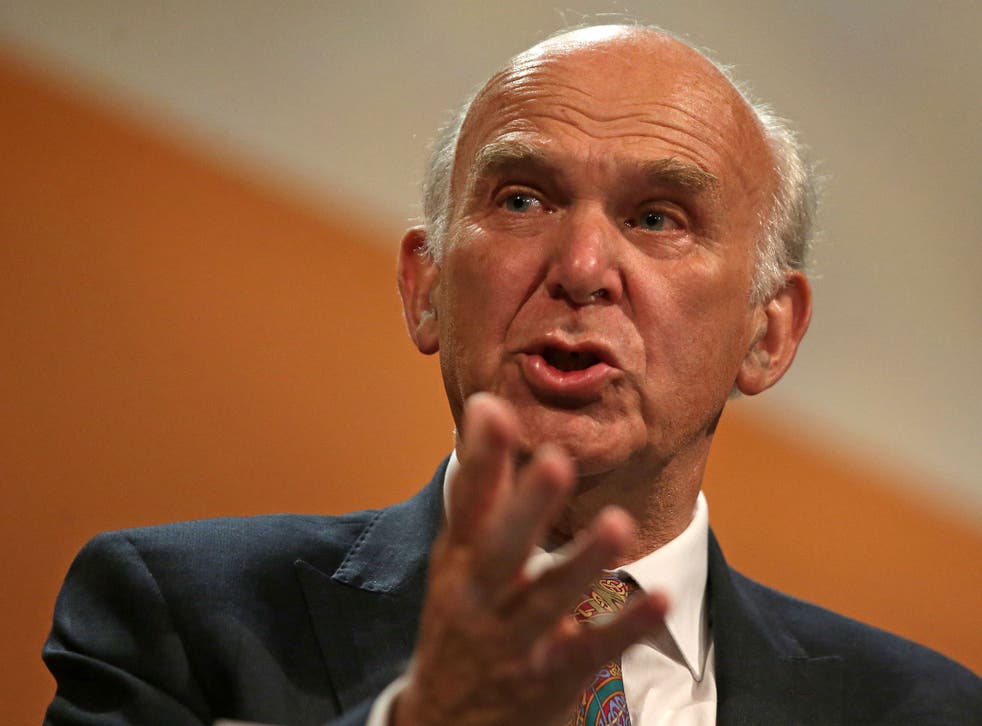 Sir Vince Cable will attack Jeremy Corbyn for claiming to "speak up for the poor" while conniving with the Tories to deliver a Brexit that will hit the deprived.
The Liberal Democrat leader will use a speech at his party's spring conference to insist Britain can still have an "exit from Brexit", as the harsh reality of EU withdrawal becomes clearer.
Theresa May will be accused of perpetrating a "fraud" on voters because of ministers' claims that Britain can look forward to growing trade links outside the EU.
But Sir Vince will target his fiercest criticism at Labour, for being "still strongly committed" to Brexit, despite its recent shift to softer exit terms by pursuing a customs union.
"Jeremy Corbyn is letting down the very people he claims to defend," he will tell the Lib Dem faithful in Southport.
"You cannot speak up for the poor and be complicit in making the country poorer. You cannot stand up for human rights, and promote their abandonment.
"You cannot be an advocate of strong rights at work, and stand by while your country walks away from the organisation which has most stood up for workers."
Sir Vince will urge Mr Corbyn to recognise that keeping the faith of his army of young supporters should see him "join our campaign" opposing Brexit.
He will say Labour believes it "can be for Brexit it and against it", but "the time has come to decide", adding: "Together we can win an exit from Brexit."
Brexit so far: in pictures

Show all 53
The speech comes after Mr Corbyn delivered a very Eurosceptic – and hugely controversial – speech to the Scottish Labour conference on Friday.
The Labour leader claimed Brexit would deliver the benefit of preventing firms "importing cheap labour" to undercut the wages of UK workers.
And he tried to outflank the Prime Minister, accusing her of planning to "tie the UK permanently to EU rules, which are used to drive privatisation and block support for British industry".
Senior Scottish Labour figures turned on Mr Corbyn's "incredibly disappointing" comments on immigration, likening them to the views of former Ukip leader Nigel Farage.
In his speech, Sir Vince will say the reality of Brexit is that it will mean "tearing up" dozens of preferential trade deals Britain enjoys as an EU member.
The Government is guilty of "utter naivety" in putting its faith in "the Wild West warmonger in Washington and the bully of Beijing" – Donald Trump and Chinese President Xi Jinping – rather than the UK's established trading partners in Europe, he will say.
Amid a looming trade war, following Mr Trump's decision to impose tariffs on steel and aluminium imports, Sir Vince will ridicule the Government's vision of "a Global Britain signing new trade deals hither and thither".
"Far from opening our arms to the world, we will be tearing up preferential trade deals we already have with 27 countries in the EU and 74 outside it," he will say.
While Labour had made a "few tentative steps towards sanity" it was still "strongly committed" to cooperating with the Tories to ensure Brexit goes through.
Register for free to continue reading
Registration is a free and easy way to support our truly independent journalism
By registering, you will also enjoy limited access to Premium articles, exclusive newsletters, commenting, and virtual events with our leading journalists
Already have an account? sign in
Register for free to continue reading
Registration is a free and easy way to support our truly independent journalism
By registering, you will also enjoy limited access to Premium articles, exclusive newsletters, commenting, and virtual events with our leading journalists
Already have an account? sign in
Join our new commenting forum
Join thought-provoking conversations, follow other Independent readers and see their replies