Britain to ease visa system to attract rich Chinese visitors, reveals George Osborne
Chancellor says there is 'no limit' to the number of Chinese tourists and students Britain can accommodate
Pippa Crerar
,
Adam Withnall
Monday 14 October 2013 17:44 Comments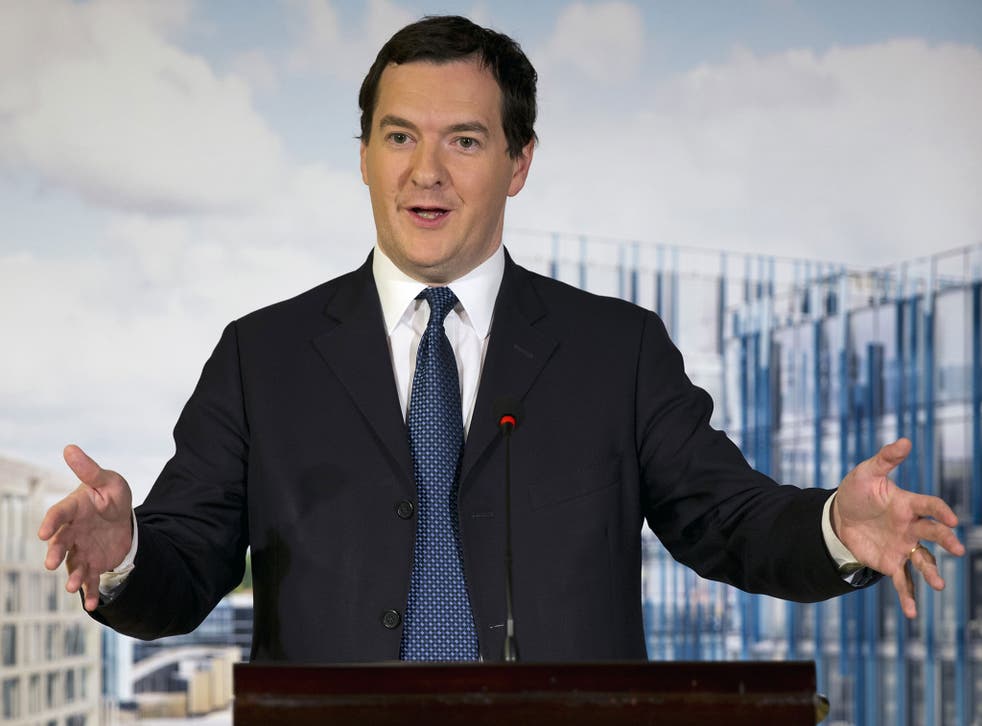 George Osborne has bowed to pressure from businesses and agreed to bring in a joint visa application for the UK and other European countries to help lure wealthy Chinese visitors.
For the first time Chinese applicants will be able to submit just one form covering them for both Britain and the EU Schengen agreement countries through selected travel agents.
Speaking to students in Beijing today, the Chancellor said he wanted to "make it clear to the whole of China" that there is no limit to the number of Chinese tourists and students who can come to Britain.
He said his visit to the Far East is about "much more than a collection of business deals".
"Many people think of China as a sweat shop on the Pearl River," Mr Osborne told the BBC's Today programme. "Yet it is at the forefront of medicine, computing and technology. It's a very rapidly changing country."
China is one of the UK's most lucrative markets for tourism and business, with more than 200,000 visas issued to Chinese nationals last year.
A new, 24-hour "super-priority" visa service will become available from next summer, while officials are also looking at expanding a VIP mobile visa service, currently operating in Beijing and Shanghai, to the whole country.
The Chancellor has embarked on a five-day trade mission across China, and yesterday used the opportunity to unveil an £800 million joint British-Chinese plan to turn Manchester into an "airport city".
His arrival in Beijing marks the end of a freeze in diplomatic relations between the two countries after David Cameron angered Beijing by meeting the Dalai Lama in May 2012.
Beginning at Peking University today, Mr Osborne said "there is no country in the West that is more open to investment - especially investment from China - than the United Kingdom".
He appeared alongside London Mayor Boris Johnson, leading his own trade mission to the Far Eastern giant, who insisted he was "absolutely thrilled" the Chancellor was there at the same time.
Mr Johnson said he would refer students to "English literature", and said that Harry Potter's relationship with Chinese overseas student Cho Chang in the novels of JK Rowling was the perfect example for "cultural interpenetration between Britain and China".
Back in Britain business leaders welcomed Mr Osborne's announcement. John Cridland, the director-general of leading business lobby group CBI, said: "These important changes will make the UK much more appealing to Chinese business and tourists alike and are likely to give a welcome boost to all sectors of UK business in the months ahead."
Home Secretary Theresa May said: "We are continuing to attract the brightest and best to work and study in the UK, while preventing immigration abuse and bringing net migration down to the tens of thousands.
"Our Chinese visa system already provides an excellent service and figures demonstrate that Chinese tourists are increasingly choosing to visit the UK.
"We will continue to make further improvements wherever possible for visitors travelling independently or as part of a group."
Register for free to continue reading
Registration is a free and easy way to support our truly independent journalism
By registering, you will also enjoy limited access to Premium articles, exclusive newsletters, commenting, and virtual events with our leading journalists
Already have an account? sign in
Join our new commenting forum
Join thought-provoking conversations, follow other Independent readers and see their replies