British air strikes on Syria: Public back bombing campaign by margin of two to one, says poll
The opinion poll for The Independent is a boost for David Cameron as he prepares for RAF pilots to extend their bombing campaign against Isis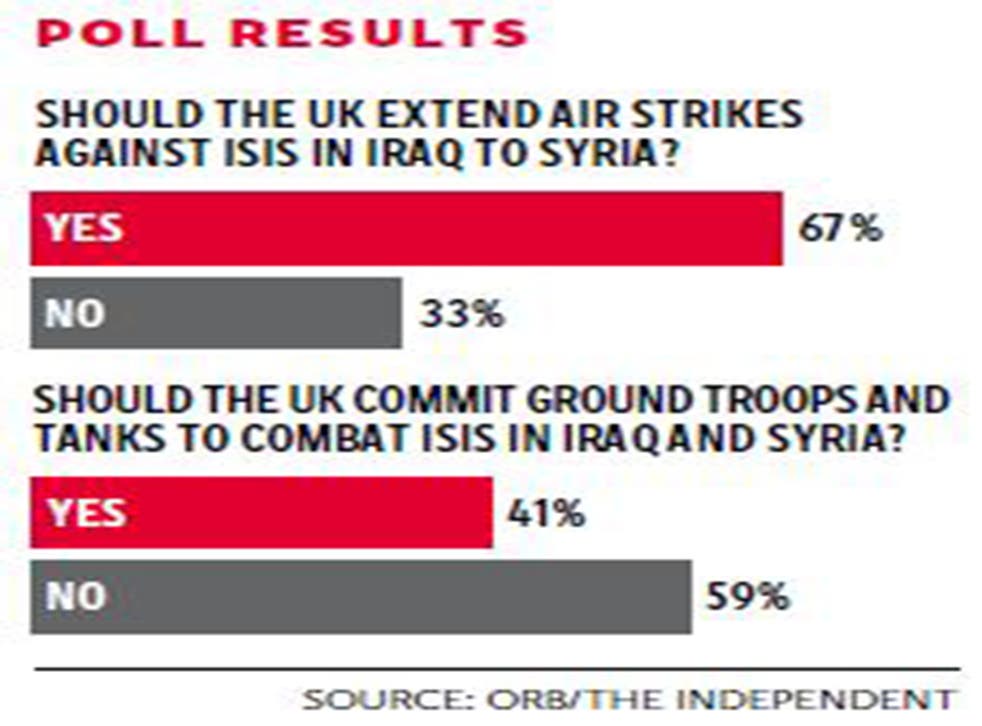 The public supports extending UK air strikes against Isis into Syria by a margin of two to one, according to an opinion poll for The Independent.
The finding by ORB allows David Cameron to clear another hurdle as he prepares for RAF pilots to extend their bombing campaign against Isis in Iraq into Syria. The Prime Minister intends to seek the approval of MPs for the move when they return from their summer break in September. Ministers have said they would take account of public and parliamentary opinion.
According to ORB, 67 per cent of the public support air strikes against Isis in Syria as well as Iraq while 33 per cent oppose the proposal.
However, the survey of 2,000 people found that a majority would oppose the use of UK ground troops and tanks against the terrorist group in the two countries. This idea was rejected by 59 per cent to 41 per cent.
Although ministers have said they do not intend to deploy ground troops, several MPs have expressed concern about "mission creep" and want Mr Cameron to set out clearer objectives before starting air strikes in Syria.
ORB found a "gender gap" on military intervention, with men more likely support bombing Isis in Syria than women. Men back the proposal by a margin of 73 per cent to 27 per cent, while 61 per cent of women support the proposal and 39 per cent oppose it.
In pictures: Syria air strikes (2014)

Show all 20
Young adults are more likely to reject military action than older people. Air strikes in Syria as well as Iraq are backed by a narrow majority of 18-24 year-olds, by 52 per cent to 48 per cent. Support rises steadily up the age scale, with the proposal endorsed among those 65 and over by a margin of 76 per cent to 24 per cent.
Although the Commons returns on September 7, Mr Cameron is expected to wait until after Labour's new leader is elected on September 12 before pushing the issue to a vote.
Harriet Harman, the acting Labour leader, has said the party would consider "very, very seriously" backing air strikes in Syria and the Opposition has said it is ready to work with the Government on a plan to defeat Isis.
Three of the candidates in Labour's leadership race – Andy Burnham, Yvette Cooper and Liz Kendall—have left the door open to supporting action in Syria. But Jeremy Corbyn, the left-wing candidate, has come out against the idea, warning: "The US is already bombing Syria and this has not stopped Isis. We need to cut off the supply of money and arms that is flowing to Isis."
Mr Cameron is cautious about pressing ahead without the Opposition's support because two years ago, he suffered a humiliating Commons defeat when Ed Miliband refused to back air strikes against Syria after the Assad regimes used chemical weapons against its own people.
Two Conservative chairmen of select committees have expressed alarm about action against Isis in Syria. Julian Lewis, who chairs the Defence Select Committee, has warned that the move would help President Bashar al-Assad. Crispin Blunt, who chairs the Foreign Affairs Committee, said the proposal would make no difference.
Join our new commenting forum
Join thought-provoking conversations, follow other Independent readers and see their replies