Illness and injuries leave one in five soldiers not fit for full combat duty amid defence cuts concerns
Theresa May warned of a 'very substantial rebellion' brewing on Tory benches over defence
Lizzy Buchan
Political Correspondent
Tuesday 05 December 2017 11:23 Comments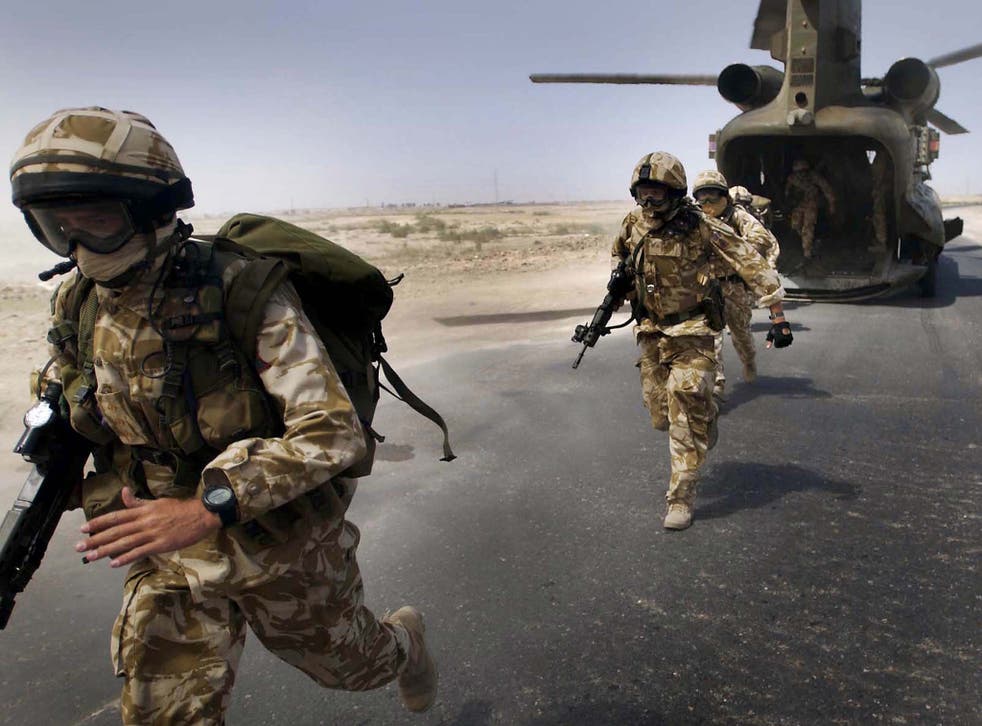 The number of soldiers who are fit for battle has fallen to 60,000 as new figures show nearly one in five troops cannot undertake full combat duties due to illness or injury.
Nearly 8,000 soldiers are unable to fight on the front line because of physical or mental illness, lack of fitness or non-medical reasons, while a further 10,000 troops were found to be medically fit but only able to go on certain operations.
The data casts doubt on the full strength of the British Army as it leaves the force with 18,000 fewer members than its official estimates. Ministry of Defence figures say there are 78,407 full-time and full trained troops - which is already below the Government's 82,000 target.
Tory MP Andrew Bowie, a former naval officer who uncovered the figures through a parliamentary question, said the "worrying" staffing gap could be heaping undue stress on serving soldiers.
It comes as Theresa May was warned that a "very substantial rebellion" was brewing on the Tory benches over potential defence cuts in the upcoming national security review, against a backdrop of growing threats from Russia, North Korea and uncertainty in Iran.
Mr Bowie, MP for West Aberdeenshire and Kincardine, told The Independent: "I think these figures are very worrying.
"Far from the 82,000 soldiers that the British army is supposed to have, it seems that, when medically unavailable soldiers are taken into account, it is more like 60,000.
"This gap is placing a huge burden on an already overstretched army required to carry out the roles the Government asks them to do on our behalf.
"A decision has to be made. Do we fund and man our armed forces properly and ask them to do all we ask them, or do we continue to underfund and undermine, leading to overstretched and undue stress on our serving soldiers?"
Defence minister Tobias Ellwood - who was hailed as a hero for trying to save Pc Keith Palmer in the Westminster terror attack - indicated last week that he would be prepared to resign if proposals to cut full-time army strength by 12,000 went ahead, as defence chiefs try to cut £2bn from their budgets.
Ex-army officer and Tory MP Johnny Mercer has led a campaign to boost resources, saying up to 30 fellow Conservatives would be prepared to "hold the Government's feet to the fire" on defence spending.
Numbers of deployable army reservists have increased to 22,423 this year following plans to boost recruitment in the reserves to cover reductions in full-time personnel.
Responding for the Government, Mr Ellwood, who released the figures, said: "Medically Fully Deployable (MFD) personnel are those medically fit for duty with no employment limitations.
UK news in pictures

Show all 50
"Medically Limited Deployable (MLD) personnel are medically fit for duty with minor employment limitations. MLD personnel may have a medical condition or functional limitation that prevents the meeting of all MFD requirements.
"Medically Not Deployable (MND) personnel are medically fit for duty with major employment limitations. MND personnel are not fit to deploy on Operations but may be deployable on UK based exercises."
The Ministry of Defence has been approached for comment.
Register for free to continue reading
Registration is a free and easy way to support our truly independent journalism
By registering, you will also enjoy limited access to Premium articles, exclusive newsletters, commenting, and virtual events with our leading journalists
Already have an account? sign in
Join our new commenting forum
Join thought-provoking conversations, follow other Independent readers and see their replies