Britons are giving more time and more money, but how successful is the Big Society?
Few believe in it, but the communities minister is optimistic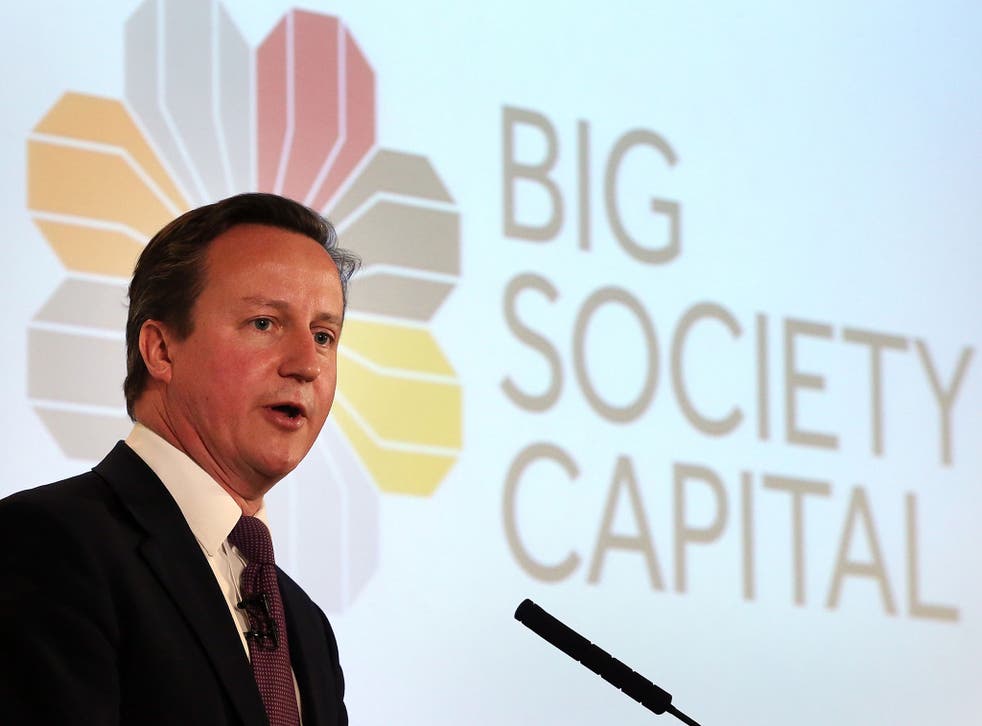 Four years ago, at the dawn of the coalition, the Big Society was one of the policies David Cameron pledged would define his premiership. Now a new survey of those working for Britain's charities has found that only one in 10 believes it to be a success.
A third of respondents disagreed and a third strongly disagreed that its aims were being realised. Only 1 per cent felt strongly that Cameron's vision was being realised, with another 8 per cent merely agreeing.
It is a damning judgement on a flagship policy; even more so since two years ago nearly one in three respondents answered that the Big Society was offering new opportunities to help volunteering flourish and give charities a bigger role.
Only 4 per cent now consider the Conservative Party has the best policies for the voluntary sector, according to the poll by the consultancy nfpSynergy and Third Sector magazine. The Liberal Democrats fared little better with 5 per cent.
As minister for civic society, Nick Hurd is responsible for making the Big Society work. Less than 5 per cent of those surveyed believed he had succeeded in achieving the three benchmarks he had set: getting more resources into the sector, making it easier to work with the state, and making it easier to run a charity.
The Tory MP acknowledges that the programme has not met many people's expectations but refused to accept such a damning verdict. "There have been plenty of bricks thrown at the Big Society," he said. "But it was about encouraging more people to get involved in their communities and about encouraging people to work together at a local level more effectively and that is happening. The most obvious demonstration of that is the rise in volunteering which has risen sharply."
His department's figures show that 72 per cent of people volunteered last year, compared with 66 per cent in 2009-10. This included 80,000 young people in its National Citizen Service, which was established to encourage 16- and 17-year-olds to help out in their communities, and 3,000 community organisers recruited and trained by the Government to campaign in their local areas.
In addition, he cites the legislative changes that have enabled people to buy important community centres, and the spread of social enterprises across the country. There are now at least 180,000 of these, contributing £55bn to the economy and employing two million people.
"What [our polices] have done is bring people together, give them a sense of power to take action," Hurd said. "The first steps are quite small: reinstating a bus or whatever it is. Then the power grows.
"We have a programme for the 600 most deprived wards in the country, for example. We have simply said to residents in those areas that we'd like you to work together to establish what your area needs. What we've found, in these wards, is that for every £1 spent, £4 of community value has been done – and that is volunteering time."
The greatest support from those surveyed was for the introduction of Gift Aid for one-off donations. The National Citizen Service and the £80m Community First initiative, which included a programme targeting deprived wards, were thought by more to be a success than a failure.
Mr Hurd said: "We've faced a barrage of cynicism around the Big Society from when we started to talk about it, and it was very difficult to extricate it from the story around austerity and build up trust because people thought it was a cover for cuts.
"The state can't do everything and shouldn't do everything because in too many areas it hasn't done a good enough job. Government is and remains absolutely massive. It's just we've got to work in different ways and that's what's it's about. We have got to be a bit more open and a bit more humble. The future is about collaboration and partnership."
The survey of 600 charity professionals also found that 42 per cent of respondents reported their organisation's overall income was increasing compared with 39 per cent who said it was falling. Two years ago, 30 per cent reported a rise while 48 per cent reported a fall.
Join our new commenting forum
Join thought-provoking conversations, follow other Independent readers and see their replies