Britons more opposed to Syria air strikes since Commons vote
More than half of Labour supporters now disapprove of the bombing campaign, compared to a quarter in November
Jess Staufenberg
Monday 07 December 2015 14:44 Comments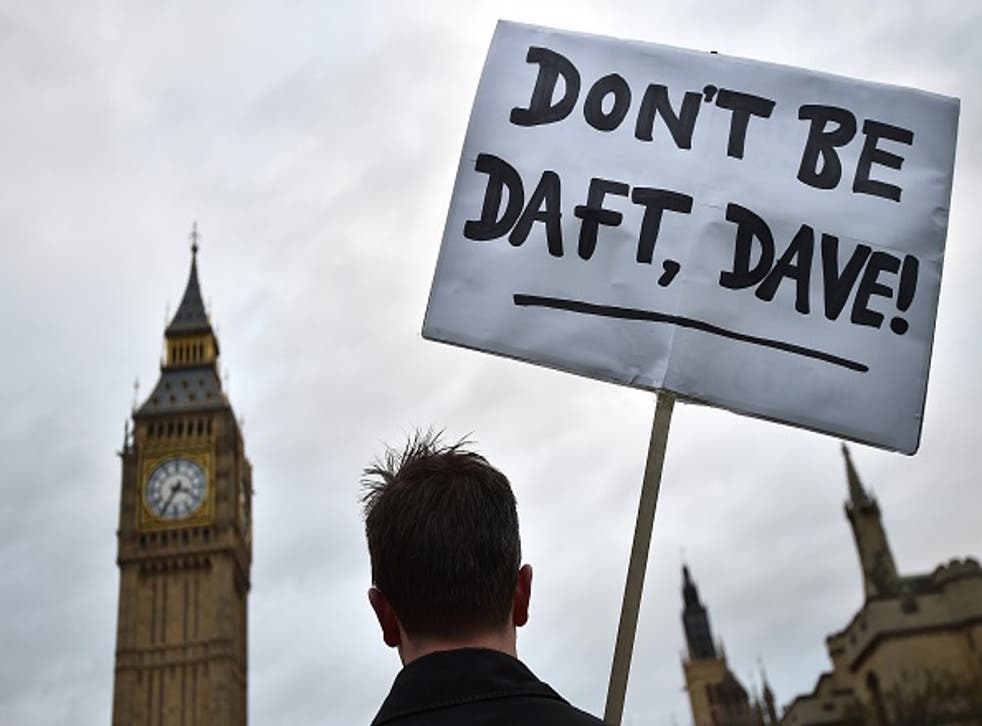 Public support for air strikes in Syria is steadily dropping despite the Government's vote in favour of the measure, a poll has indicated.
Less than a week after MPs voted with a higher-than-expected majority to extend air strikes from Iraq into Syria, the YouGov survey showed public backing for the motion had dropped by 31 points.
Support had remained quite constant between mid September and 24 November, when around 58 to 60 per cent of the public were in favour of airborne raids on the war-torn country.
But by 3 December, only 44 per cent of Britons said they still agreed it was the right thing to do.
Labour supporters were most concerned about extending military action, with only 29 per cent in support of RAF air strikes the day after the Commons vote.
It is the sharpest drop among all the parties, with more than half of Labour supporters in favour when asked the same question earlier in November.
A total of 51 per cent of Labour voters said they now actively "disapproved", compared to a quarter who took that stance in November.
The results reflect paryy leader Jeremy Corbyn's staunch opposition to air strikes.
He has argued that the Labour supporters who overwhelmingly backed him in the party's leadership election do not want military striks, and has warned that British bombs will kill innocent people opposed to Isis if air strikes are extended.
In pictures: Syria air strikes (2014)

Show all 20
In the Commons vote, 153 Labour MPs voted with their leader against bombing, while 66 defied him and voted with the Conservatives.
Jeremy Corbyn had allowed his MPs a free vote, rather than impose a three-line whip. Among Conservatives, 313 voted for the proposal and only 7 voted against military action.
During the debate, Mr Corbyn warned the Prime Minister that public opposition to his military plans was growing:
"The Prime Minister understands that public opinion is moving increasingly against [...] war. He wants to hold this vote before opinion against it grows even further," he told the Speaker.
Prime Minister David Cameron was criticised during the 11-hour debate after calling Mr Corbyn and shadow chancellor John McDonnell "terrorist sympathisers" in a private meeting.
Register for free to continue reading
Registration is a free and easy way to support our truly independent journalism
By registering, you will also enjoy limited access to Premium articles, exclusive newsletters, commenting, and virtual events with our leading journalists
Already have an account? sign in
Register for free to continue reading
Registration is a free and easy way to support our truly independent journalism
By registering, you will also enjoy limited access to Premium articles, exclusive newsletters, commenting, and virtual events with our leading journalists
Already have an account? sign in
Join our new commenting forum
Join thought-provoking conversations, follow other Independent readers and see their replies