Budget 2013: Campaigning pays off as Osborne scraps fuel duty rise
Planned rise would have put around 3p a litre on price of petrol
Nigel Morris
Wednesday 20 March 2013 19:10 Comments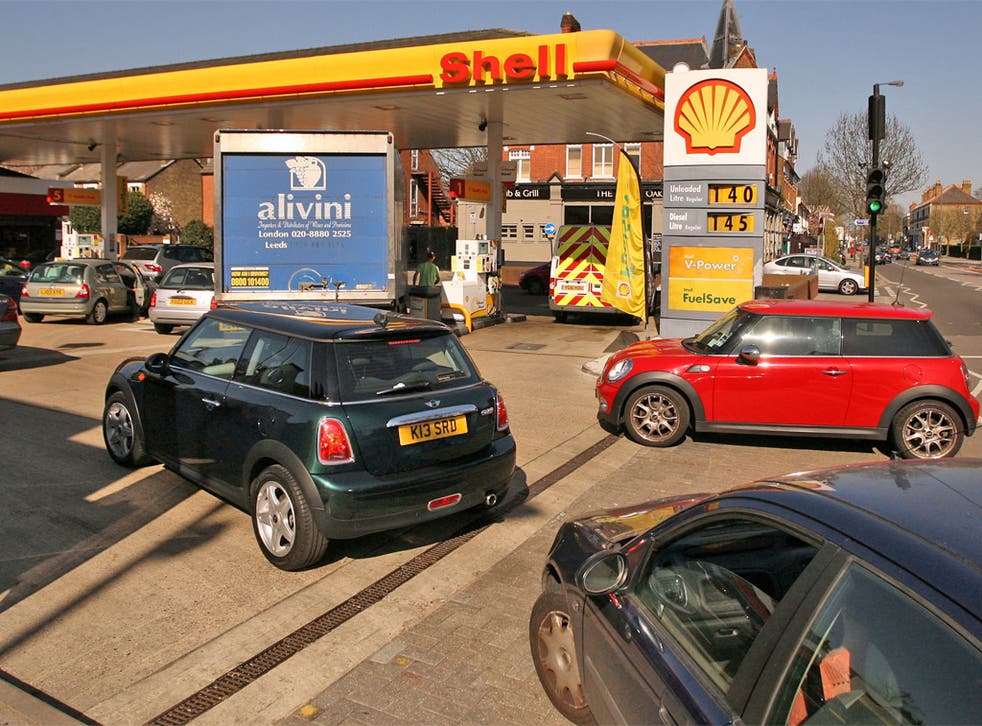 Campaigning by motoring groups and Conservative MPs paid off after plans to increase the duty on petrol by 3p a litre in September were abandoned by the Chancellor.
The decision will cost George Osborne about £1bn this year, but he will hope the move will ease the burden on struggling small businesses.
Average prices at the pumps are around £1.40 for a litre of unleaded and £1.46 for diesel, with taxes representing about 75 per cent of the cost of fuel.
Mr Osborne told MPs that petrol would be 13p a litre cheaper than it would have been had fuel duty not be frozen for over two years. That was equivalent to £7 to the cost of filling up a Vauxhall Astra or a Ford Focus, he said.
Edmund King, the AA's president, said: "A September fuel duty hike would have been the last straw likely to break UK drivers' budgets and would have led to a summer of discontent."
Stephen Glaister, the director of the RAC Foundation, said: "This provides breathing-space for families being smothered by the soaring costs of motoring, especially the 800,000 households spending more than a quarter of their income on operating a vehicle."
Case study: the lorry driver
Stephen Bowles, 58, is the managing director of Roy Bowles Transport, a haulage company based in Colnbrook, near Heathrow. He employs 40 people, the vast majority of whom are truck drivers.
"I thought the Chancellor's speech was interesting, but as ever the devil's in the red box. It's a good thing that the planned 3p rise in fuel duty is being scrapped – at least that means it's not getting any worse. I won't be able to employ any new staff, but I won't have to raise prices for my customers.
"The price of fuel is still too high, and it's making companies like mine less competitive with similar firms in Belgium and France, where it's between 15-20p cheaper per litre of diesel than the £1.47 we pay here. Our vehicles take 600 litres of fuel so it's a big expense.
"Everything you buy, from the shirt on your back to the food you eat, travels via a truck – and its price is affected by the cost of fuel.
"I was pleased to see that there will be a big investment in new roads, but we need to improve existing roads too. Uneven roads are doing so much damage to our cars, and it doesn't help us get the best out of our fuel."
Further reading
Millions to get help to buy homes from 2014
'A penny off a pint' as beer tax is cut by George Osborne
The 2013 Budget at a glance - key points from Chancellor George Osborne's statement to the House of Commons
Evening Standard editor apologises after Twitter leak of Budget frontpage
'A tax off jobs' as small businesses given Employment Allowance boost
George Osborne turns to Bank of England for help as growth is halved
Budget 2013 Live Blog - as it happened
Price of beer cut by 1p, fuel duty rise is scrapped and no income tax on first £10k of earnings
Register for free to continue reading
Registration is a free and easy way to support our truly independent journalism
By registering, you will also enjoy limited access to Premium articles, exclusive newsletters, commenting, and virtual events with our leading journalists
Already have an account? sign in
Join our new commenting forum
Join thought-provoking conversations, follow other Independent readers and see their replies