Budget 2015: What George Osborne said... and what he really meant
The Chancellor's true message – beyond the euphemisms and jargon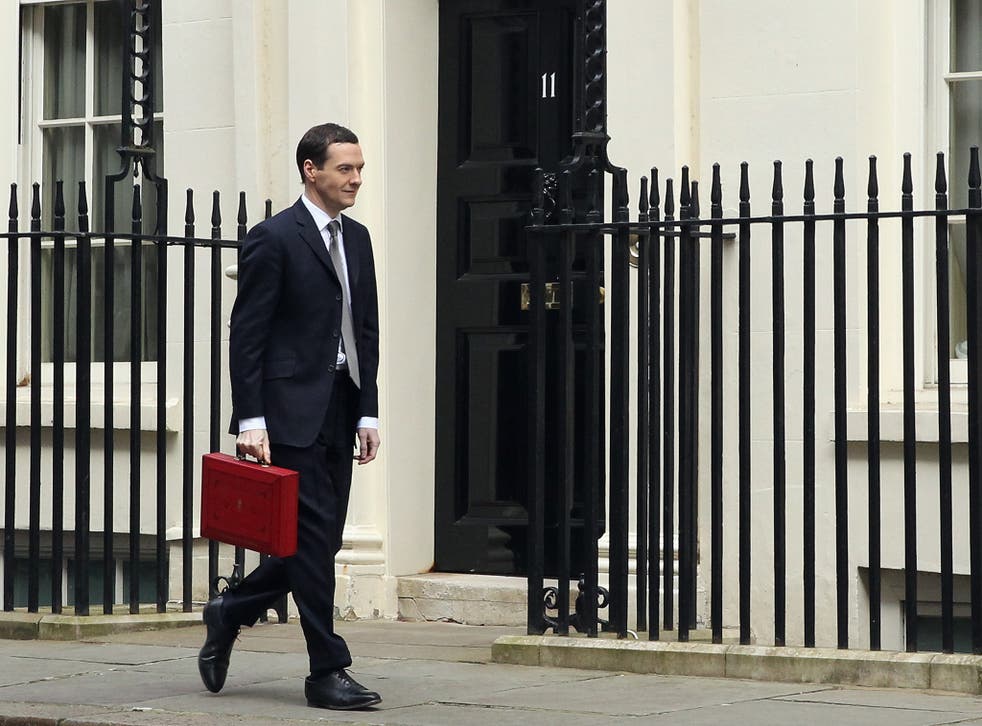 What he said We choose, as the central judgement of this Budget, to use whatever additional resources we have to get the deficit and the debt falling. No unfunded spending. No irresponsible extra borrowing.
What he meant A bit of responsible extra borrowing, on the other hand, will be needed to soften the pressure of austerity over the next five years.
What he said To the question of whether people are better off at the end of this Parliament than they were five years ago we can give the resounding answer "Yes".
What he meant A resounding "it depends how you measure it". If you use Real Household Disposable Income Per Capita, I can say "living standards will be higher in 2015 than in 2010", but it is a forecast that doesn't take in housing costs.
Budget 2015: George Osborne unveils pre-election package

Show all 7
What he said We'll have paid debts incurred in the South Sea Bubble, First World War, the debt issued by Henry Pelham, George Goschen and William Gladstone. The debt issued by Gordon Brown will take a little longer.
What he meant I'm supposed to call him the Right Honourable Member for Kirkcaldy and Cowdenbeath, but I need a bit of instant partisan recognition from my backbenchers. Time to wave your order papers ... now!
What he said The debt target I set out in my first Budget has been met. We will end this Parliament with Britain's national debt share falling. The sun is starting to shine – we are fixing the roof.
What he meant No one remembers that target – they all remember the promise to eliminate the deficit in four years, which … goodness me, look at that, the sun's coming out.
What he said In the final year of this decade, public spending will grow in line with the growth of the economy. We can do that while still running a healthy surplus to bear down on debt. A state neither smaller than we need; nor bigger than we can afford. For those interested in the history of these things, that will mean state spending as a share of our national income the same size as Britain had in 2000.
What he meant That is 2000. Not the 1930s. The year 2000, when Gordon Brown was Chancellor and the two Eds worked for him. Definitely nothing to do with the 1930s, which Labour says was a time before the NHS when top-hatted capitalists trod on the faces of the poor.
What he said If we deviate from this path, if we go slower or borrow more, the national debt share will not keep falling – it will start rising again … Britain is on the right track; we mustn't turn back.
What he meant This is not strictly true, or even true at all, but I have to keep saying it or else people might think that Ed Balls's alternative plan to cut national debt share a bit later, and by a bit less, might be a better idea because it wouldn't risk choking off economic growth.
What he said The distributional analysis we publish today confirms that that the decisions since 2010 mean the rich are making the biggest contribution to deficit reduction. I said we would all be in this together and here is the proof. Compared to five years ago: inequality is lower, child poverty is down, youth unemployment is down, pensioner poverty is at its lowest level ever, the gender pay gap has never been smaller, payday loans are capped, and zero hours contracts regulated.
What he meant Here ends the party political broadcast on behalf of the Stealing Labour's Clothes Party. I do enjoy this bit: this is what Miliband would love to say if he were on this side and he has no idea how to cope with the fact that I'm saying it.
What he said We have already taken steps to curb the very largest pension pots. But the gross cost of tax relief has continued to rise in this Parliament, up almost £4bn. That is not sustainable. So, from next year, we will further reduce Lifetime Allowance from £1.25m to £1m. This will save around £600m a year.
What he meant That's £600m on which Miliband was relying to pay for his tuition fee cut – you know, the one that would benefit only better-paid graduates – so that's more than half a billion that Balls will have to find from somewhere else.
What he said The battle of Agincourt is, of course, celebrated by Shakespeare as a victory by a "band of brothers" – not an option available to the party opposite. It is also when a strong leader defeated an ill-judged alliance between the champion of a united Europe and a renegade force of Scottish nationalists.
What he meant That bit about "the party opposite" is not in my Treasury text but if you can't slip in a partisan attack on a serious occasion like this then you are not trying hard enough.
What he said London is the global capital of the world.
What he meant Yes, I am just burbling at this point. Norwich is the universal capital of the Universe, the Midlands is an engine of manufacturing growth, and any where north of that is housed in the power of the Northern powerhouse.
What he said We back oil and gas and we back our heavy industry too, like steel and paper mills ... I will bring forward to this autumn part of our compensation for energy intensive plants. But since we aim to be the most prosperous major economy in the coming generation, we must support insurgent industries too.
What he meant You want a Government subsidy? I'm a Conservative but there is an election on. Television and film tax credits, support for the video games industry, and a new tax credit for orchestras. Horse-racing, local newspapers: any industry under pressure and we'll listen sympathetically for the next 50 days.
What he said We'll invest in what is known as the Internet of Things. This is the next stage of the information revolution, connecting everything from urban transport to medical devices to household appliances. So should, to use a ridiculous example, someone have two kitchens, they will be able to control both fridges from the same mobile phone.
What he meant Oh, look, I've slipped a partisan joke at Miliband's expense into the Civil Service text this time.
What he said With our Personal Savings Allowance, 17 million will see tax on savings not just cut, but abolished. An entire system of collection scrapped. At a stroke, we create tax-free banking for almost the entire population. And build the economy on savings not debt.
What he meant Like that's going to happen. Interest rates are rock bottom. People: load yourselves up with as much debt as you can possibly handle.
What he said We have provided clear decisive leadership – and from the depths Britain is returning. The share of national income taken up by debt: falling. The deficit: down. Growth: up. Jobs: up. Living standards: on the rise. Britain: on the rise. This is the Budget for Britain. The Comeback Country.
What he meant Up not down. Rising from the deep. Going up. Ladieswear, children's shoes, fourth floor. The bread is rising. The Kraken doth awaken. The comeback, blowback, broken-backed country. And I'm going to break with tradition by leaving out that bit about commending it to the House.
Join our new commenting forum
Join thought-provoking conversations, follow other Independent readers and see their replies