Businesses tell the PM he's wrong about 'fat cat' pay
Cameron's plan to address executive remuneration will not solve problem, CBI says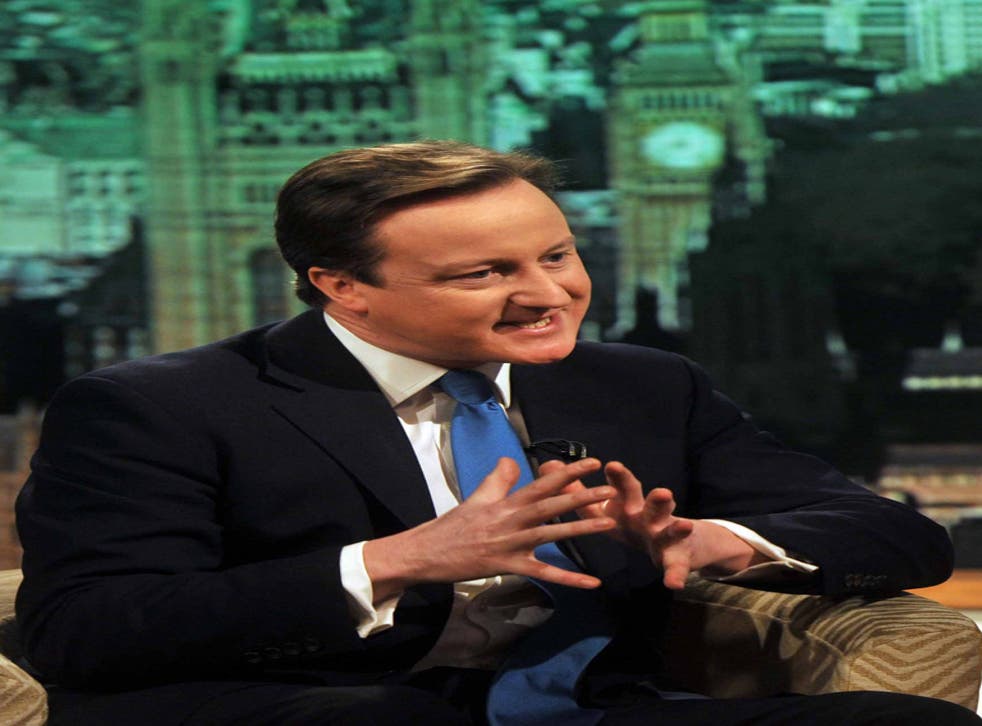 David Cameron faced a backlash from business leaders last night after he promised to give shareholders new powers to veto lavish payouts to failed executives.
The Prime Minister's attack on City excess just ahead of the bonus season and his plans to introduce more checks on undeserved bonuses were derided as flawed and unworkable.
He promised moves within weeks to give extra powers to shareholders – notably a binding vote on top salaries, to curb the practice of authorising "golden parachutes" to departing executives, and to require companies to provide more details of managers' salary packages. But business chiefs pointed out that, by the time shareholders would get to vote on multi-million-pound bonuses at the company AGM, the money would already have been paid out to executives.
"Binding shareholder votes would simply be shutting the stable door after the horse has bolted," said John Cridland, the Confederation of British Industry's director-general. "Shareholders would only be voting after the problem has happened."
The issue of corporate excess has come to the forefront of the political battleground. Stephen Hester, chief executive of Royal Bank of Scotland, is likely to pick up a multimillion-pound bonus this year, it emerged yesterday.
Downing Street sources meanwhile suggested that the power for shareholders to block exorbitant pay-offs would be applied only to newly appointed executives rather than managers on existing contracts, meaning it could take years for the sanction to bite.
The CBI doubted the wisdom of allowing shareholders to intervene in executive-pay decisions. It said it preferred the use of claw-back schemes to recover cash from poorly performing managers – and said executives should be paid realistic salaries in the first place.
The Association of British Insurers warned that a vote to block a director's promised bonus could leave employers facing legal action, while the National Association of Pension Funds argued that extended shareholder voting rights would undermine the authority of company boards.
Mr Cameron told BBC1's The Andrew Marr Show that he knew executives picking up huge cheques even when their companies had failed made "people's blood boil". He said: "What I think is wrong is pay going up and up when it is not commensurate with the success companies are having."
The Prime Minister said some managers were worth a £2m salary because they helped the economy to expand and created jobs. But he added: "Excessive growth of payment, unrelated to success, frankly ripping off the shareholder and the customer... is crony capitalism and is wrong."
He signalled that Vince Cable, the Business Secretary, would soon set out plans to:
* give shareholders the power to vote on levels of executive pay;
* enable shareholders to block unjustified dismissal packages for departing managers;
* require companies to be more transparent about executives' rewards by publishing clear details of pay packages, including salary, share plans, retirement schemes and other perks.
The moves would require legislation, which would be included in the Queen's Speech in the spring.
But Mr Cameron was lukewarm about the prospect of forcing firms to appoint an ordinary member of staff to remuneration committees. He said he was not in favour of gimmicks or tokenism. And he rejected calls for businesses to be required to publish details of the gap between their highest- and lowest-paid staff.
Chuka Umunna, the shadow Business Secretary, said the plans "fall far short of what is needed to end rewards for failure". He said, "If David Cameron is serious about 'people power' he should take the more radical step of empowering pensioners and recognise the need to include employees by putting a member of staff on remuneration committees."
The TUC's general secretary, Brendan Barber, said: "While binding shareholder votes on remuneration packages are an encouraging start, they will achieve nothing unless accompanied by a full package of measures to reform corporate pay excess."
Research published yesterday by the Institute for Public Policy Research (IPPR) think tank showed that the total remuneration of chief executives in 87 of the FTSE 100 companies rose last year by 33 per cent to an average £5.1m, while their businesses went up in value by 24 per cent.
Nick Pearce, the IPPR's director, said: "Boardroom pay is running far ahead of company performance in many of the UK's major businesses. Attempts to link pay to performance haven't worked because it's hard for shareholders to monitor the performance of individual executives."
Register for free to continue reading
Registration is a free and easy way to support our truly independent journalism
By registering, you will also enjoy limited access to Premium articles, exclusive newsletters, commenting, and virtual events with our leading journalists
Already have an account? sign in
Register for free to continue reading
Registration is a free and easy way to support our truly independent journalism
By registering, you will also enjoy limited access to Premium articles, exclusive newsletters, commenting, and virtual events with our leading journalists
Already have an account? sign in
Join our new commenting forum
Join thought-provoking conversations, follow other Independent readers and see their replies