Cabinet reshuffle: Clegg refused to speak to Gove 'for months'
As the Lib Dem leader tries to contain his glee over his enemy's demotion, an 'Independent on Sundy' poll reveals what the voters think
Mark Leftly
,
Jane Merrick
Sunday 20 July 2014 09:01 Comments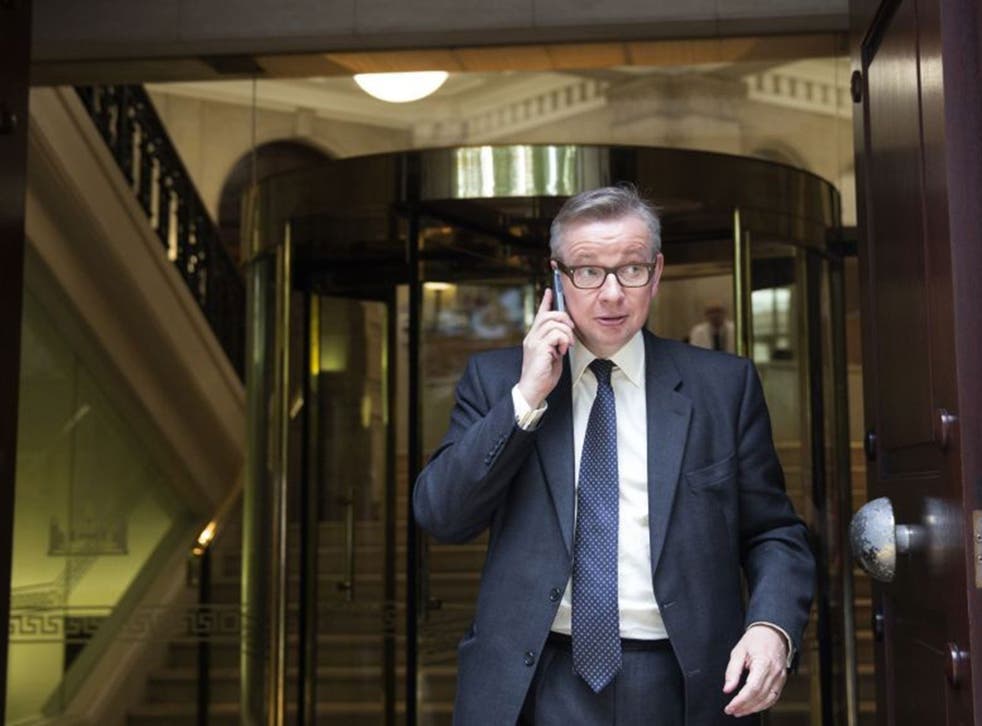 Nick Clegg has refused to speak to Michael Gove "for months", according to a source close to the Deputy Prime Minister, revealing the extent of the breakdown at the heart of the coalition.
Mr Clegg was involved in a number of vicious stand-offs with Mr Gove over his unpopular, reformist agenda before his shock demotion from Education Secretary to Chief Whip in last week's reshuffle. The row escalated after the Lib Dems forced through a free school meals policy for five- and six-year-olds last year that was opposed by Mr Gove, who said the department could not afford it.
Mr Clegg is said to have told Prime Minister David Cameron that "life is too short" to continue rowing with Mr Gove and so he was "not going to work through him".
Instead, the Lib Dem leader would only discuss education policy with the department's Liberal Democrat minister, David Laws. "Poor David," the source added.
Mr Clegg was "personally incensed" by a belief that Mr Gove's former adviser Dominic Cummings had dragged Mr Clegg's wife, Miriam Gonzalez Durantez, into the feud.
Since late 2012, there has been a string of stories questioning Mr Clegg's role in a £12m education department grant for Booktrust, a charity advised by his wife. Mr Cummings stepped down as Mr Gove's adviser in January, but in May claimed that Mr Clegg had even demanded an inquiry into the leaks.
Relations between Lib Dems and Mr Gove worsened when the then Education Secretary forced out Baroness Morgan as chair of Ofsted, with Mr Clegg and Mr Laws regarding it as a highly political move to undermine the inspections watchdog.
Mr Gove, incredibly unpopular among teachers but a close friend of Mr Cameron, was moved to Chief Whip in last week's reshuffle and took a humiliating 30 per cent pay cut. His allies were dismayed, despite Downing Street insisting he had not been demoted. Mr Clegg has struggled to hide his delight at the move.
On his LBC radio phone-in programme on Thursday, Mr Clegg said: "I would like to think that with a change of personnel we can now turn the page and instead of denigrating teachers, we can celebrate what many, many teachers across the country do."
Loughborough MP Nicky Morgan landed the education brief – but six out of 10 people think Mr Cameron promoted women in the reshuffle for presentational reasons, a poll for The Independent on Sunday reveals today.
The ComRes survey shows that 56 per cent think the appointments were mainly for spin rather than on merit. More men than women think it was for presentational reasons – 59 per cent versus 53 per cent. Just 24 per cent of all voters think the reshuffle promotions were on merit.
Worryingly for the Prime Minister, just 20 per cent of people think the reshuffle improved their view of the Conservative Party. Men were more likely to disagree with this question than women – 58 per cent compared with 50 per cent.
The poll continues to give Labour a narrow three-point lead over the Conservatives, with Ukip down one point to 17 per cent and the Lib Dems up two to 9 per cent.
But Ed Miliband cannot draw comfort from the survey: just 21 per cent of voters expect the Labour leader to be Prime Minister after the next election, compared with 31 per cent who said the same in May 2013. The proportion of voters who believe Mr Miliband will not be walking into Downing Street is at its highest, 44 per cent, against 39 per cent in April.
However, Labour is still regarded as the party considered most likely to improve people's finances, with 30 per cent supporting Mr Miliband's party compared with 25 per cent saying the Tories would leave them better off.
The Conservatives retain a lead on the economy as a whole, with 37 per cent believing this party would improve growth the most, compared with just 28 per cent for Labour.
Yesterday, Mr Miliband won his party's agreement for a "radical" agenda for the next election, including agreeing to no additional borrowing for day-to-day spending in 2015/16 to reduce the deficit, balancing the books and delivering surplus on the current budget with falling national debt in the next parliament, and no uncosted or unfunded spending commitments in the next manifesto, which will be independently audited. Labour will also pledge a cap on structural social-security spending so that each Spending Review focuses on "tackling the long-term costs of failure in the system like worklessness, low pay and housing shortages".
Policies that have already been pledged, such as abolishing winter-fuel payments for the richest 5 per cent of pensioners, and a new national body to oversee the railways, were rubber-stamped.
In a good week for Mr Clegg, he has also seen one of his contenders to challenge or succeed him for the LibDem leadership rule himself out from ever running for the party's top job. Alistair Carmichael, the combative Scottish Secretary and MP for Orkney and Shetland, said in an IoS interview this weekend that it was "not an attractive job".
"Look, it's very flattering when you get these stories being written about you [as a potential Lib-Dem leader]," he added. "I've got a young family, I live at the other end of the country, I value my weekends and I value my sanity."
One of the other favourites, party chairman Tim Farron, is understood to have similar concerns over the impact of such a highly scrutinised, time-consuming job on his wife and children. A number of Lib Dem MPs have questioned whether the stress of the job is worthwhile after seeing the way Mr Clegg has been criticised in coalition.
However, Mr Farron is still likely to run if Mr Clegg steps down or is forced out in the wake of a poor general election next year. Mr Clegg only recently survived a botched coup to crown Business Secretary Vince Cable after a trouncing in the local European elections saw the party left with just a single MEP.
Register for free to continue reading
Registration is a free and easy way to support our truly independent journalism
By registering, you will also enjoy limited access to Premium articles, exclusive newsletters, commenting, and virtual events with our leading journalists
Already have an account? sign in
Join our new commenting forum
Join thought-provoking conversations, follow other Independent readers and see their replies